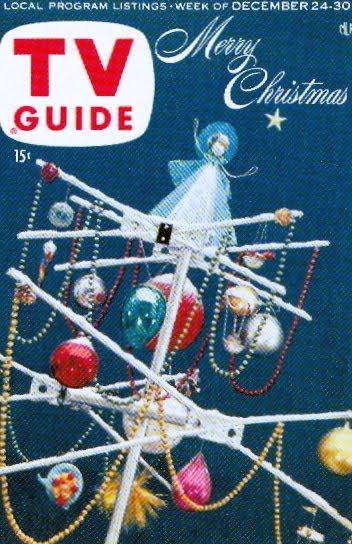 This festive Larry Fritz illustration graced the cover of TV Guide for the week of December 24, 1955–exactly 60 years ago today. That was back when signals were pulled in from all over on rooftop antennas–for free. Back when there were TV listings magazines–which sold for 15 cents. Back when it used to snow in Toronto over Christmas–instead of today's record highs. This must be what Justin Trudeau meant by, "sunny ways."
This Christmas Eve, there are holiday favourites on TV even older than the above illustration, including 1946's "It's a Wonderful Life" (8 p.m. ET, NBC and CTV) and 1954's "White Christmas" (7 p.m., CBC). ABC is re-showing the 50-year-old Peanuts' special A Charlie Brown Christmas (8 p.m.). TCM has "The Bishop's Wife" (1947, 8 p.m.). You'll find "Home Alone" at 6:30 p.m. on W, followed by "Elf" (9 p.m.). YTV has a perfect animated Xmas double bill: Rudolph the Red-nosed Reindeer at 7 followed by Olive, the Other Reindeer at 8.
There's also a Big Bang marathon on Comedy. Isn't there always?
To all who stop by here occasionally, thanks for reading and Merry Christmas.