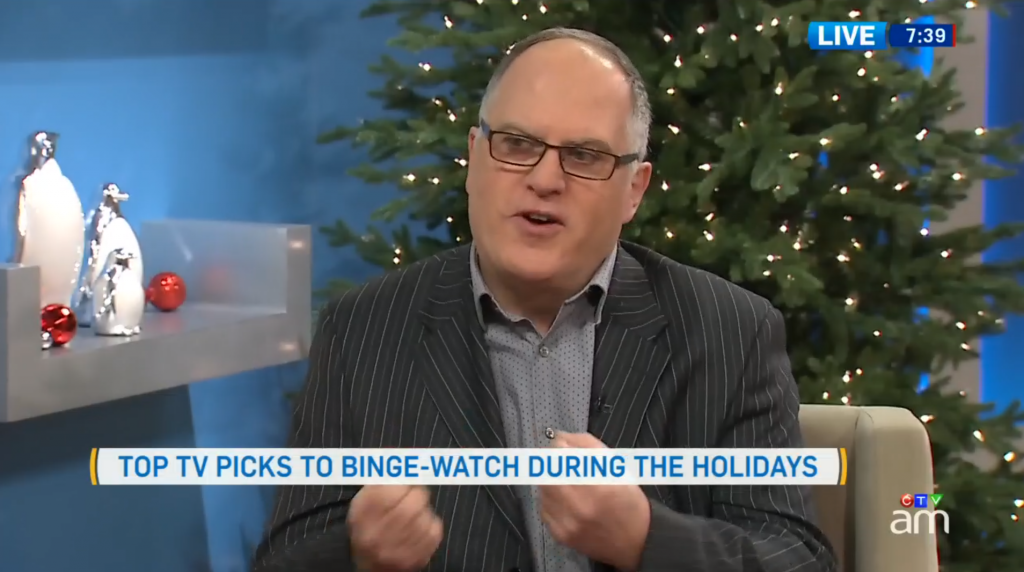 The folks at CTV's Canada AM asked me to come in Monday morning and talk binge viewing. Specifically, name five binge-worthy shows to catch up on over what's left of the holidays. You can watch the five-minute report here.
The hard part here is narrowing it down to five. That "Peak TV" era FX boss John Landgraf identified has not crested yet.
Helping to narrow things down was tilting the list towards Bell Media properties. You can catch up on most of the five mentioned on the Canada AM report on Crave or TMN GO.
Five other binge-worthy shows I'd recommend would be Transparent (shomi), The Man in the High Castle (Amazon Prime), Master of None (Netflix), I'll Have What Phil's Having (PBS) and Mr. Robot (Showcase/USA).
The one I am currently binge-watching, as I confessed to Canada AM's Marcie Ien, is a 46 years old ABC series called The Courtship of Eddie's Father. It's a bit hard to find; my daughter Katie tracked it down on eBay and gave me the Season One DVD for Christmas.
The series, which ran three seasons from 1969 to 1972, starred Bill Bixby as magazine editor Tom Corbett, devoted single dad to Eddie, played by Brandon Cruz. The latter was just six when he won the part and he may be the most natural child actor ever. (Cruz, 53, now helps addicts recover at a centre near Malibu, Calif).
To me this is one of those shows that was HBO before HBO. Compared to the loud, high-concept sitcoms of the day such as Gomer Pyle or The Partridge Family this is blissfully quiet and subtle. The laugh track is turned down so low you can barely hear it. Oscar-winner Miyoshi Umeki brings grace and dignity to a part that could seem awkward and dated today as Japanese housekeeper Mrs. Livingston.
Series creator James Komack played Corbett's eccentric photographer friend Norman Tinker. Corbett calls him a ding-a-ling and we know it because "Uncle" Norman wears tangerine-coloured shirts and medallions. Hey, it was the '60s. Just to drive that point home, you occasionally hear the word "groovy."
While Norman Tinker sounds like a cartoon character but isn't, office secretary Tina Rickles, played by Goldie Hawn clone Kristina Holland, is.
The show is elevated by the music of Harry Nilsson, whose infectious theme song, "Best Friend," wafts through the series like a summer breeze. Nilsson's voice pops in and out as well in little musical punctuation marks.
Each episode begins and ends with Eddie and his father on a play date, fishing, biking, visiting the beach or climbing around the old trains in Griffith Park. The voice-over banter is a bit Hallmark-y at times, but every now and then there's a nugget of pure wisdom and innocence. If you're looking to binge back in time, it is well worth panning for those nuggets.