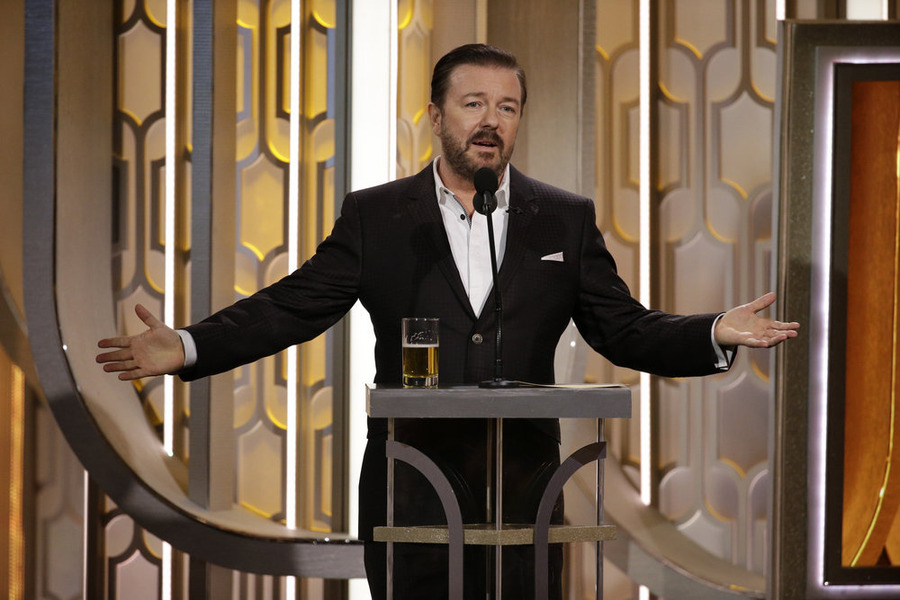 PASADENA, Calif.–Being about an hour's drive away from Sunday's 73rd Annual Golden Globes did not make the NBC broadcast any more entertaining.
All the promotional spots for NBC's new mid-season shows–that was different from what would have been substituted on the CTV feed in Canada. The ads for places such as IHOP were different, too. Maybe the CRTC could force them on Canadian viewers just like they plan to do with the Super Bowl ads.
Ricky Gervais seemed to start unbleeped but then censors took over, leaving several stretches of silence. NBC, I thought, could sell the unbleeped coverage on iTunes.
Typical joke: Gervais said he was going into hiding after these Golden Globes."Not even Sean Penn will find me."
Gervias made the old joke that the Golden Globes are basically paid for by studio bosses–and then the camera cut to Harvey Weinstein. Cheeky!
I like Gerv
ais' hate this, hate Hollywood phonies, can't be bothered shtick. It is what the Golden Globes deserves. He brings a drink to the podium, doesn't bother with a tie and reads intro jokes off cards. He complains all night about how long and lame it is. Exactly right.
His introduction of frequent target Mel Gibson was an uncomfortable high point. Gervais tried his best to provoke an attack. He wished everybody :Shalom" at the end from him and Mel. Balls of steel.
Lady Gaga was so gaga over the Hollywood Foreign press it made you gagag. Her "Star is Born" speech was overshadowed on social media by a vine vid of Leonardo DiCaprio giving her the side eye as she barged her way to the stage.
I watched the East Coast feed with about 20 other journalists on large screens set up at the TCA hotel. It was surprisingly quiet in the room throughout the long show. Several of us in the room have been up on that same Century Plaza stage presenting at our TCA Awards, and it's always curious to see how NBC makes that banquet room look so much bigger on TV than it actually is.
Folks perked up for Tom Hanks and Denzil Washington and then dozed off for all the films and TV shows that are off the radar for more viewers. Critics were as puzzled as viewers over why The Martian was in the Best Comedy category. Jim Carrey trotted out his Amish look. Will Farrell and Mark Wahlberg put on funny glasses. Sheesh.
Amazon's Mozart in the Jungle won a few awards. It's a fine show, but it's not even the best series on Amazon.
It all lent itself perfectly to tons of Twitter shame. The fun frenzy of tweeting jokes, however, gets a little less fresh every year, but follow me at @BillBriouxTV on Twitter for the ha-larious highlights.