What TV show has had 410 million YouTube views in the past 10 months? The same show has posted 53 videos with at least one million views and also has 1.85M YouTube subscribers.
Nope–it's The Late Late Show with James Corden.
TCA reporters were given a day pass from the Langham Hotel in Pasadena and shuttled to CBS Television City Monday night at the tail end of a long day. Trips to the set of CBS' Supergirl at the Warner Bros. Studio in Burbank and a hearty lunch/dinner at the nearby Smokehouse restaurant–a genuine Valley landmark–had come earlier.
Bright and cheery like Jimmy Fallon and sharing the Tonight Show host's ability to sing and perform beside music heavyweights, Corden has quickly distinguished himself in the crowded late night field. What has exploded for the 37-year-old on social media are the celebrity "Carpool Karaoke" segments. As the host himself said to critics on the floor of his set during the CBS after-party, scoring a recognizable bit so quickly is a coup for the series.
The Late Late Show had the No. 1 most viral video of 2015 when Corden picked Justin Bieber up for a ride. The 8:17 video scored 48M views and drew 608,000 "Likes." One Direction (20M) and Bieber again (17M) were also big draws. Corden's drive with Stevie Wonder tickled Boomers on YouTube and Facebook.
A new record may be set this Wednesday when Adele slides into the passenger seat. Corden went home to London to film the driving duet; he's got Sir Elton John lined up for a future ride.
It would have been fun to see David Bowie do the segment. The rock legend's passing was quietly saluted with "WE CAN BE HEROES" spelled out on the in-studio marquee. Bandleader Reggie Watts also painted a Ziggy Stardust thunderbolt on his face in a silent salute to the singer.
Critics sat among the crowd Wednesday, with some of us rather obvious in our blazers and TCA nametags. On Letterman's old set–where journalists were generally verboten–we would not have gotten into the theatre.
On the other hand, Letterman and Craig Ferguson barely registered on YouTube. These are new times at CBS, and it may not be premature to suggest 11:30 p.m. Late Show host Stephen Colbert might be starting to see carpooler Corden sneaking up in his rear view mirror.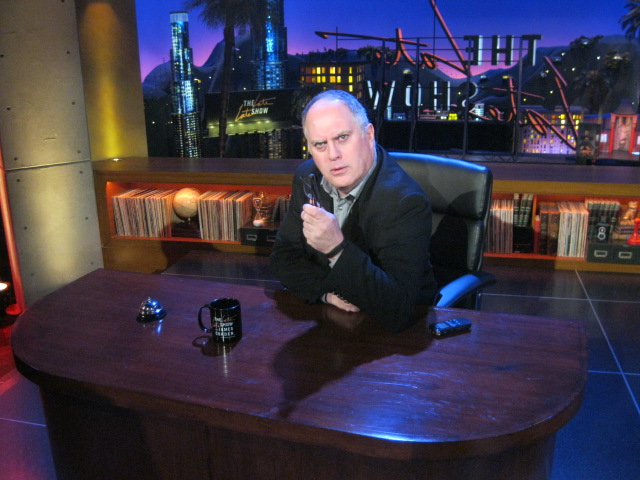 A few of us got a little face time on camera during the taping as Corden wandered into the audience. It was during a segment where people are asked to decipher an emoticon message. Two of the three audience members chosen by Corden were reporters. He did a quick bit when he walked past my seat. Ah, showbiz.
The folks at CBS made everybody feel welcome. Snacks were rolled out and we were invited to explore every inch of the set and take photos. There's a photo booth up the stairs where the real couch guests get their wall shots taken and a number of us indulged in that too, including me and John Doyle. These days, you gotta grab the fun while you can on these crazy-jammed TCA press tours.