On Thursday, when the news broke, there was a temptation to blame the sudden shuttering of Canada AM to loosening Canadian content requirement requirements. These were implemented last year by the Canadian Radio-television Telecommunications Commission.
One of the results of that "Let's Talk TV" pow-wow in Ottawa was a gradual reduction in the number of hours Canadian Over-The-Air broadcasters were compelled to offer during daytime hours. The number is actually down to zero. The CRTC's thinking is they want to encourage quality, not quantity. We'll wait and see on that.
So fingers were quickly pointed at CTV for driving a large moving van from Agincourt to Queen Street West straight through this CRTC loophole.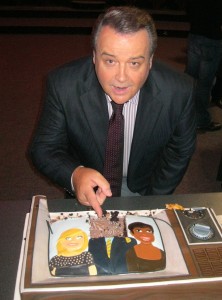 The fact is CTV is not abandoning three hours of Canadian content. A new, re-branded morning show will be announced soon, likely next Wednesday in Toronto at the CTV upfront. Expect new hosts (Ben Mulroney and former CBC Toronto co-anchor Anne Marie Mediwake are rumoured to be part of an expanded morning team), a new approach and a new venue: 299 Queen Street West.
CTV likely wants to move their morning show under the same roof as their other daytime offerings, The Marilyn Denis Show and The Social. It probably is more efficient to share space as well as crews and personnel, and getting guests in the downtown core has to be easier than luring them to the old broadcast bunker in Agincourt.
The big losers here will be cab companies as well as the limo account. And this after dependable Trudy Robinson just picked up a new(er) Town Car! Her drivers always cut through traffic, hopefully she's still on a CTV retainer.
CTV needed to do something to get advertisers jazzed again about morning broadcasts. The national a.m. shows on the American networks are big money makers but they look it, with storefront sets at cool locations such as The Today Show nest at 30 Rock. Look for CTV to make a splash at 299 Queen.
Now they just have to rehire Murtz Jaffer as a segment producer so I can get on the new show and keep adding to my mug collection.
In the meantime, kudos to Beverly Thompson, Marci Ien and Jeff Hutcheson, all total pros who smiled through all those 3 a.m. wake up calls. A salute, too, to the producers, crew members and magicians at Agincourt's five chairs, no waiting makeup room, for making me feel like family every time I was fortunate enough to get called in to talk about television. That makeup room was like stepping into a time machine–it never changed, and the artists there made it look like you never changed, either!
Read more here about the end of Canada AM and plans to rebrand CTV's morning hours at this story I wrote for The Canadian Press.