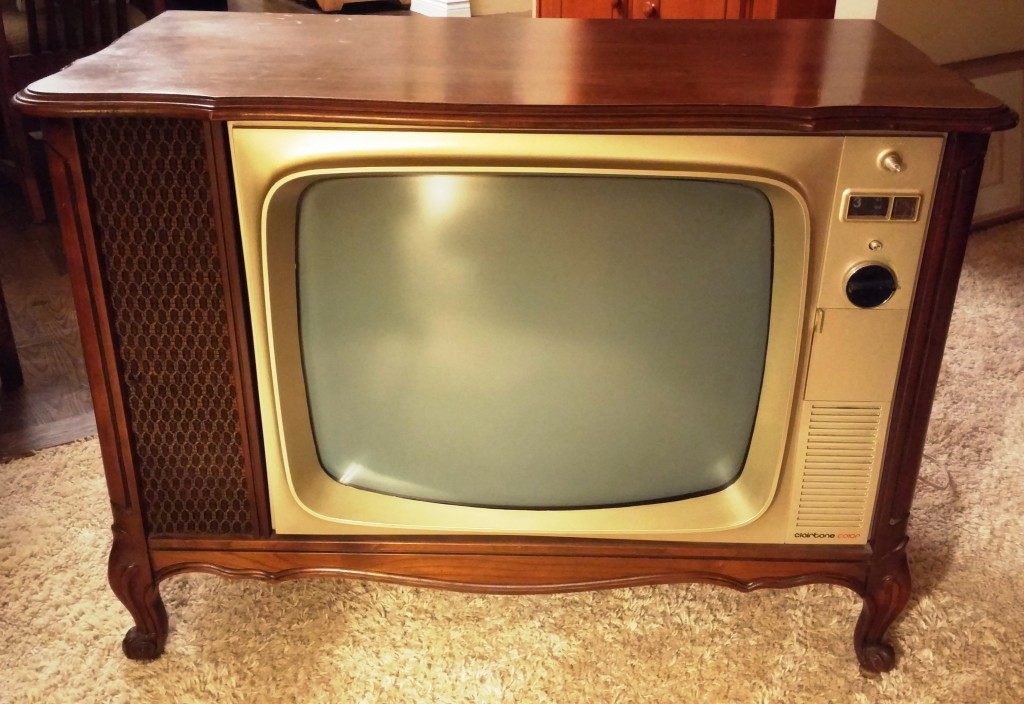 I write about television, but very seldom about television sets.
This is a story about one I brought home from my parent's house today. It is a Clairtone. It was the first colour set my family owned.
With my mom's move to a retirement home, the time had come to sell and empty out her house. Two strong young movers–Iurii and Boris–helped me get Claire out of my parent's basement Wednesday and into my house in Brampton. What did I want with a heavy old, barely-working, vacuum picture tube TV, they asked–until I told them it was the set I watched the Canada-Russia '72 summit series on. Then they wanted to marry it.
Before TV's got wide and flat, they were heavy pieces of furniture. This set is encased in a big, wooden, French provincial coffin. The 23-inch screen, restful green in repose and rounded like an old TV Guide logo, was framed in a champagne-coloured, molded plastic hood that was as mid-'60s as the McLaughlin Planetarium.  The Clairtone had this one illuminated plastic button on the front that changed the channel without turning a dial–quite the innovation in the '60s. On the back, stamped in big letters, is something even more impressive: "MADE IN CANADA."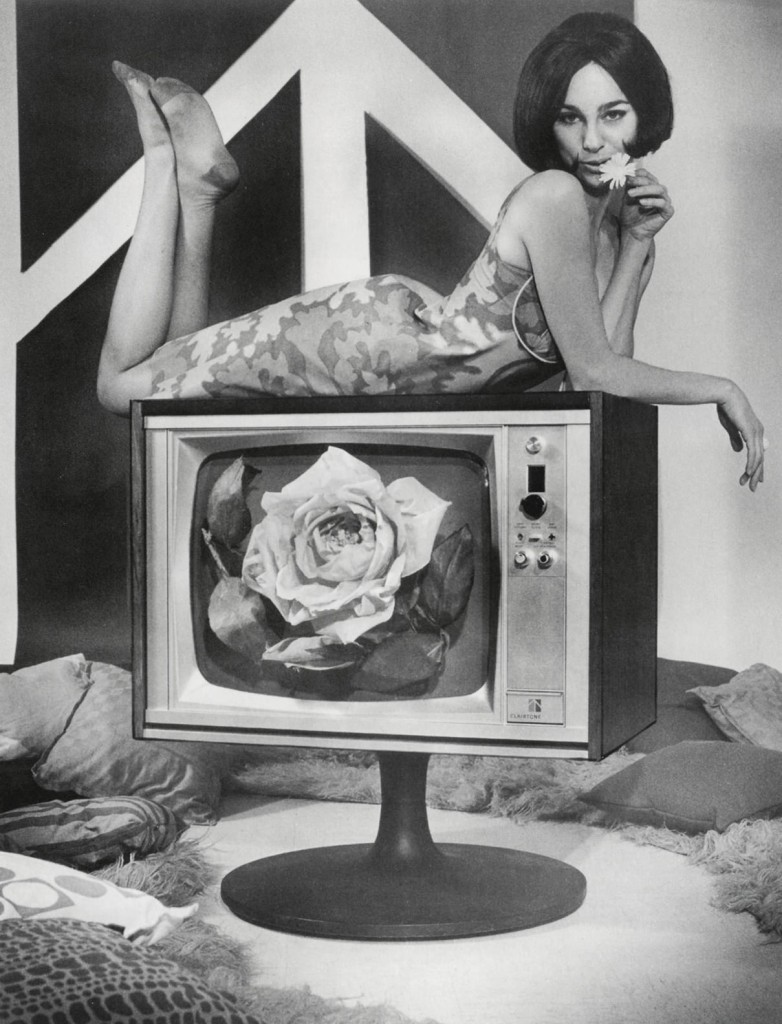 Today, most TV's are manufactured in Korea. That's where Samsung, the world's largest TV manufacturer, is based. Clairtone began as a stereo manufacturer in Toronto, headed by future gold magnate Peter Monk and designer David Gilmour. The government of Nova Scotia invested in the company and that's where the TV's were built.
My dad got ours from a TV repairman and my memory is he visited the house often. Clairtone's were the Avro Arrow of the TV world: stylish, ahead of their time and cut down before they really took off. It took forever to get parts from Stellarton, N.S. (That fancy channel changer button was a chronic problem.) That French provincial cabinet got less attractive when the tube went dark for weeks at a time. The company changed hands in '70 and was pretty much out of business by the next year.
Still, in the years we sat in front of her, Claire brought The Smothers Brothers, Archie Bunker, Monty Python, On The Buses, Dave Allen at Large and plenty of Leafs games into to our living room.
The UHF screws on the back look a little worn. That's from me trying to hook on a coat hanger or three in attempts to bring in the Baby Blue Movie from fledgling City-TV, then only available on channel 79 and later 57. Most of us thought TV stopped at channel 13 back then. This was many years before cable opened homes to dozens and later hundreds of channels.
City's Baby Blue Movies were usually dull European films offering glimpses of nudity. If you were in Grade nine in 1972, "I Am Curious Yellow" was the original "must see" TV.
This was TV you snuck up late to watch. TV generally back then, however, was watched by the whole family. It was not the only screen in our house–16mm movies could be threaded onto a projector down in the basement–but there were no laptops or mobile devices. The only thing 4K was something you might find on your spoon eating Alphabets.
The old tube sets just weren't designed to accommodate the giant, purring Betamax machines or other early tape recorders. While the advent of cable actually added a few years of usability to the old tube sets (with remotes taking over from worn out channel changers), TV evolved and the big furniture sets migrated into basements and dump sites.
Places such as Moses Znaimer's TV Museum in Toronto have no room for sets like Claire; she's too new. His loss. While we both could use a little Endust and pledge, I'm happy to have her under my roof–and she never has to work again.