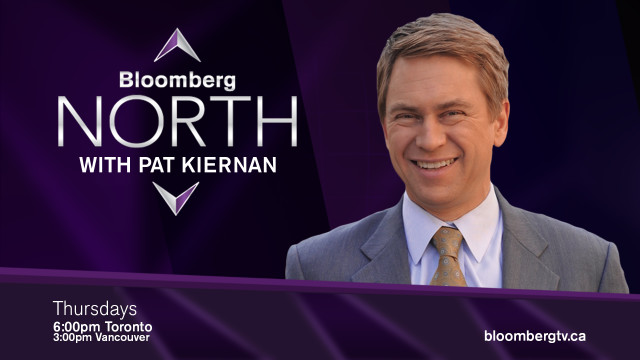 It wasn't easy, but I managed to grab a little face time Thursday night on Bloomberg North.
The specialty channel Bloomberg TV Canada, owned by Channel Zero (the folks behind CHCH), launched last November in Toronto (replacing a pickup of the American channel). Amanda Lang left CBC to be part of Bloomberg's Canadian bench.
Her Bloomberg North colleague Pat Kiernan (above) asked me to comment on the theory held by FX Networks president John Landgraf that there is just too much original scripted content being produced at the moment. Landgraf, who updated his comments this week in Los Angeles at the summer TCA press tour, calls this the era of "Peak TV." He doesn't think all this original, scripted content is financially sustainable and he's concerned several really good shows (especially a few at FX and FXX) are getting lost in the clutter.
Originally from Edmonton, Kiernan moved to New York 19 years ago where he has become a fixture on the Manhattan cable scene as the morning anchor at NY1. He brings something desperately needed in a business channel broadcast — a smart sense of fun. He can also be glimpsed in the new "Ghostbusters" flick.
He rightly calls the whole Peak TV situation a "first world problem."
My problem was trying to Skype myself into Kiernan's show. A producer called me an hour beforehand and tried to talk me through sending the video through my lap top. Too fuzzy — can you ditch WiFi and run it directly through a cable link, I was asked. Tried it and it still looked bad.
Can you Skype using your phone instead? I grabbed my LG Android, quickly installed the Skype app, and noticed the device was at about an 11% battery charge. I MacGyvered it up to an extension cord and I attempted to balance it sideways against a monitor, balancing it on a stack of 70-year-old, 400′ 16mm film boxes.
Meanwhile, there was a knock on the door — the dude I had called hours before was here to repair the sliding screen door to my backyard. Don't tell Bloomberg, but Mister Screen Repair only takes cash. In the 20 minutes before air time, I had to dash into my car, speed to a local mall, grab money out of an instant teller machine, and scurry back.
Then scoot downstairs in time to get re-oriented in a chair facing my phone which did not seemed to be charging and was now down to 8% battery life. Buddy in production says I need to sit higher; I grabbed a tin case used for storing film reels, turned it sideways and sat on that.
All that to fill a quarter of the Bloomberg screen with video that makes the one released today of Rob Ford smoking crack look like "The Godfather." Me, after all that running around, I look like Professor Julius Somner Miller. The whole thing looks like it was shot through a silk stocking with a leg still in it.
Tomorrow I am a) getting a tripod for my cell phone, b) getting a haircut and c) moving downtown.
You can watch the segment here.