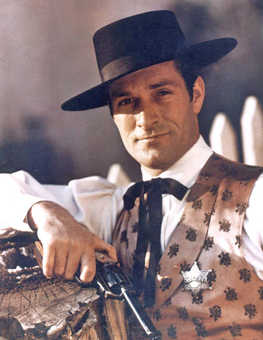 Hugh O'Brian had the ability to take dead aim — even at himself.
I met TV's Wyatt Earp eight years ago at one of those Hollywood autograph shows where TV celebrities from yesterday gather in a hotel in Los Angeles to sign autographs. Some of them are there to please their fans. Some just really need the money.
In an era when westerns galloped all over the TV landscape, O'Brian was one of TV's biggest stars. I spotted him sitting by himself behind a table against a wall. He was certainly older but retained his rugged, movie star swagger and charm.
In front of him was a stack of glossy, 8 x 10 photos to sign, plus some DVD box sets of the ABC anthology series The Life and Legend of Wyatt Earp (1955 – 61). On the wall was a sign that read, "He's still alive??? HUGH O'BRIAN TV'S WYATT EARP See for yourself."
Sadly, the sign now must be taken down. O'Brian passed away Monday at his home in Beverly Hills. He was 91.
I was anxious to speak with Mr. O'Brian at the autograph show but not about his TV work. Wyatt Earp, believe it or not, was before my time. I was more curious about O'Brian's philanthropic efforts, specifically, HOBY, an organization he founded in 1958.
O'Brian was at the height of his fame when he traveled to Africa that same year and met Nobel Prize-winning doctor and missionary Dr. Albert Schweitzer. Schweitzer urged him to do something special with his fame. The result was the Hugh O'Brian Youth Leadership (HOBY), a non-profit youth leadership development program for high school scholars. HOBY sponsors 10,000 high school sophomores annually through its over 70 leadership programs in all 50 states and 20 countries. Since its inception in 1958, over 435,000 young people have participated in HOBY-related programs.
One of them was the daughter of my friends Jim and Sharon Allison from Exeter, Ont., Eva Marie. They raved about the effect attending the HOBY high school leadership program had on their daughter.
So I went up to Mr. O'Brian's table and told him the story. He smiled and asked how to spell Eva Marie's name. He took one of the 8 x 10s and a black magic marker and wrote a lovely note encouraging her to continue to excel and telling her just how proud he was of her. "You are special," he wrote, then signed his name.
The he said, "That'll be thirty-five bucks."
You could have knocked me off my horse. Still, the man earned it. Happy trails, Hugh O'Brian.