Ron Glass was often, to borrow a phrase used to describe Reggie Jackson when he was with the Yankees, the straw that stirred the drink on the classic ABC sitcom Barney Miller (1974 – 82).
A gifted character actor, he passed away Saturday at the age of 71.
Glass added a little edge to one of the finest sitcom ensembles ever, earning an Emmy nomination toward the end of the series' eight-season run. Hal Linden, Abe Vigoda, Max Gail, Jack Soo, Steve Landesberg, Ron Carey — together, these guys and others kept you invested and laughing on the most static set since The Honeymooners.
It would be considered a fairly diverse cast even today. If you asked any cop back then to name their favourite police series–and, more specifically, the one they thought was the most realistic — the answer was almost always Barney Miller.
The series had ended its run by the time I got into the TV reporting business. Glass had a long and steady career, appearing in several Norman Lear shows before Barney Miller and guested on many dramas and comedies after.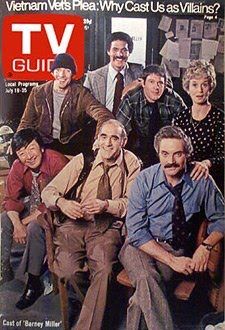 I think he was doing the ABC "TGiF" series Teen Angel (1997-98) by the time I caught up with him. Glass played a large, disembodied head named Rod who was apparently God's cousin. The series was from Simpsons alumni Al Jean and Mike Reiss and also featured former Brady girl Maureen McCormick. My memory was that Glass was very droll and good-humored on the phone about playing such an odd role in such an odd series.
Around that time or maybe a few years later, Glass was dragged into the wacky world of one of the TCA press tour's most memorable individuals, Rodi Alexander. Few sessions escaped this New Jersey native's unique line of questioning. Conspicuous in her Hairspray 'do, the long-time TCA treasurer was the reporter who once asked aging Playboy founder Hugh Hefner during his run on The Girls Next Door if he used Viagra. When he answered yes, Rodi shot back: "I thought the only reason an 80-year-old would use Viagra would be to stop from rolling out of bed."
The repartee with Glass was less titillating but just as Rodi. The session may have been for Mr. Rhodes, a forgettable sitcom from the mid-'90s, or it may even have been from Joss Whedon's short-lived sci-fi favourite Firefly (2002). In any event, a graying Glass had long abandoned the full 'fro he sported in his Barney Miller days. Rodi, sitting in the back of a crowded conference room, and being the seasoned, investigative reporter she was, demanded to know if Glass now wore a wig.
Glass played the scene to the hilt. He stood up, expressed much outrage, and walked off the stage all the way to where Rodi was sitting. He stood before her, bowed down and invited her to tug on his hair.
She did. Nobody knows what might have happened if the roles had been reversed, but I can report Glass's hair stayed on. The room erupted. It didn't get more hands-on than that on press tour.
Thanks for that moment, Mr. Glass, and all the many other laughs.