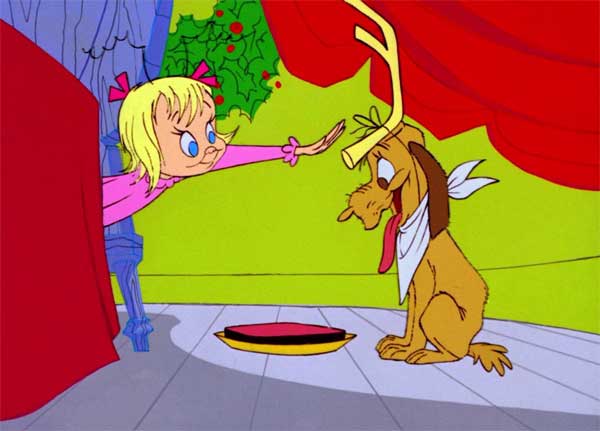 When telling the story of young Cindy Loo Who/Two guys in bow ties knew just what to do.
They were Theodor Geisel, a.k.a. popular children's author and illustrator Dr. Seuss, and Warner Bros animation legend Chuck Jones. Together, they made Dr, Seuss' How The Grinch Stole Christmas, which premiered 50 years ago this month in 1966. It returns Tuesday, Dec. 20 at 8 p.m. ET/PT on CBC.
I've always maintained that this special was special thanks to a unique convergent of mid-century talent. First was Geisel and Jones, who worked together during WWII. Captain Geisel was in charge of the animation and documentary arm of the first motion picture unit under the command of Colonel Frank Capra. Several ex-Disney and Warners animators worked together on films depicting the so-called worst soldier in the Army, Private Snafu. These lively training films helped soldiers avoid malaria, keep secrets and do their duty.
After the war, Geisel went on to write (uncredited) the Oscar-winning cartoon short Gerald McBoing-Boing. One of his children's books, Horton Hatches the Egg, was also turned into an animated short at Warners.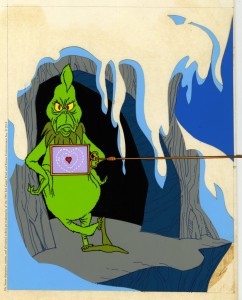 Jones pointed out in his 1996 book "Chuck Reducks" that, with the half-hour Grinch special, he was tasked to "make a Christmas film without orthodox religion, without Santa Claus, without reindeer, snowmen or the use of any of the classic carols." Furthermore, Geisel didn't really want to turn his book into a TV special and he wasn't crazy about how Jones rendered the Grinch character. "He felt my Grinch looked more like me than like his Grinch," wrote Jones.
It took two months to convert the book to storyboards covering a 24-minute running time. Jones then flew to New York and, using the storyboard drawings, acted out the special for potential sponsors. He struck out 23 times before the 24th sponsor stepped up: the Foundation of Commercial Banks! And this for a special where the main message was "Christmas doesn't come from a store"!
It took several months to animate the special. Jones frequent collaborator, Maurice Noble, brought his usual flourish to the backgrounds. Warner veterans Phil De Guard, Ken Harris, Abe Levitow, Ben Washam and Dick Thompson did the animation.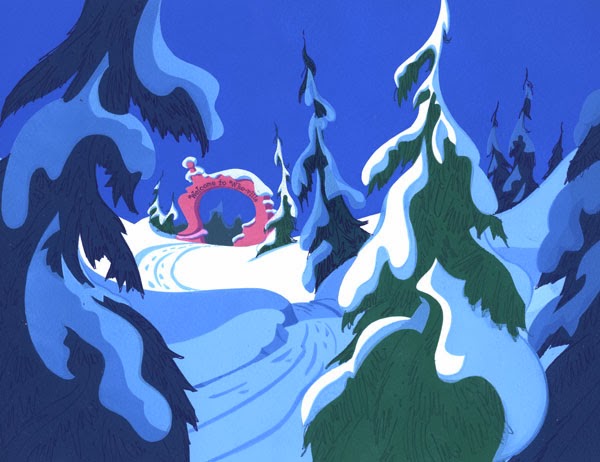 The great Boris Karloff provided the voice of the Grinch as well as the narrator. Karloff's contribution was huge; he made the Grinch sound truly menacing and yet purred like Santa Claus toward the end of the tale. The great June Foray (still with us at 99, although 2016 isn't over yet) squeaked for Cindy-Lou Who and Frosted Flakes pitchman Thurl Ravenscroft boomed the show's most memorable song, "You're a Mean One, Mister Grinch."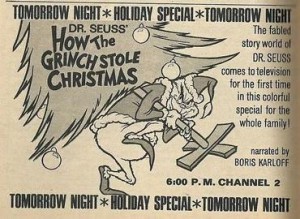 The songs were written by Albert Hague (who years later played the music teacher on both the feature and TV versions of "Fame") and orchestrated by Eugene Poddany.
The special was a big hit when it premiered on CBS on Dec. 18, 1966, and has been a popular network perennial ever since.
Jones did not win an Emmy for the special, but he did win a wife; In 1978, three years after his first wife died, he married Marian Dern, the TV Guide reporter who interviewed him all those years earlier about The Grinch. It is said that Jones' heart grew three sizes that day.
I was very fortunate to interview Jones twice before he passed away at 89 in 2002. I was also able to attend a tribute to him years ago at UCLA that was hosted by his good friend Ray Bradbury. Jones was very precise and articulate in person, as smart and graceful with words as he was with pictures.
Read more about The Grinch here in this "Rewind" column I wrote for The Toronto Star. I'm also interviewed about the annual Christmas special here at his feature at CBC News.ca.