"Guessing that's not the first time Warren Beatty has called out the wrong name at the end of the night."
The Twittersphere had a field day with the crazy mixed up 89th Annual Academy Awards. The above witticism was contributed by Modern Family writer/producer Danny Zuker.
Oscar So What turned into Oscar — so, Whaaaat?? as things spilled way past midnight in the East. It was a jaw-dropper, just like that other American election.
It's an oversimplification to say 35 white people left the stage and made way for 35 black people but the awkward Best Picture hand-off did seem to symbolize a night of affirmation and reward for African Americans. I haven't seen "Moonlight," but I did see "La La Land" and it wasn't even a good episode of Glee. I'm glad things turned out the way they did.
Kudos, though, to the gracious "La La Land" producer for having such presence of mind to quickly grasp the mistake and be the first to so eloquently congratulate the people behind "Moonlight." It was odd seeing dudes with headgear and clipboards on stage during the initial acceptance speech. I didn't think they were just asking when the car should be brought around.
Beatty is taking plenty of heat for his senior moment but he clearly felt there was some mix-up with the envelopes. It was really Faye Dunaway, his fellow presenter, who called out the wrong name, probably thinking Beatty was being coy.
There's probably a few openings this morning at the accounting firm of Price Waterhouse Cooper, the folks who hold and hand out the envelopes.
Host Jimmy Kimmel had the presence of mind to make a Steve Harvey joke, razzed Beatty and tried to blame himself. "I knew I would wreck this thing," he declared. What else could he do?
As for the rest of the night: I liked that Kimmel opened with an old fashioned Oscars monologue. You want to hear jokes at the start of this long show.
The night was expected to be a Trump roast. That's not what happened, although Kimmel snuck in some shots: "Thank you to President Trump. Remember last year when we thought The Oscars were racist?"
Kimmel also mentioned that the show was being broadcast to "125 countries that now hate us."
He also made fun of the celebrities in the front rows. "Nice dress," he said to Meryl Streep. "Is that an Ivanka?" He  asked the audience to give Streep an undeserved standing ovation. Gutsy, and perfect.
There were more jokes aimed at Kimmel's late night talk show "rival" Matt Damon, however, than Donald Trump. The pounding went on all night. "When I first met Matt, I was the fat one," was a typical diss.
By hitting a wide variety of targets and taking a good-natured approach, Kimmel helped the audience at home and in the theatre relax and settle. It could have been a boring night of Trump bashing, from both the host and the winners.
Justin Timberlake also helped put people in a party atmosphere with an opening song and dance number. It seem a bit odd, though, as if one had switched on The Grammys or tuned in during an elaborate Tuxedo Junction commercial. JT glaring at Kimmel later must have been a bit, but I didn't get it.
Kimmel's best lines were the spitters thrown later in the evening. He banned CNN, The New York Times and others from the theatre. He remarked that an ex-wrestler — Dwayne Johnson — was now the highest paid actor in Hollywood, "which really puts all this into perspective, doesn't it?"
His funniest bit came late into the show when it appeared presenter Damon was being drowned out by the orchestra — only to have the camera pan into the pit to reveal Kimmel was conducting.
Later, Kimmel brought aq bus load of unsuspecting tourists into the Oscars. That was fun at first but went on too long. Curse you, Elen DeGeneres and enough with the celebrity selfies already.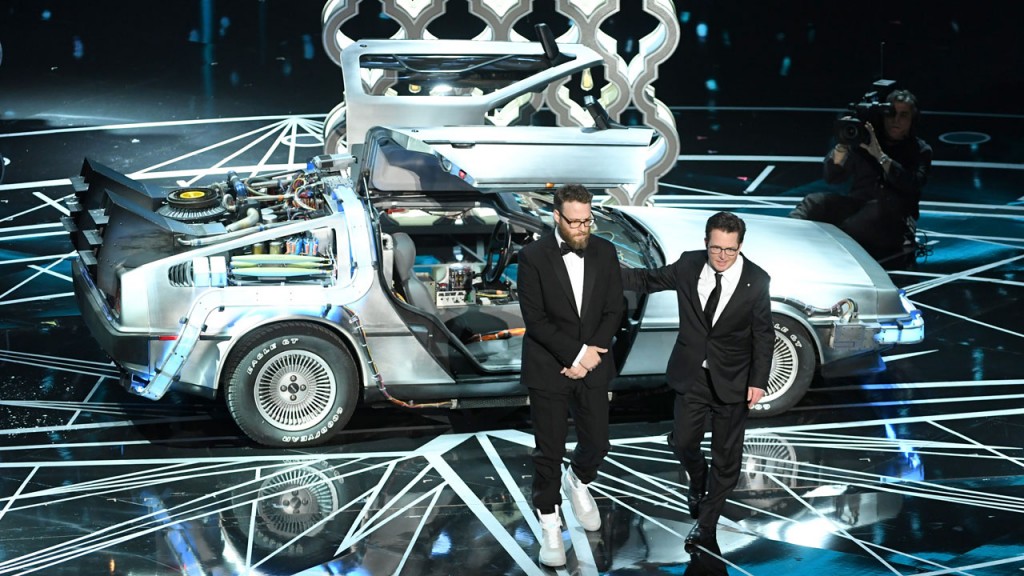 Kimmel's "Mean Tweets" bit also seemed less funny at the Oscars then during Jimmy Kimmel Live. The show ran long and somebody should have been pulling anything that wasn't an award presentation past midnight.
It was fun seeing Michael J. Fox and Seth Rogan scramble out of the Delorean. An early presentation proved even Kate McKinnon and Jason Bateman could have unfunny moments. About 15 refugee families snuck in under Janelle Monáe's dress.
The In Memoriam segment was first class, elevated by a soaring rendition of Joni Mitchell's "Both Sides Now" by Sara Bareilles. Too bad they had a photo of somebody who wasn't dead among the deceased.
On this night, nobody even noticed, Best Oscars Ever.