Great News is good news if you are looking for a traditional network sitcom. They still make them, critics be damned; Matt Leblanc and Tim Allen and Kevin James and other familiar faces make a nice living cranking out comfort food for millions who don't have FX or HBO or Netflix.
Executive producer Tina Fey still makes 'em, too. Great News is 30 Rock slid into a TV news room. There's also a whiff of another show she produces (for Netflix), The Unbreakable Kimmy Schmidt.
Fey protege Tracey Wigfield created Great News. The 33-year-old, who survived a stint as a Letterman intern, wrote on 30 Rock. She also has a role on this series, as a TV weathergirl.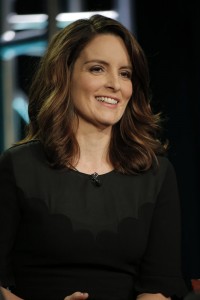 If the phrase weathergirl seems a bit dated, so does the entire sitcom, but for some that will be part of its appeal. Briga Heelan (Undateable) is the Mary Tyler Moore of this newsroom, an ambitious young producer who must tame a cast of crazies cranking out a weekly newsmagazine. SCTV goddess Andrea Martin plays her overbearing mom who worms her way into her daughter's workplace as an intern. This gets her all up in her daughter's bid-ness.
Pushy mom thinks her girl should marry the show's EP, played by Adam Campbell. On the other hand, mom can somehow tame the show's vain, Ted Baxter-ish anchor, played by the ever-dependable John Michael Higgins ("Best in Show").
Former reality show brat Nichole Richie is surprisingly effective as Higgins' character's youthful desk mate. Horatio Sanz plays an editor who is the Murray Slaughter to Heelan's MTM, good for friendship and zingers.
Fey has declared herself a big Martin fan. Her crush is right there on the cover of Martin's terrific 2014 autobiography, Andrea Martin's Lady Parts.
Who doesn't love Andrea Martin? At 70, she can still throw all her comedy skills and energy into a weekly series. The character, however, is more Phyllis than Rhoda. She can steal a scene with the best of them, great fun in small doses, but a little of mom at work goes a long way.
There's a sense, too, that this cast and these producers could push things a little farther. A decade of Curb and Louie and other smart cable and streaming comedies has raised the bar or at least shaken up expectations.
Perhaps this is why NBC has snuck this show on at the end of April, with the ink already dry on the 2017-18 schedule they'll reveal in two weeks in New York. Or maybe it survives as an annual summer player. The good news about Great News is it gives several skilled players a place to strut in prime time on network TV.
For more on this series, follow this link to the feature I wrote for The Canadian Press. Great News premieres Tuesday night at 9 p.m. ET/PT on NBC.