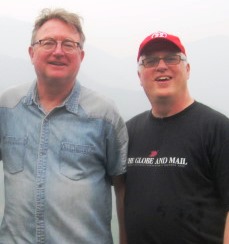 If you've been looking for posts here lately, I haven't fallen off the face of the earth — just traveled to the other side of it.
I can't say where yet, but it has to do with a TV show ('natch). I'm in on this caper with the dude on the left: Jim Slotek. Jim has recently taken a buyout at The Toronto  Sun after 33 years of cranking out fun-to-read features on the entertainment beat. Jim thought it prudent to leave now and let Joe Warmington turn out the lights.
Fans of The Slo can keep reading him at his new blog: Original Cin. Please follow this link to avoid heading straight to 43 filthy porn sites. Hey, the Inter-web is a horn-dog's delight.
Original Cin is actually where you'll find the latest movie reviews from Slotek and some of his veteran film critic pals, including former Globe and Mail columnist Liam Lacey. There are reviews of a couple of Hot Doc gems up there right now.
As for this mystery tour, I will reveal all as soon as said TV show hits the air and the embargo is lifted. Ah, suspense!