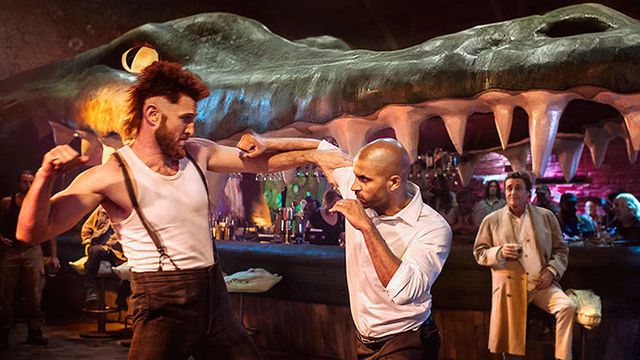 American Gods premiered Sunday in Canada on Amazon Prime Video. The much anticipated series, seen on Starz in the States, was shot in Toronto and features an all-star cast, including Pablo Schreiber, Ian McShane, Gillian Anderson, Kristin Chenoweth, Cloris Leachman, Dane Cook, Peter Stormare and Corbin Bernsen, along with English actor Rickey Whittle in the lead.
The series is an adaptation of Neil Gaiman's contemporary fantasy novelwhich follows a clash between gods from ancient mythologies and new celebrity gods. At the TCA press tour way back last summer, showrunners Brian Fuller and Michael Green — who worked together previously on Heroes — talked about how they split their writing assignments:
"There's a myth of writing partnerships," said Green, "that it's, like, 50 50, and in our case, it's more like we're doing 100 percent, and this show requires 200."
Green went on to say the thing he's heard over and over again about turning this tricky novel into a series was "Don't F— it up."
"It's a constant process of rising excitedly to the challenge of it," said Green. "It's great to come into something that's so passionately loved by so many people, but we were two of those people. So that made it a challenge worth showing up for.
Read more about American Gods in this feature I wrote this week for The Canadian Press. The eight episode series premiered Sunday in Canada exclusively on Amazon Prime Video.