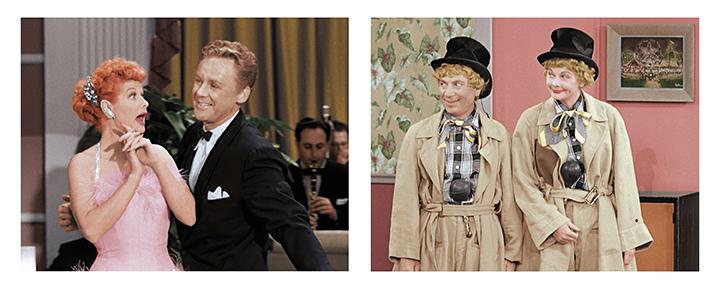 I know, I know. A lot of purists see red at the idea of colourizing classic black and white movies and TV shows. The process got a bad name when the first computer-coloured attempts were made over 30 years ago. They left a fuzzy first impression.
The very first feature I ever wrote for TV Guide Canada, in 1983, was a story about how Toronto-based Colourization, Inc. was transforming Laurel & Hardy shorts. The company had obtained rights to the duo's original Hal Roach library. This was, however, pre-hi-def, and before computer programs could power through enough memory to make colourization convincing.
Comedy pioneer Hal Roach was well into his nineties but still took my call for that story. I asked what he thought about the colourization process. I never forgot his answer.
"Do you read the funnies?" he boomed over the phone. He was referring to newspaper comic strips.
"You know how they're black and white during the week and then in colour on the weekends?" Again I answered "Yes."
"Well, do you just laugh on the weekends or do you laugh throughout the week?"
Then there were art direction mistakes. On one of the first press tours I ever attended, down in Hollywood, Lucille Ball was in the house. She was attempting an ill-fated comeback in a best forgotten dud called Life with Lucy. I asked the TV legend if anybody had approached her about converting her old I Love Lucy sitcom episodes from the '50s into colour. She told me there already was an attempt, but that the colour was pretty bad. More offensive to Ball, the team behind the process gave her brown hair instead of her trademark Technicolor red. Those guys had some 'splain' to do!
Flash forward 30 years and Lucy is looking better than ever. CBS has been converting episodes for several years now and airing back-to-back shows as hour-long colour specials, usually in spring and at Christmas time.
Friday at 9 p.m., CBS presents "The Dancing Star," featuring Van Johnson, and "Harpo Marx," with the great Harpo. The episodes were part of the "Ricardo's go to Hollywood" story arc and go together seamlessly in the hour format.
I love the colour, which is carefully rendered to reflect Technicolor feature films of that era. What I object to is how the old episodes have been edited down to fit into today's tighter timeslots. There are more commercials, less episode time, in today's TV landscape.
Still, any time you get a chance to see Harpo Marx perform the "Mirror Scene" with Lucy is pure gold. Marx did it first, of course, in "Duck Soup" with brother Groucho in 1933. That scene is an all-time comedy classic, but the version with Lucy, more than 20 years later, shows Ball could hold her own with great clowns from any era.
It wasn't her first time working with Harpo. Ball was cast in a fairly straight role in one of the Marx Bros. dullest features, "Room Service." Now there's a film that proves Roach's theory in reverse — no laughs in any hue.