It was fun catching up with "Appa" and "Umma" — a.k.a. Paul Sun-Hyung Lee and Jean Yoon — Wednesday at the CBC Upfront in Toronto.
I joined the two leads of Kim's Convenience, along with writer/creator Ins Choi, in the press room after the network honchos finished unveiling the new fall season. The very accommodating CBC PR department tricks out one of the large TV studios upstairs at the CBC Broadcast Centre  with black curtains, well-worn brown leather couches and comfy pillows and blankets, plus enough food to keep even Tony Wong from The Toronto Star happy.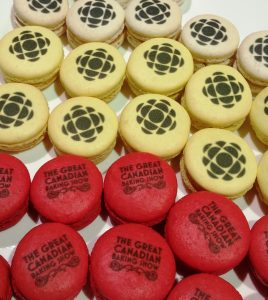 Sun-Hyung-Lee, however, was sipping water. He's lost weight, and before I could razz him for going all Hollywood after his award-winning turn on Kim's, he explained his doctor told him bluntly to lay off the sugar.
My doc told me the same thing, I shared. Paul explained his diet, and I took notes. Unfortunately, it eliminated pretty much all the cool cookies, brownies and other treats on the CBC snack tables.
Paul says he gets recognized all the time now thanks to the hit sitcom. He gets, "Hey, grocery guy!" a lot.
Joon, ever slender, says the treats on the snack table hold no appeal for her. What she is into cannot be revealed for fear of alienating her Korean fan base. She also gets fans congratulating her and launching into big conversations in Korean — after which she has to ask them to repeat everything very slowly. She's not as fluent as the character she plays on the series.
Choi says all the writers are back from Season One. That's good, he adds, because writing 13 new half-hour episodes is hard work! Helping, he says, is knowing the actor's a little better now, following their lead in some ways in establishing these character's voices.
Thirteen new episodes of Kim's Convenience have been ordered for the 2017-18 season.