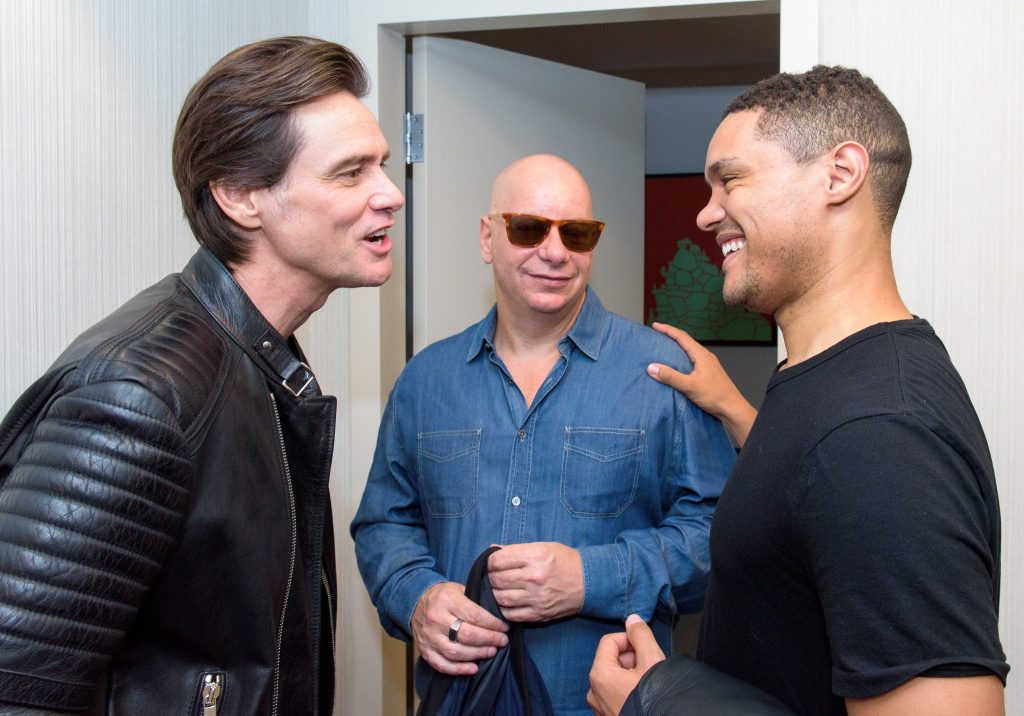 MONTREAL — People come to the Just for Laughs comedy festival for the laughter and stay for the wisdom.
Take Friday night's all-star awards show, please. The event is held at a hotel built into the side of as mall, which seems about right as presenter Jimmy Carr pointed out.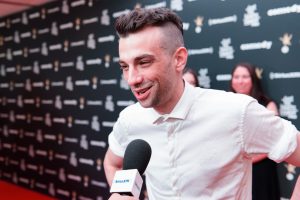 Several of today's top comics were being honoured, including Trevor Noah, Mike Berbiglia, Ali Wong, Craig Ferguson and Blackish writer Kenya Barris. Alonzo Bodden hosted and was very funny, basically begging the power brokers in the room to cast him in their next projects as a security guard. Jeff Ross, Natasha Leggero, W. Kamau Bell and Jay Baruchel also presented.
Baruchel got a laugh when he walked on stage to the strains of Gary Glitter's midway anthem "Rock 'n' Roll Part II"
"One of history's great pedophiles," noted Baruchel. "Thank you."
Baruchel was there to present the award to Craig Ferguson, who won the Alumni Tribute for his many JFL performances. "I was here 30 years ago apparently," he cracked on the red carpet. Ferguson has been dead sober for years, but it wasn't always so.
He noted how organizers reach out to winners before hand to tell them they'll only receive the award if they come in person to the award show. "Is this really an award or a party favour?" Ferguson asked. He acknowledged late night relative newcomer Trevor Noah in the crowd, telling him, "You're gonna be fuckin' rich — but dead inside."
The biggest star in the room, however, was Jim Carrey, who was introduced by his old pal Judd Apatow. Apatow spoke about their connection in the early '80s when both were doing stand-up in LA. Carrey's clip reel contained more work in the first 8 seconds, as Apatow noted, than most comics can cram into a lifetime.
"Why is he here?" asked Apatow, pointing out it wasn't exactly The Oscars. "Because he's Canadian."
Apatow spoke about watching Carrey struggle between his Tonight Show debut and In Living Color, how he ditched his act and reinvented himself with long, bizarre sets at the Comedy Store.
"He wanted to figure out who he was through stand-up," said Apatow. As Carrey has hinted lately, that process seems to be happening again now.
Carrey took the stage and put on a performance, grabbing the statue with JFL mascot VIctor dancing on a weird, white golf ball and said, "So this is where Sammy's eye went."
He got big laughs goofing on his fellow comics, as well as himself. He referenced Lester B. Pearson and the Maple Leaf Flag and asked everyone to stand for the Canadian National Song. Then he launched into a rendition of Gordon Lightfoot's "Wreck of the Edmund Fitzgerald."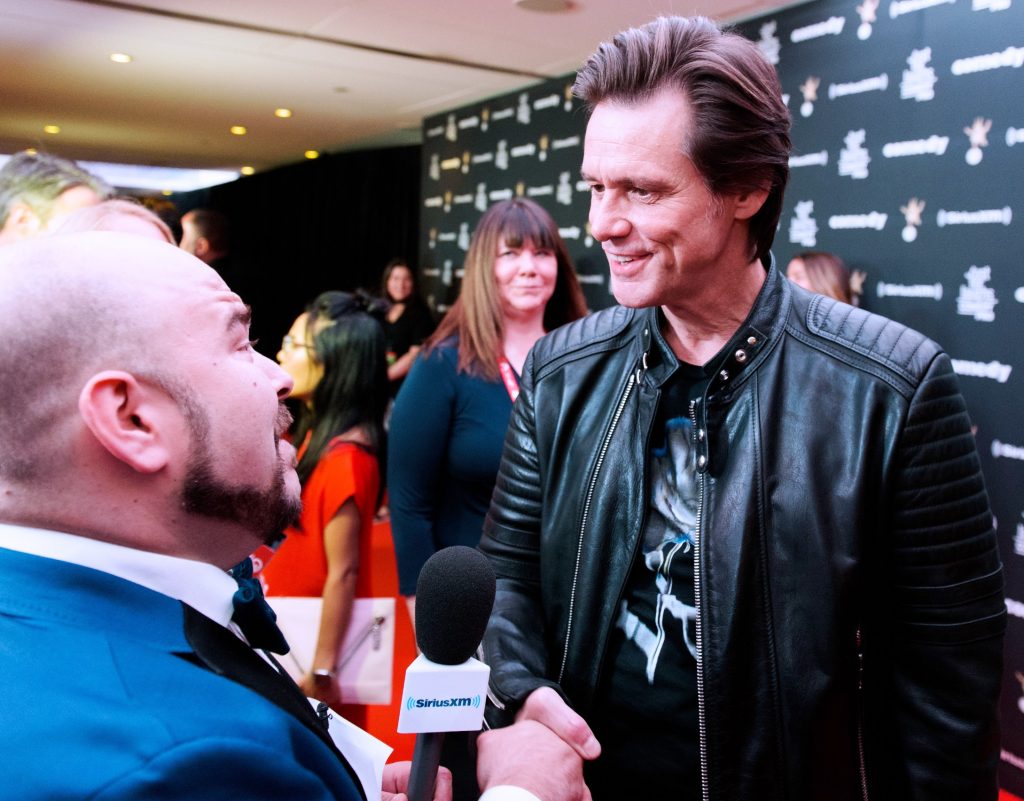 He did a ton of stuff that you had to be there for, including a moment where he referenced the Iroquos and how they had Robert De Niro's hair deal from "Taxi Driver" and then he merged the two in one of his famous face/voice impressions. He managed to make a joke about curling.
Then he got serious.
"I'm a funny guy, that's how I'm identified," he said, "because I had a sick mom."
Carrey started making his mother laugh, and that's how it all started.
Up until five years ago, he continued, "I was never involved in a conversation. I just watched people's lips f–ing move," he went on, before he weighed in with something funny.
At one point, however, that wasn't enough anymore, he said. "I started to search for who am I?" he said. He read the Bible, the Koran, the Torah. People were still laughing, but by this point, most of us were just leaning in.
"To really break it down," he said finally, "there is nothing here, and all we've got is the fun we have together. We're just a cluster of fucking tetrahedrons, soaked in gratitude."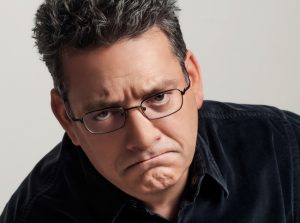 How do you follow that? Unfortunately, that task fell to Andy Kindler, who, once the room cleared, took the stage do give his annual "State of the Industry" address. Kindler, billed as a "perennial malcontent" who "loses his temper for your amusement," seemed a little off his game this year (the awards were a hard act to follow) but still managed to score a few bullseyes, aiming his sharpest barbs at CNN, Ricky Gervais and Jimmy Fallon.
Kindler insisted he had predicted the decline of Jimmy Fallon, reminding the audience of a joke he'd made last year. Here's what would happen, Kindler suggested, if Stalin had been on Fallon's Tonight Show:
"I heard you killed 30 million people. That's crazy. Do you want to play charades?"
He also said this would be the sign outside of a Jimmy Fallon ride:
"You must be this easily entertained."
So enjoy Kindler at Just for Laughs, because you won't be seeing him anytime soon on NBC.