Those of you who read this site regularly (you both know who you are) are undoubtedly aware that my favourite TV channel is TCM — Turner Classic Movies. No other channel caters to its fan base with such style and provides such well archived content.
Ben Mankiewicz has proved that classic film, as his intro proclaims, is in his blood as he carries on the handy headline hosting tradition established by his colleague and mentor, the late Robert Osborne.
The network makes the most of its library of classic films by programming them under "Summer Under the Stars" and other monthly promotions. It isn't afraid to throw the occasional silent title into prime time, as it did the other night with a rare and beautifully restored Marion Davies feature from the '20s.
Still, there is no substitute for watching these films the way God and DeMille intended — within the hushed confines of an impressive movie palace. Such a treat awaits patrons of a festival taking place over this coming Labor Day weekend in Los Angeles: Cinecon 53.
On Thursday, August 31st, the festival will open with a gala, red carpet reception in one of Hollywood's oldest and grandest remaining movie palaces — the Egyptian Theater. The landmark cinema was built in 1922 — a few years before Sid Grauman opened its more famous cousin down the street: the Chinese. For several years, he Egyptian has been catering exclusively to classic film lovers as home to the American Cinematheque.
The Hollywood Foreign Press Association recently awarded a US$500,000 grant to restore the cinema. This work was carried out during 2016-17, with even the murals and the palm trees outside getting some much needed attention.
The pre-sound movie house has an unusually deep stage in order to accommodate live orchestras and other stage shows. This will be put to good use on Thursday, opening night of the festival, at a screening of one of Buster Keaton's most elaborate and entertaining films, "Steamboat Bill Jr." (1928). The Famous Players Orchestra will provide live musical accompaniment throughout the feature.
In attendance, as guest of honor, will be legendary actor Norman Lloyd, still spry at 102. He'll be presented with the Cinecon Legacy Award by Howie Mandel and, schedule permitting, Judd Apatow.
Besides the joy of sharing this cinema experience with an audience, there is the bonus of seeing the best available prints projected in their original, 35mm format. If you've ever squinted through a standard 8mm projection of a part of an early Chaplin or Laurel & Hardy feature, you will be amazed at how clean and modern these images look under the proper conditions. It's like seeing a classic film for the very first time.
Most movie theatres ditched their 35mm projectors several years ago as digital projection became the standard. Thanks to another grant of US$350,00 from the HFPA, The Egyptian is now equipped to run older, somewhat less stable Nitrate film stock, This will allow for a screening of "Untamed" (1940), a film that begins during a hunting trip to Canada. It's all part of the festival's "Saturday Nitrate Fever" program. Actress Patricia Morison, who stars in the film and, like Lloyd, is 102, is slated to take part in a Q&A after the screening. So if you're asking questions, speak up!
New this year at Cinecon — and of particular interest to a TV on Film collector like me — is a salute to the early years of television. Before trans-Atlantic cables allowed for coast-to-coast broadcasts, and before videotape was in practice to record what went on the air, many early TV shows were recorded live off monitors on 16mm film and then shipped to other locations (including overseas army bases). It was the only way to capture a live show back in the late '40s and early '50s. The process was known as Kinescoping.
Collecting Kinescopes is a passion of 16mm archivist and Cinecon president Stan Taffel. Back in January, Stan treated me to a preview of many of the films he'll be showing Saturday at the downstairs "Spielberg" Theatre at the Egyptian in a program titled, "Kinecon at Cinecon."
Among the 16mm gems Taffel will unspool Saturday afternoon:
A 15 min. episode of The Bob and Ray Show from 1953. The popular radio duo do their shtick at a Long Island race track.
A young, skinny Dick Van Dyke auditioning for CBS in 1955.
A comedy fragment from the long forgotten NBC Pinky Lee Variety Show from 1950.
A clip of Steve Allen from 1957 showing the late night pioneer with three of his house comedians –Louis Nye, Tom Poston and Don Knotts — as well as a surprise guest.
A rehearsal for a live Nabisco commercial during a 1958 broadcast of the daytime game show Concentration.
A knock out performance by Sammy Davis Jr. on a 1954 episode of NBC's Colgate Comedy Hour — recorded five days before a near fatal car accident cost the entertainer his left eye.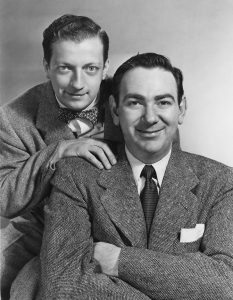 There's much more, including clips of Dinah Shore, Martha Raye and '50s boxing champ Rocky Graziano. If you're at all curious about the early days of television, and you're in the LA area over the Labor Day weekend, walk like an Egyptian to the Egyptian.
There are many more film gems over the four-day festival including a tribute to comedian Jackie Oakie. Where else can you find that? For more information, as well as a full schedule and tickets, follow this link to the full Cinecon site, and pass the popcorn!