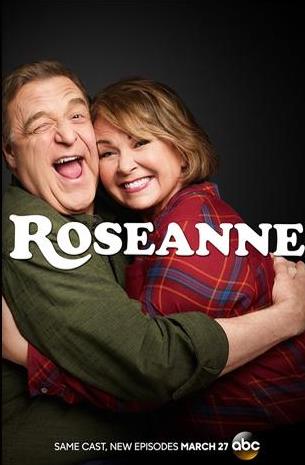 PASADENA, Ca. — Monday was that point in press tour when somebody almost had to toss a hand grenade to wake up the room. Enter Roseanne Barr.
The comedienne — now 65 with six grandchildren — was at TCA to promote the re-boot of her classic sitcom of the late-'80s and '90s, Roseanne.
She and co-stars Laurie Metcalf and John Goodman sat before reporters and critics on what looked like the frumpy old couch from the series. The entire rest of the cast — including Canadian Sarah Chalke — surrounded them on stage.
Up until this point, most of the winter 2018 TCA sessions have been a tad subdued. The "metoo," sexual abuse story has hung over a lot of sessions.
That restrained tone was shattered early by Roseanne and company. John Goodman — a great actor who always seems a little uncomfortable in front of a room full of scribes — served noticed there would be no lojng answers from him on this afternoon.
His character, Roseanne's husband Dan Connor, died toward the end of the original series. What did he think about how the writers brought him back to life?
"I didn't really care," he snapped. "I thought it was a clever way to do it [it is]; to handle it and get it out of the way."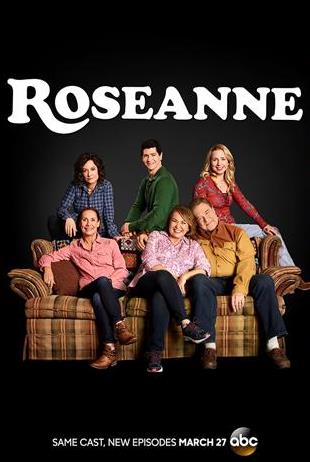 The fireworks were really lit, however, when Roseanne tried to duck questions about her political stance. She has been less shy on Twitter about her support of the American president. He character on the series voted for and defends 45.
At first she tried to pass all Trump queries off to executive producer Bruce Helford. When that do it from NPR reporter Eric Deggans, co-producer and co-star Sarah Gilbert stepped in to very eloquently explain the thinking behind the Trump storylines.
"As we all know, our country is very divided, and we did have a wonderful opportunity to talk about this in the context of a family,"she said. "To me, it was a great opportunity to have a family that can be divided by politics, but still is filled with love.  And what a great thing to bring into this country right now."
Michael Fishman — who plays the Connor's youngest and is now 36 — won over critics with his straight ahead, reasonable remarks. "You can have those arguments and those fights and those different positions," said Fishman, "and that's what makes not only the show, but the country amazing."
Clearly, though, Barr was pissed that the Trump inquisition never let up. This group smells blood, and is notorious for seizing one issue and hammering it until somebody snaps.
Asked how she could support a xenophobic candidate, Barr shot back, "Well, that's your opinion." Reminded that he called Mexicans rapists, Barr replied, "Well, he says a lot of crazy shit."
Barr eventually allowed that she didn't support everything Trump says or does, but she maintains it was "time for us as a country to shake things up and, you know, try something different."She pointed out employment among Black Americans has gone up under Trump. She also sees the Connors as exactly the kind of blue collar family that would have responded to Trump's election pitch to save jobs and make America great again.
"It was working‑class people who elected Trump," she said, perpetuating a myth. "I feel like half the people voted for Trump, and half didn't, so it's just realistic."
There were a few lighter moments. What did she think about Oprah's speech at the Golden Globes? She likes Oprah. Should Winfrey run for president? "I think I would be a better president than Oprah and Susan Sarandon, possibly even President Trump."
Lost in the session was Laurie Metcalf, a great actress who could possibly win an Oscar next Month for her supporting role in "Lady Bird." Her daughter is also a big part of the hottest new show of the season, "Young Sheldon."
There are already calls for viewers to boycott the new Roseanne. The star told us she recently put her Twitter account on pause. "My children took my Twitter password away from me," she told us, an initiative that might make even more sense in the White House.
Barr also teased the notion that Dan never really died in the original run of the series. Watch the third episode of Roseanne, she suggested, There lies clues.
Johnny Galecki Natalie West and Estelle Parsons will guest on the 10-episode run of the series. Tom Arnold will not.
By the way: I've seen the first two episodes, expected the worst, and was completely won over to see this family back on TV. Colleagues I spoke with here at press tour had the exact same reaction.