Did you know that June 5 was the day Ferris Beuller took off in the 1986 John Hughes film "Ferris Beuller's Day off"?
It makes sense, then, that this Tuesday, June 5, Hollywood Suite premieres their new documentary "Ferris's Room." The film, by director Ryan Mains, features Toronto artist Sarah Keenlyside as she recreates the cool bedroom that was Bueller's gadget-filled sanctuary.
Keenlyside attended a special premiere of the documentary Saturday night at Toronto's Hot Docs Ted Rogers cinema. She spent six months planning and tracking down various '80s artifacts used in the recreation, including a barely bootable IBM computer, a synthesizer keyboard (that reportedly once belonged to the band Toto) and a furry moose head with a pig's snout. The entire recreation was installed in Chicago — the setting for the original film — during 2016 celebrations commemorating the 30th anniversary of the film.
Original supporting players Cindy Pickett and Lyman Ward (Ferris's parents), Edie McClurg (the school secretary) and Larry "Flash" Jenkins (one of the car jockeys who joyrides in the Ferrari) returned to Chicago for the celebrations and are seen in the doc. Missing, however, are the three main stars, Matthew Broderick, Mia Sara and Alan Ruck, along with co-stars such as Jennifer Grey and Charlie Sheen.
The doc goes into a little too much detail about how the room was set up for the Chicago event (including a long sequence where a pony chair is fetched) but Keenlyside is still a winning subject, especially once the exhibit is up and running. The doc really picks up once fans from across the US and Canada come streaming through. There is something quite touching about how fans can be boosted by getting up close to a recreation of something that had such an impact on their lives. Seems taking a day off  is a cause we can all get behind.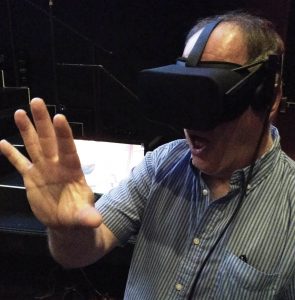 Keenlyside packed her exhibit up and took it to Niagara Falls next and it was there where it was photographed to create a 3D model. That was then rendered into an interactive, virtual reality experience. VR headsets were provided at the Hot Docs screening where you could try to pick up baseballs on the floor of Ferris's room and fling them into his empty baseball mitt.
For more information on the Hollywood Suite documentary premiere (paired, of course, with a showing of the original 1986 feature) and for a way into the Ferris's Room VR experience, follow this link.