It takes a village to turn me into an actor.
A heritage village, in fact, such as Westfield Heritage Village just outside Hamilton, Ontario. It was there last September where I shot a scene opposite Jonny Harris and Charles Vandervaart on Canada's top-rated drama series, Murdoch Mysteries.
The episode, "Annabella Cinderella," airs (and streams) tonight at 8 p.m. ET/PT on CBC.
I'd had the good fortune to be a background extra on Murdoch several seasons ago. That was in a whole other village thousands of miles away up in The Yukon in Dawson's City. That time out I was "Miner No. 5" and I had no lines. In fact, you needed me standing next to you going, "There!" to spot me.
This time, Murdoch's ever resourceful storyteller, executive producer and showrunner Peter Mitchell, actually risked his show by offering me lines to read as the "Ticketman" at a train station ticket window. Director Sherren Lee had the grim task of helping me pad out my IMDb credits.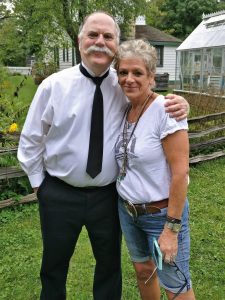 Learning four whole lines (the shortest being "Pretty?") was a tad nerve wracking for Mister Memory Challenged but I was in good hands all the way. Special thanks to director Sharren Lee for her tolerance and key hair and makeup pros Shirley Bond and Deb Drennan for turning me into somebody else for a day.
Drennan has worked all 12 seasons on Murdoch and has the stories to prove it. I interviewed her (see the video, above) after shooting the scene as she removed the big Lanny McDonald moustache she earlier had glued onto my upper lip. Deb's an Emmy winner with a long history in Canadian television, but there is no truth to the rumour that the moustache was made from the hair off Bruno Gerussi's back.
The take took about an hour to shoot, with Lee even throwing a curve by changing up the order of the lines. Harris and Charles Vandervaart, who plays young John Brackenreid, barely blinked an eye but I felt as if I'd gone into the exam without ever studying.
Lee, 1st AD David Marion, Harris and Vandervaart pulled me through it. Especially impressive were the background extras who were also in the scene, coming up to the ticket window and interacting right down to the ticket exchanges.
Thanks to Shaftesbury CEO (and newly announced Order of Canada recipient) Christina Jennings, executive producer Scott Garvie, Mitchell, Yannick Bisson and others for being so reckless with their show. It was a humbling, illuminating and really fun way to spend a morning.