Last July I flew back from a brief stop at the Television Critics Association press tour in Los Angeles to head directly to Montreal and the Just for Laughs Comedy Festival. One of the people I most wanted to speak with there hosts The Stand-up Show with Katherine Ryan, premiering Tuesday, Jan. 22, on The Comedy Network.

The eight episode series features Ryan delivering both sweetness and shock. As it says on her site, "Her look says 'Piano Recital'; Her mouth say, 'Choke on your mother's implants.'" She also presents several other stand-up comedians, including Andy Kindler, Colin Quinn and Canadians Mark Forward, Mark Little and Rebecca Kohler.
The 35-year-old, from Sarnia, Ont., is one of those rare Canadian comedians who, like Russell Peters, is way more famous outside of North America than in her home and native land. Peters sells out arenas for comedy shows throughout Asia; Ryan is a big deal on the Telly as a presenter and a panelist over in The UK.
Unfortunately, the window to speak with Ryan, who taped several shows in Montreal, was rather slim. It basically came down to one option: interview her on my cell phone during my 30-minute Uber ride to LAX.
Which is what we did, with me holding my digital recorder up to my cell phone while the car inched along the 405 South. I thought it would be a disaster, with the conversation dropping out under every bridge. In fact it went swimmingly, with Ryan friendly and sympathetic every kilometer along the way.
I knew things would go well after the very first question. After explaining the kooky Uber-office circumstances, I asked, "Where's the strangest place you've ever done an interview?"
"Ooo," said Ryan, who paused briefly and said, "I think maybe in the London Eye."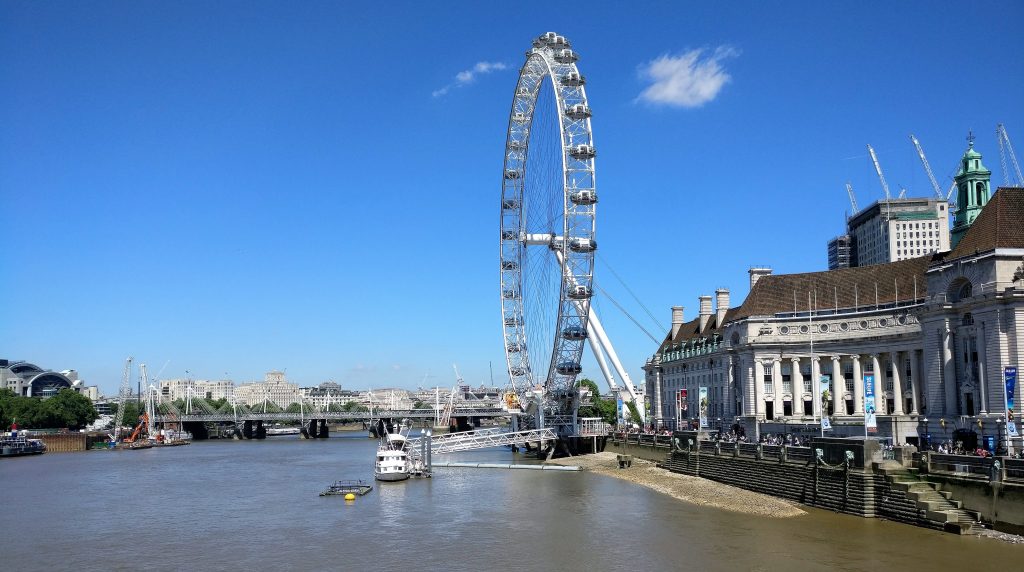 Last summer was quite busy for me, travel wise. I had just been in London a month earlier interviewing John Krasinski about his amazing action hero transformation on Amazon Prime's Tom Clancy's Jack Ryan. So when Katherine Ryan asked if I was familiar with the giant ferris wheel on the Thames, I could honestly say yes, I had just seen it up close, and it does look spectacular. I had, in fact, walked across the bridge from my hotel and taken a closer look at The Eye, passing right in front of the entrance which is in the middle of a very crowded tourist park. The enormous white wheel rotates once every half-hour or so, offering visitors in each attached pod a spectacular view of the British Parliament buildings. Those iconic chambers were being renovated and were covered in scaffolding at the time of my visit. The British landmark looked as if it was being disguised to hide it from Donald Trump, who made an official visit a few weeks later. (Remember that big, diapered, Trump balloon?)
Ryan told me she had recently been interviewed in one of the pods, "and you know what? It's a strange location, but it's soundproof and it takes exactly 30 minutes, so in a way it's not a bad office."
"I would think that's probably the best place ever to do an interview," I replied, "because, even if I ask a stupid question, you can't leave."
"Exactly," said Ryan, who laughed, which gave me permission to go on with my other stupid questions.
Read more smart answers from Ryan here at this feature I wrote for The Canadian Press.