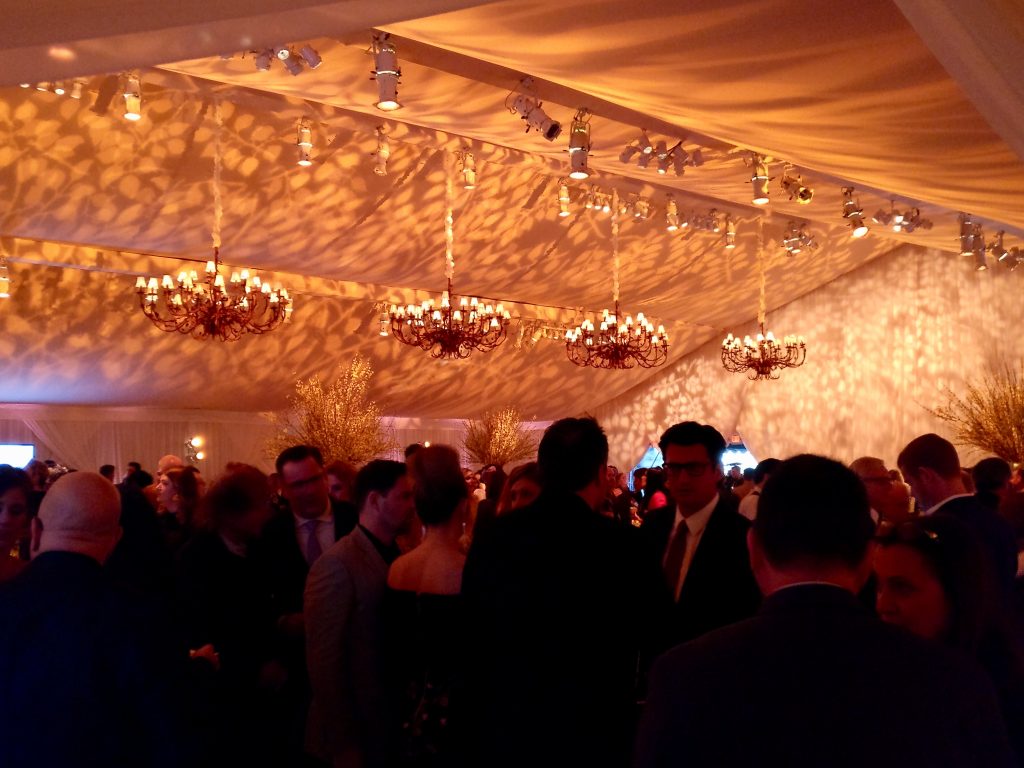 There are so many Canadians at the annual Crown Media/Hallmark Channel TCA press tour dinner it should be held at a hockey rink. Instead, the venue for the Saturday night event was at the Wrigley Mansion/Tournament House in Pasadena, which is basically stately Wayne manor with trophies. This is a late and lavish Christmas party for actors who have starred in the many Hallmark movies and series that have aired over the previous year , many of which are shot in Canada.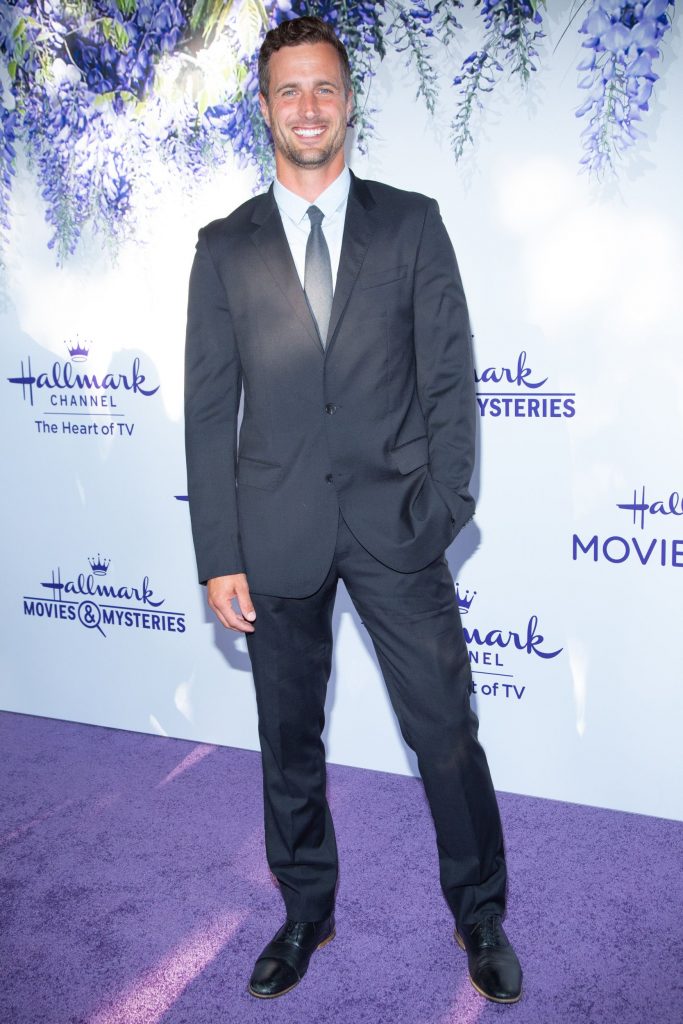 TCA favourite Pam Slay, Hallmark's SVP of coommunications, knows how to throw a party. The giant white tent set up on the Wrigley lawn took nine days to erect and prepare, with six giant chandeliers dangling overhead. Petrossian caviar was paired with French champagne. Every catering company in the greater Los Angeles area seemed in on the gig.
For me it was a busy night interviewing the Canadians in the room, including former Motive co-star Brendan Perry (heading into a fourth season on Hallmark's Chesapeake Shores), Luke MacFarlane ("Just add Romance"), Colin Ferguson (a veteran of 10 Hallmark movies), Cameron Mathison (Home & Family), Benjamin Ayres (seen last season on Burden of Truth and featured on several Hallmark projects, including Chronicle Mysteries), former Republic of Doyle favourite Lynda Boyd ("Snow Coming"), Paul Campbell (who played opposite Dave Foley in the CTV sitcom Spun Out and does holiday movies for Hallmark now such as "A Godwin's Christmas") and Montreal-native Jennifer Finnigan ("Welcome to Christmas" being her most recent Hallmark title).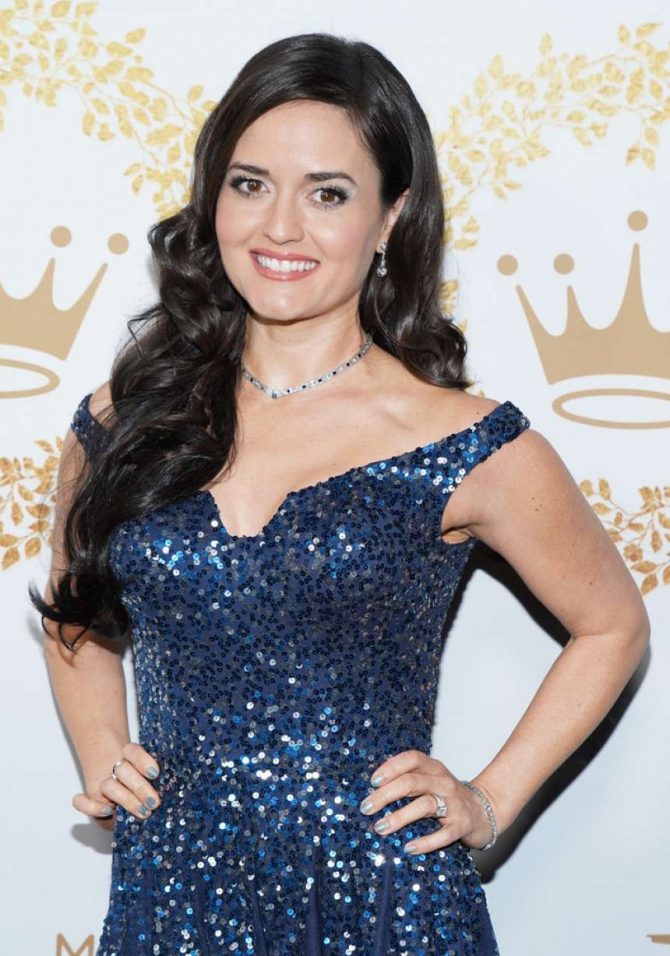 Boyd, who lives in Vancouver, says Her Hallmark experience has been excellent, with the cable network flying her down first class just to attend Saturday's gala. Many of the actors also benefit by suggesting stories for future films and getting additional production credits.
Many land on Hallmark's casting radar because they are Canadian. Many Hallmark holiday films and a few series shoot in Vancouver or even in Sudbury and North Bay, Ont. Often one of the movies will have an American cast as No. 1 (Candice Cameron Burke, Treat Williams, Debbie Gibson, Wendie Malik, Kellie Martin, James Denton, Lacey Chabert and Kellie Pickler, all at the party, are Hallmark regulars) with a Canadian in the No. 2 position. The Canadian crew, bit players and occasional director helps Hallmark participate in some tax credit advantages as well as save production costs by taking advantage of the lower Canadian dollar.
Hallmark's expansion into Canada in 2018 has been a success, says network president and CEO Bill Abbott, citing a 30+ per cent spike in ratings for Corus-owned W network. Crown Media plans to produce a staggering 103 Hallmark movies in 2019.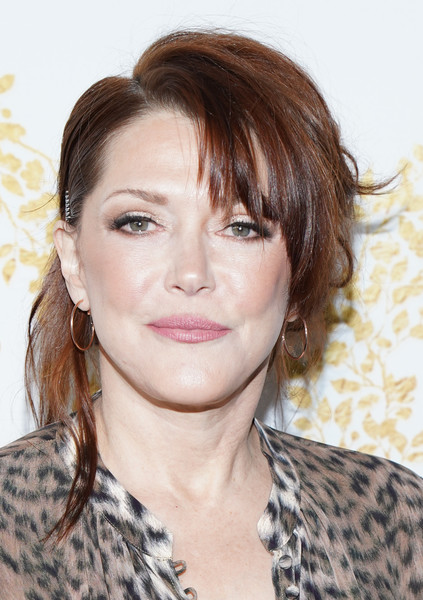 Most have hilarious stories about shooting Hallmark Christmas movies in Canada in the summer. Ferguson says sometimes frosty breathing is digitally added later to hide the fact that actors, bundled in sweltering hats and scarves, are actually sweating outside in July in 30c weather. Boyd said her recent Hallmark movie was shot in November in Canada but ice chips still had to be trucked in from a local rink and spread across front lawns to give the green grass thriving in a 26c autumn heat wave more of a Christmas look.
The company has clearly tapped into a large audience of TV viewers yearning for lighter, family friendly stories. Hallmark movies, we were told, often surge ahead of all other US cable offerings on a given night, sometimes out performing broadcast rivals, too.
Inviting members of the press corps to this party can be a tad risky. Some cynics were taking over and under bets on Abbott's speech, lengthened by singling out an ever growing number of stars the room. (He clocked in at over 40 minutes). The large Christmas tree and the jingle of Andy Williams' classic "Its the Most Wonderful Time of the Year" throughout the room after dinner was disorienting in February.
Then there are the optics: the annual Hallmark TCA party has a nagging "Republican National Convention" vibe. Adding Canadians to the mix is not exactly addressing diversity. The network does seem out of step with broadcast and cable's general move toward multi-cultural casting. NBC weatherman and Hallmark regular Al Roker was a welcome sight but a little too conspicuous in the room. There was a drinking game at some press tables where spotting a person of colour in the Hallmark clip reel meant taking a swig; there was little risk of intoxication.
That it is often a White Christmas on screen at Hallmark does seem to be changing a little with Rodney and Holly Robinson Pete and a few others now established as Hallmark family members. That more American and Canadian actors of colour join the party is something everyone in the room will be happMy to drink to in future years.