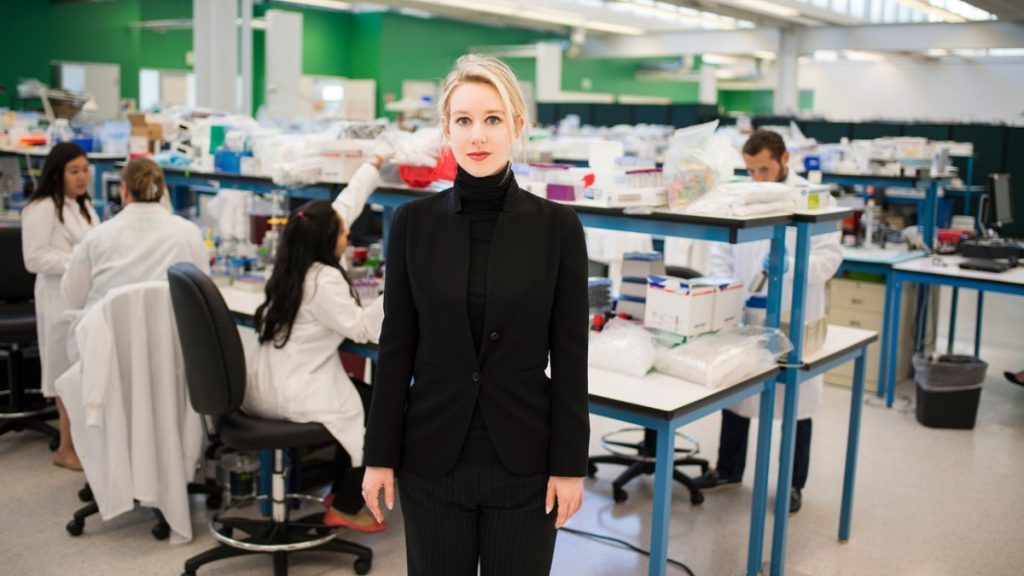 If you're going to steal from rich people, think big.
That's one of the take-always from HBO's new documentary "The Inventor: Out for Blood in Silicon Valley." It premieres Monday, March 18 on HBO and starts streaming the same day in Canada on Crave.
It tells the story of Elizabeth Holmes, the founder and CEO of Theranos, a biomedical startup with a valuation that went from $9 billion to bankruptcy almost overnight.
Their big idea was a home blood testing machine that used small amounts of blood to detect all manner of ills. It never really worked, and results were later proven to have been falsified.
Holmes used connections to cozy up to the right people and gain access to the rich and famous. Her dad was a former Enron exec, a fact which you'd think might have set off a few bells. In 2015, Forbes declared Holmes the youngest and wealthiest self-made billionaire in America; a year later, the magazine revised her net worth to zero.
HBO executive Nancy Abraham told reporters gathered at the Television Critics Association press tour in February, that "The Inventor" is "a tale of hubris, deception, and the dangers of wishful thinking, it is also a story of the power of journalists and the value of the press as a counterbalancing force, and the courage of whistleblowers willing to risk all to expose the truth."
It's also a wake up call to investors willing to risk fortunes to be first in when it comes to a possible pot of gold.
"I really don't think she was like Bernie Madoff where she thought, I'll run a scan and I'll make a shit load of money and that will be great," producer-director Alex Gibney told a few of us gathered in February during international press sessions. "I think she just felt she needed enough 'runway,' as they call it, to ultimately get there."
Gibney, The respected documentarian behind the Oscar winning "Going Clear: Scientology and the Prison of Belief," has a theory as to how Holmes had the nerve to bilk so many billionaires into investing in her company.
"People feel entitled to cheat if it's for a good cause," he mused. "Not only do they feel entitled to cheat, they're not conflicted about it so they can lie about it much more effectively — and that was a chilling idea to me." Someone who believes so reverently in their cause, adds Gibney, does not "allow anything to get in their way and they can go down quite a crooked path."
It didn't hurt that Holmes was already a pretty big fan of herself. Holmes went to far as to hire another documentarian, Errol Morris, to follow her around with a camera. "She was obsessed with creating a mythical story about herself," says Gibney. She always wore black turtle necks, just like one of her heroes, Apple boss Steve Jobs.
As for the suckers who lined up to throw money at Holmes, Gibney thinks the Theranos story tells you a lot about capitalism.
"We like to think business is a series of rational calculations of risk and reward. A lot of it is just, 'trust me.' Rupert Murdoch invested $125 million in Thernoes and never looked at an audited financial statement."
I asked Gibney if it also helped that Holmes was a pretty, blonde, 30-year-old; if looks is a key factor in any swindle.
"There are images of Elizabeth before she had the bright red lipstick, before she added the pale makeup, and the wide eyes with mascara — it's a very different looking face. She became an almost Kabuki-like character as she morphed into this figure. It's very much a fictional character."
Such a juicy character, in fact, that Jennifer Lawrence will play Holmes in an upcoming feature. See the real story now on HBO and Crave.