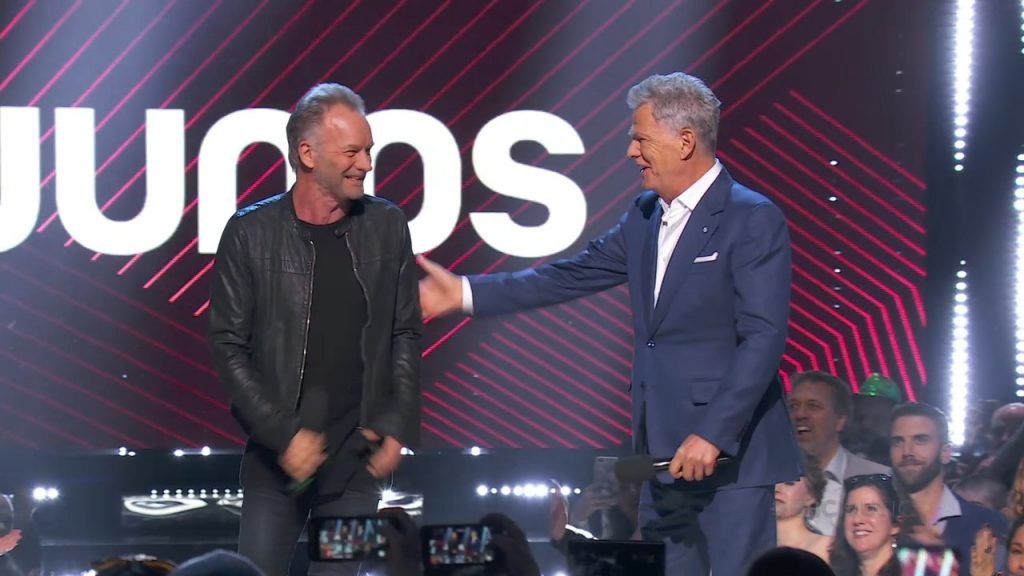 Sunday's 2019 Juno Awards, live from London, Ont., drew an overnight, estimated 918,000 viewers on CBC.
Sting and David Foster (above) added some geezer chic to the occasion. Despite it being a live show, look for that number to edge over a million viewers once the Live+7 totals are factored in.
The two hour broadcast featured performances by host Sarah McLachlan, The Arkells and Canadian Music Hall of Fame inductee Cort Hart.
Sunday nights are, suddenly and surprisingly, safe spots for CBC to program Canadian award shows now that streaming services have taken over weekend viewing. This year's Junos was well scheduled opposite a relatively light Sunday night among broadcasters in March. Global had the only show to edge the Junos in overnight viewership, that being nine o-clock entry NCIS Los Angeles (966,000). At 8, the Sunday episode of Big Brother Canada did 693,000.
CTV stood pat with World of Dance (606,000) and new import The Enemy Within (505,000). Citytv's imported lineup of Fox animated simulcasts went Simpsons (401,000), Bob's Burgers (365,000), Family Guy (224,000). CTV Two carried once feared American Idol (328,000).
Specialty had a good Sunday with History's Curse of Oak Island (593,000) and Sportsnet's Canucks-Dallas game (514,000) both breaking the half million mark in overnights. TSN netted 356,000 as the Raptors lost to Detroit. Food set a table for Buddy vs. Duff (312,000). TSN2 hurried home with 270,000 watching women's curling.