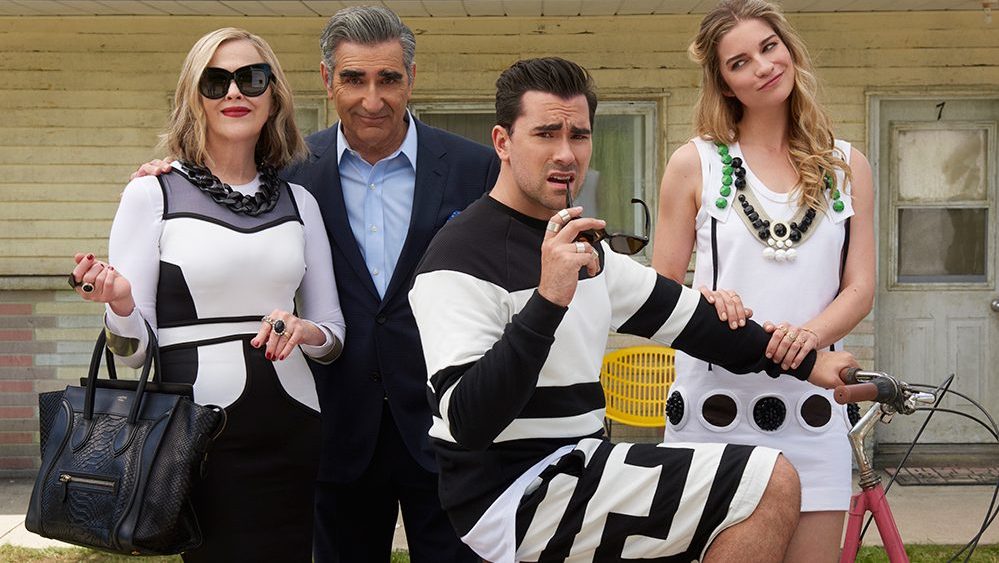 Holy Schitt's! Perhaps no other series in Canada demonstrates how times have changed in the eyeball counting business than Schitt's Creek. Acclaimed in both Canada and the United States, the five-year-old comedy could likely not survive on live viewing alone given the low overnight estimates it has charted this season.
Take last week for example. On Tuesday March 12, Schitt's Creek drew an overnight, estimated 287,000 viewers across Canada. That was about half the take an hour earlier on CBC where Kim's Convenience got an estimated 536,000 2+ viewers. In between was This Hour Has 22 Minutes at 405,000, with the imported UK comedy Catastrophe limping home to a paltry 156,000 in overnights.
Canadians, however, loved to save their Schitt's and look at it later. It's true! According to CBC, the confirmed season 5 average audience (2+ AMA) for Schitt's Creek to date is currently 650,000 viewers. That's based on Season 5, Episodes 1 through 8 (Jan. 8 -Feb 26, 2019).
In other words, so far this season, more than half (55%) of all viewers tuning to Schitt's Creek in Canada did so via playback.
And that number keeps growing. In fact, playback viewing has been growing for the Eugene Levy/Catherine O'Hara series over the past few seasons. It was at 46% during season 4 and 38% for season 3.

Schitt's also has value, of course, as an export. Last week, CBS reached an agreement with Lionsgate to buy out its 50 percent stake in cable TV network Pop. The big get, according to several reports, was Pop's first window in the US on new episodes of Schitt's Creek. The Canadian comedy, as CBS CCO David Nevins pointed out in the Pop release, "was on 30 year-end best lists in 2018 and continues to grow in ratings every year."
Doing a deal for Schitt's early was a savvy move by Canadian-born Pop president Brad Schwartz, who keeps climbing the CBS programming ladder.
Schitt's Creek isn't the only CBC show Canadians tend to PVR first and watch later. Here is the public network's Top-5 in terms of playback use during the current 2018-2019 season:
Schitt's Creek
Workin' Moms
Burden of Truth
Kim's Convenience
Coroner
Interesting to note that all three of the above CBC comedies also stream around the world on Netflix while Burden of Truth airs in the US on The CW. The rookie on the list, Coroner, was a breakout hit in Canada, climbing to over a million viewers a week on CBC. The Muse Entertainment/Back Alley/Cineflix series already has a deal through NBCUniversal to bring the series to The UK, Germany, France, Spain, Poland, Africa, Latin America, Brazil and Australia later this year.
Source: Numeris, Total Canada, CBC Total, Jan.8-Feb 26, 2019, 2+ AMA, Confirmed Audience Data