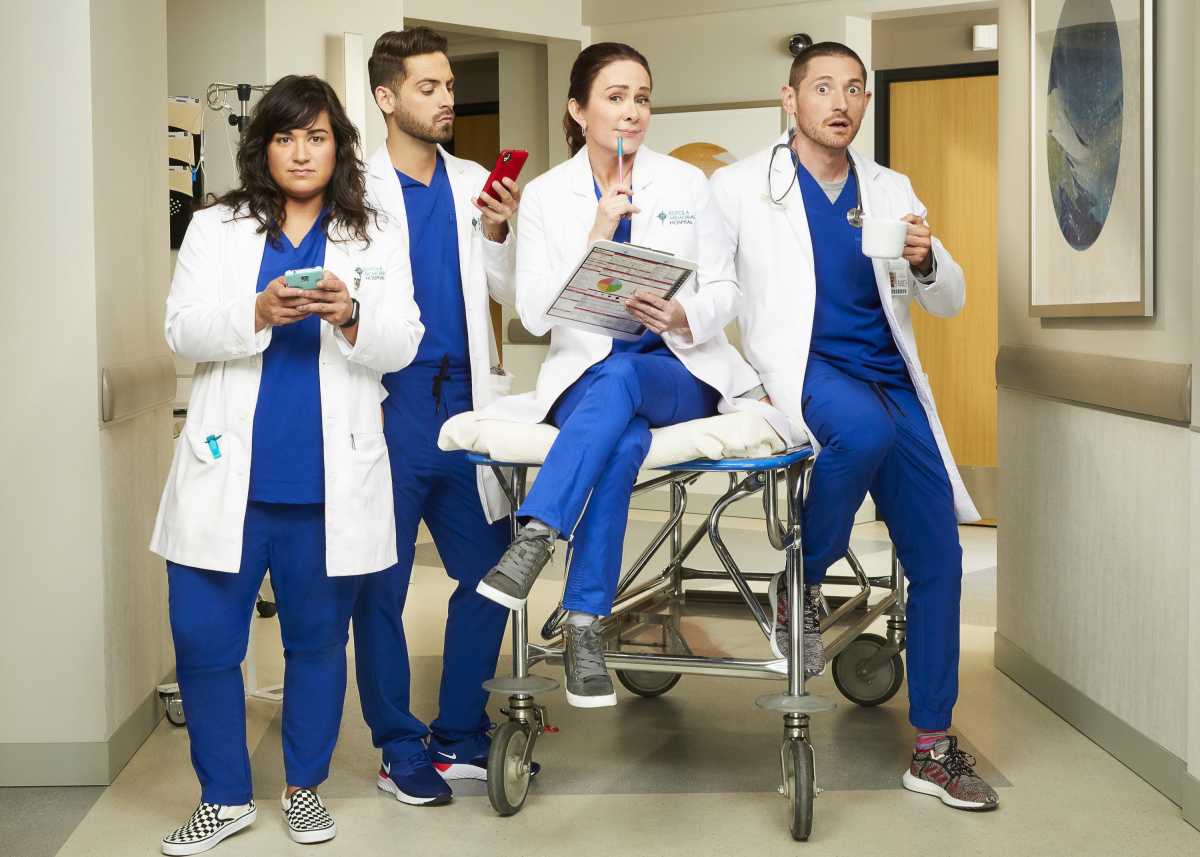 Toronto native Sabrina Jalees co-stars with multiple Emmy winner Patricia Heaton this season on the new sitcom Carol's Second Act (premiering Thursday on CBS and Global). The two of them had just stepped off a first class flight from Los Angeles when I interviewed them this past June at Corus headquarters in Toronto.
Jalees, best known for her stand up comedy career, says she could get used to riding in those cool little pods. "I made a lot of eye contact when people walked by," she said. "In your dreams I thought. Anything can happen."
The first class treatment continued once she arrived at a posh Toronto hotel. "My wife is back at the hotel now is like Julia Roberts in 'Pretty Woman.'"
Jalees plays Lexi, one of the much younger interns working opposite Heaton's more mature character on Carol's Second Act. For the 34-year-old Canadian, being part of a CBS ensemble is a welcome taste of the big time. She paid her dues performing at Yuk Yuks comedy club in Toronto at 16, doing several shows in Montreal at Just for Laughs, writing a youth column at 16 for The Toronto Star and especially — if you ask my 20-something children — being a wisecracking regular on such MuchMusic favourites as Video on Trail.
Now that she's been to the front of the plane she wants to stay there, she says. She knows it will take hard work to pivot to being taken seriously as an actress, but her humble beginnings have prepared her for that.
"I grew up in North York and Scarborough," she said. "My dad was a contractor so we would move into the homes that he built — maybe to avoid builder's tax unless that's a weird thing to say. In that case we just wanted to live in 20 different homes growing up."
It was an up and down existence, she recalls. "We would move into the house that he would eventually tear down. Sometimes we'd be in a torn down shack, and sometimes we'd be in this new big house. It was so erratic…one day we'd have a bidder, then next I'd be sharing a room with my brother."
The comedy clubs were her acting school. In Toronto, New York and LA. "I've been dragging my suitcase full of jokes anywhere they'll let me," she says. She moved to New York in her early twenties, imagining Lorne Michaels would meet her at the airport in a limo. "Just wait till America finds out this baby's got a visa," she thought at the time. "Turns out they didn't care."
Jalees eventually found her way in front of the camera through the writer's room. She was a writer in the series executive producers Emily Halpern and Sarah Haskins did before Carol's Second Act. "They asked me to come in and audition for this one," she says. Jalees decided to take the day off from her latest writing gig and give it a shot.
She's very glad she did. "It's turned into a complete shift in my career and in my life."
The key she found, was to be herself at the audition. Nowe she's thrilled to be surrounded by so many acting veterans on Carol's Second Act, especially Heaton. "Pinch me, I'm dreaming," she says.
Not that there aren't lessons ahead. "Our director Pam pulled me aside as we were shooting the pilot and said, 'After you say your lines, remember you have to keep on acting.'"
Carol's Second Act premieres Thursday night on CBS and Global.