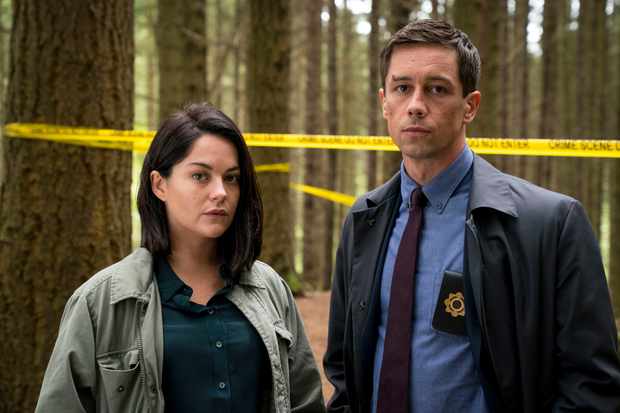 In his relatively short acting career, Dublin Native Killian Scott has played his share of dark, complex characters. One in particular was on Damnation, shot in Calgary, where he played a man masquerading as a preacher during the depression.
"That character was also a very conflicted individual," says the 34-year-old actor. "My parents still say to me sometimes, 'Look, could you just get cast in Downton Abbey?'"
His parents will have to wait a little longer. His new series, Dublin Murders, premiering Sunday on Starz and Crave in Canada, is another dark, psychological thriller.
The eight-episode series was shot closer to the 34-year-old actor's home. It was based in Belfast and Dublin and shot right after Game of Thrones wrapped – allowing this series to scoop up a skilled and ready crew.
The story is based on a series of books under the "Dublin Murder Squad" banner by Tana French. Scott (Ripper Street) and Sarah Greene (Ransom) play two ambitious police detectives, Rob Reilly and Cassie Maddox. In a story set 20 years ago, they investigate the murder of a young girl whose body is found in the woods. A second murder seems unrelated, but is later found to be linked in a tense, nail biter of a psychological thriller.
As the investigation unfolds, more is learned of Reilly, a dapper detective who slowly loses his cool as the investigation leads down an ever darkening path.
Scott attended a special premiere screening of Dublin Murders during the Toronto International Film Festival in September. He told me then that he was especially drawn to playing a man who, for years, has been very successful at keeping dark things in his life at bay. The discovery of the first body, he explains, "begins to slightly expose some of the cracks and some of the inner darkness or the inner disturbance of this guy."
Scott singled out his co-star Greene for throwing herself inside such an equally dark character. Maddox, he says, comes just as unglued as Reilly. It takes lot out of an actor, says Scott, "but it is worth it when you do it."
Series creator and writer Sarah Phelps, who was also at the Toronto screening, sees Reilly and Maddox not so much as detectives, but as "secular, kind of priestly guides, who take us by the hand and lead us through… even if that means leading us through Hell."
These are ultimately "flawed, messy, conflicted, fragmented people," says Phelps. What makes them fascinating is that "they're trying their absolute best."
For more on the series, see my feature in the November issue of Movie Entertainment magazine.