Trust CBC to jump right on top of a hot idea.
Family Feud Canada comes two decades after the syndicated revival of this game show began (with host Louie Anderson) in the U.S. in 1999. It comes nearly 44 years after original host Richard Dawson starting kissing every single female contestant in sight on the wildly popular ABC version in 1976.
It also comes after international versions of what is basically a simple fill-in-the-blank game have launched in 80 other countries and territories, including Afghanistan, Algiers, Argentina, Azerbaijan — and this is only halfway through the "A"s.
Having said that, the brand new Family Feud Canada, which premieres Monday at 8 p.m. on CBC, is an impressive duplicate of the US original. The set design it a bright, blue showstopper, and survey says the big board is just as cool as the one Steve Harvey has been pointing to for the past decade.
The difference then is a) the contestants — they're Canadian; and b) the host, none other than Gerry Dee, the Toronto comedian who starred for seven seasons on CBC's school-based sitcom Mr d.
Dee's persona, on stages as well as on Mr. d., is often that of a self-serving cynic who is generally the butt of his own jokes. In the screener I watched of Family Feud Canada, he has modified his approach, appearing much more TV-host friendly and upbeat. This was likely a note written in thick marker from the network, where executives hope viewers will fall into the habit of tuning in weekday evenings.
Dee does not completely, however, consume the game show announcer man Kool-Aid. Like Harvey, he bends over and assumes the same look of pained exasperation and disbelief when somebody offers a guess that cannot be anywhere near what will be up on the board. Harvey has mastered this stunned look of resignation and Dee always had it within his own bag of tricks.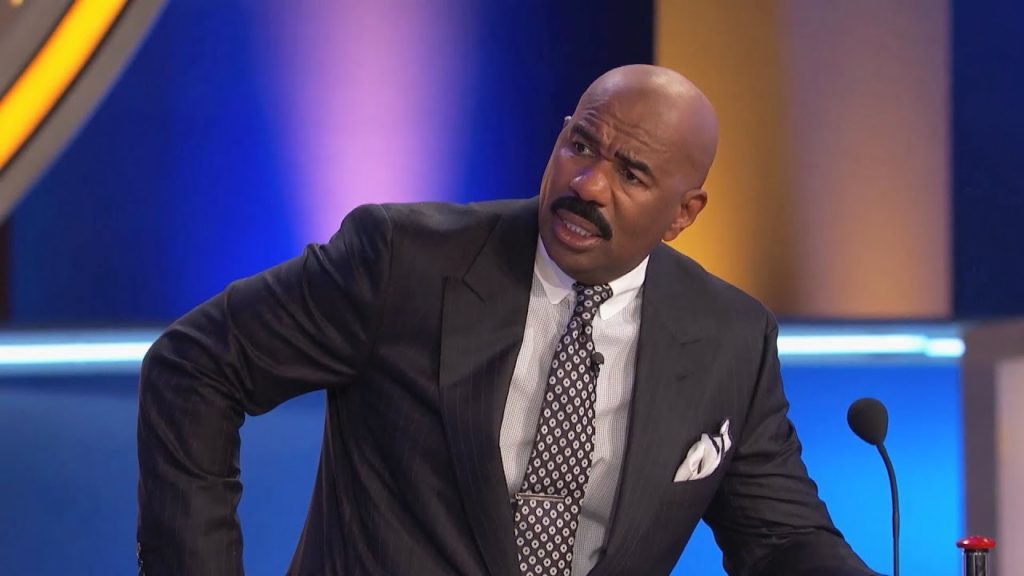 For Dee to push this further with a more contemptuous club persona would not have worked, but I hope he finds a middle ground in future episodes, one where he can occasionally wink along with viewers.
Part of his safe announcer look is the game show "uniform," a neatly tailored, set-matching blue suit. This is, I'm sure, right out of the Freemantle production company playbook. Dee looks sharp, but maybe the Canadian approach could have been a little more casual. I'm not saying wear a hockey sweater and a Mountie stetson, but maybe lose the tie.
I kind of like how the producers downplayed the Canadian shtick, at least in the pilot I saw. The English Canadian family and the French Canadian family were not wearing Leafs and Habs sweaters, for example. There were no toques or Timmies references. A wrong answer was still marked with an "X," not a big, "SORRY!"
In a slim season of Canadian network original premieres, kudos to CBC for launching a weekday anything, even if it is another American brand revival. Should Family Feud Canada catch on, the public broadcaster should consider more cost-efficient game and panel shows in prime time. Look at the BBC schedule, where there are so many panel shows they even have to import Canadians such as Katherine Ryan to host them. CBC could even reach into their own back catalog and bring back panel shows such as Front Page Challenge — although they'd probably have to explain to a new generation what a front page was.
After this Monday's premiere, Family Feud Canada moves to 7:30 p.m. ET/PT Mondays through Thursdays starting Dec. 23.