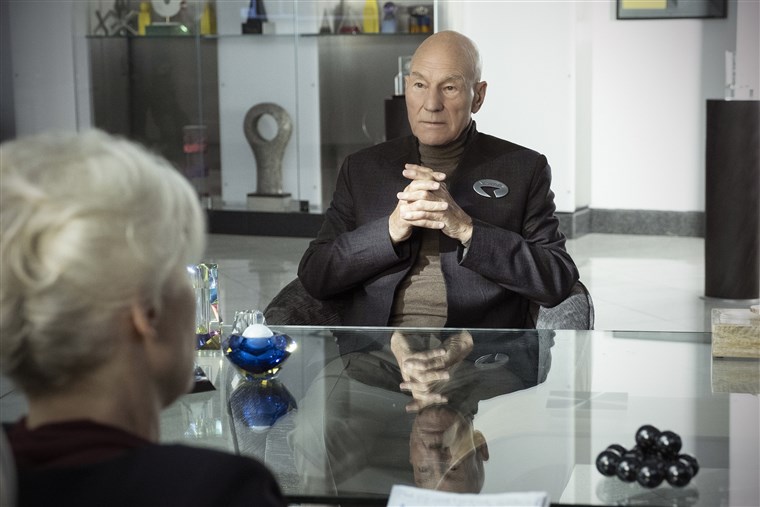 Canadian viewers who watched the premiere of Star Trek: Picard on CTV Sci-fi last Thursday sent the premiere ratings into orbit. Overnight estimates show the series drew 1,128,000 viewers coast to coast in Canada.
That made it the third most-watched broadcast network or specialty channel offering of the night. The total doesn't even include viewers who streamed the premiere on Crave. The CTV Sci-fi channel estimate could soar closer to 1.4 million or higher once viewers who PVR'd the opener and watched it up to seven days later are added.
Here's how shows on other channels fared in overnight estimates on January 23: CTV had the top two shows with returning drama Station 19 (1,887,000) and 16-year old medical drama Grey's Anatomy (1,698.000). Young Sheldon, out of simulcast at 7:30 p.m., drew an estimated 643,000 with Law & Order: SVU at 10 p.m. at 612.000.
CBC's big draws were in the supper hour, with Coronation Street (514,000) and Family Feud Canada (640,000). That was followed in prime by the reality-ish Back in Time for Winter (461,000) and the true crime drama The Detectives (260,000).
Global had a quiet night with imported comedies, led by an "encore" (rerun) episode of Carol's Second Act (191,000) followed by The Good Place (341,000), Will & Grace (422,000) and a rerun of The Unicorn (183,000). The import drama NCIS: New Orleans closed Global's night with an overnight, estimated 412,000 viewers.
City's top show of the night was A Million Little Things at 10 p.m. (290,000). It was an exceptionally quiet night in sports, with only TSN's third round tennis coverage of The Australian Open cracking the 100,000 barrier in prime with an estimated 113,000 viewers.
Star Trek: Picard premiered Thursday night in the U.S. on CBS's streaming service CBS All Access. Viacom/CBS does not disclose ratings; it is estimated that the service has five million subscribers.
Episode two of the series airs/begins streaming this coming Thursday, January 30 on CTV Sci-fi, Crave and CBS All Access.