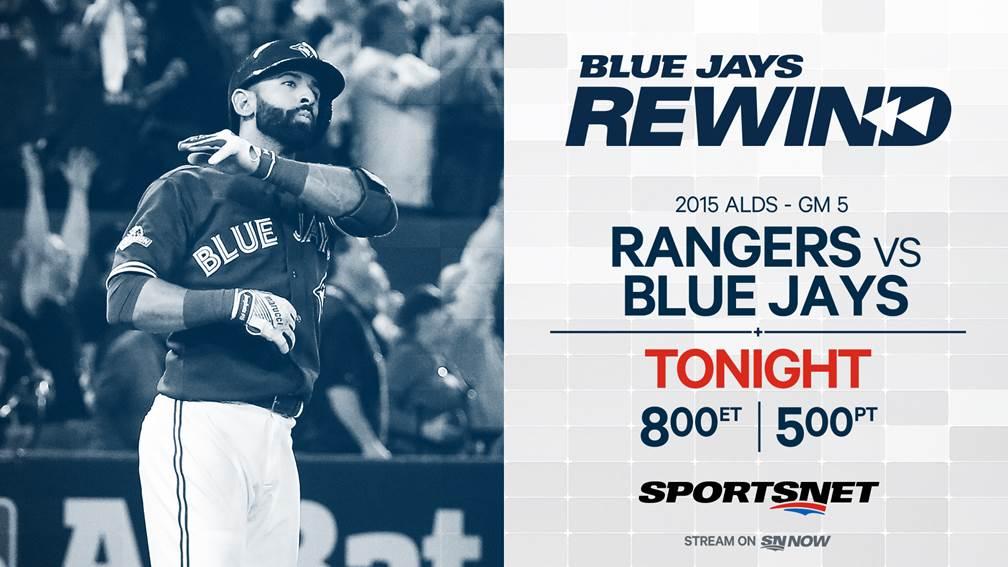 Are you're going batty without baseball? The folks at Rogers have cooked up something they hope you'll flip over: Tonight, Sportsnet is re-airing Game 5 of the 2015 ALDS, the one where Blue Jays' slugger Jose Bautista flipped his bat after hitting an unforgettable home run. The exciting Jays playoff game airs at 8 p.m. ET.
Big deal, you're saying. All the sports channels are re-running as many big wins as they can pull out of the vault during this COVID-19 clampdown.
Here's the new hook to add spice to the bat flip: Starting at 9, Sportsnet turns it all into a virtual "Watch Party." Viewers are invited to follow along on Sportsnet.ca, Facebook Live or YouTube. There you'll find Arash Madani, Hazel Mae, and Shi Davidi who will be joined by Joey Bats himself. Also part of this innovative idea is play-by-play man Dan Shulman, Ryan Goins, Dale Scott (the game's home plate umpire), and Harold Reynolds (MLB on Fox commentator). All will relive stories and emotions from that memorable night in 2015.
It's no secret that sports channel ratings have been striking out with the Stanley Cup, NBA playoffs and MLB games all shelved for now. Cancelations of major golf tournaments and even horse racing championships have also turned sports fans into The Walking Dead. So far, it hasn't been enough to simply re-air classic games or, in the Raptors' case, entire playoff runs. Multi-media innovations like this may be one way to draw fans back into a conversation about baseball, especially on a Friday night in April.
Bautista's spontaeous bat stunt swung both ways depending on who you were rooting for that year. I remember a few American colleagues from the TCA press tour despising Bautista's big moment, dismissing it as showboating. All I can tell you is, as a Jays' fan, it played damn well on this side of the border. That 2015 team went a long way on sweat and swagger but they were ultimately a few arms short when it came to making it to the World Series.
Beside all the video connections to tonight's TV party, you can also listen in on various Fan Radio stations across the country. Batter up!