CTV finally announced Thursday that their homegrown comedy JANN will be returning with new episodes starting Monday, Sept. 21.
The Calgary-based sitcom, starring singer/songwriter Jann Arden, was an instant hit when it premiered two seasons ago.The six first season episodes averaged close to a million total Live+7 viewers across Canada in their first airings.
Even more impressive was Arden's comedy range; she tackled the physical shtick like a Second City veteran, yet also played scenes dealing with her character's mother's encroaching Dementia with grace and sensitivity. While the grieving entertainer did have her own mother's struggles with Alzheimer's to draw upon (Joan Richards died in 2018), a lot was asked of her that first season as a series lead, and all of it was delivered.
CTV wisely hustled their star back before the cameras about a year ago, then kept the second season episodes on the shelf. That turned out to be very fortunate; the second season was shot and in the can months before the pandemic began to shut down other productions last March.
Now with still on-going COVID concerns delaying the return of several imported scripted series, keeping JANN on ice till fall now seems like a very savvy programming move.
The story picks up where things left off, with Jann cutting her Burning Woman tour short to be there for the birth of her sis' baby. The episode order has been boosted to eight (a step in the right direction, but if you're going to sit shows this long, give us 10 or 13). Sarah McLachlan guest stars in the season premiere long enough to get put in a headlock (below); k.d. lang, Elisha Cuthbert and Keshia Chante also guest star.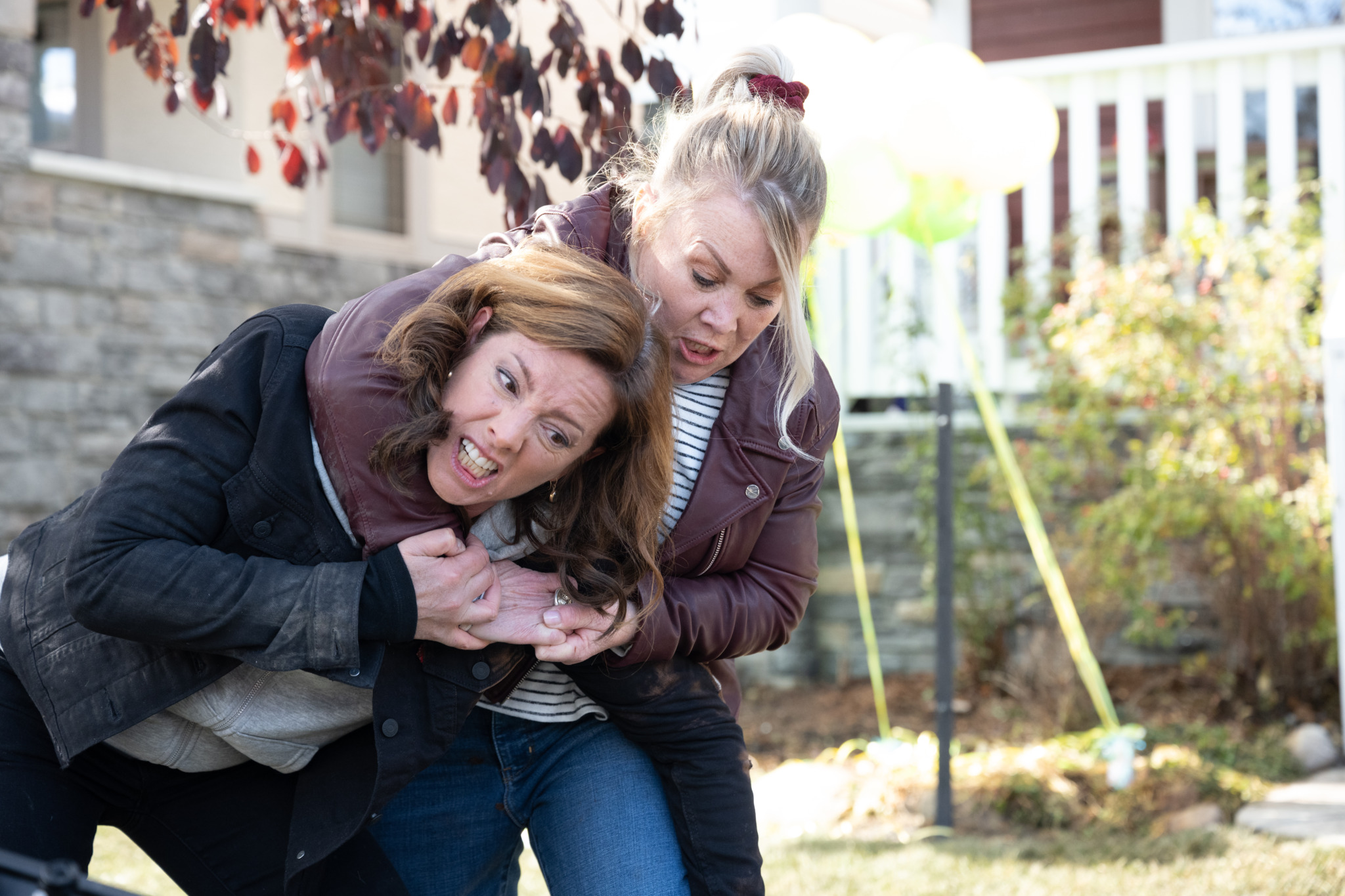 Cast regulars Deborah Glover (Jann's mom, Nora), Zoie Palmer (her pregnant sister Max) and Sharon Taylor (on-again, off-again girlfriend Cynthia) are all back, as are Elena Juatco as her super aggressive new manager/PR guru and Jason Blicker as her put upon old manager Todd.
I'm hoping to have plenty more to share on JANN as the Season Two premiere draws near. Project 10 Productions and SEVEN24 Films is behind the series, in association with CTV.