Some quick notes on this weekend's 46th season premiere of Saturday Night Live.
First, bravo. Not easy to duck out of a mask and straight into a sketch.
Now, lets continue with the positives. Chloe Fineman's precise take down of The Drew Barrymore Show was hilarious. Still, somehow, just a featured player rather than a member of the repertory, Fineman has blossomed as the new Kate McKinnon. While Barrymore is not the hardest impression, Fineman nailed her kooky mannerisms and unique way of speaking. There was a lot to mock in the first few episodes of Barrymore's daytime talk show and SNL nailed them all, especially the early episode where Pose's Billy Porter sang a ludicrous version of "Edelweiss" to a giant flower. (Keenan Thompson, used sparingly on the premiere, nailed it). It was all very SCTV. Points to good sport Barrymore for tweeting photos of herself laughing at the sketch.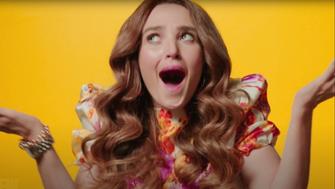 Jim Carrey was spooky good as Joe Biden. The cold opener lurched and derailed almost as much as the actual presidential debate, but Carrey delivered, capturing the timber in Biden's voice with his usual precision. Events leading up to the premiere, including Trump's hospitalization the day before, clearly sabotaged the script. Even the camerawork seemed under-rehearsed, missing gags entirely while focused on the wrong characters. Somebody should have absolutely cut the Harry Styles dream sequence. Credit to Alec Baldwin, however, for holding two or three long frozen takes as the president.
The sketch after the first commercial should have been punted back to the end of the show. Really? That old schoolyard dirty-sounding names thing? I was waiting for them to stoop to I.P. Nightly.
Aidy Bryant was adorable as the seven year old girl teasing Michael Che.
McKinnon's silent cameo as Ruth Bader Ginsberg at the end of Weekend Update was a lovely grace note.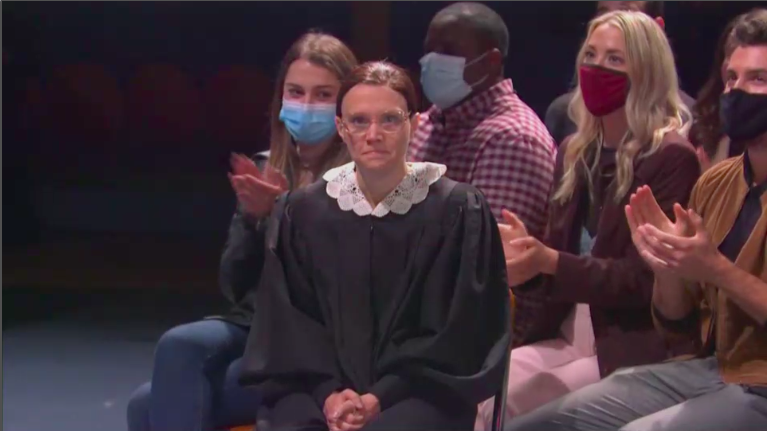 The sketch where the players goofed on the meme where actors and stunt people kick and punch and roll with the cameras was done with energy and speed. It seemed more than any other sketch very much a product of making this always very challenging series in isolation.
Chris Rock's opening monologue was a scorcher. His "Condolences to COVID" crack about Trump was powerful and gutsy; it was a big early to be abusing Trump at that point but he said what many were thinking. Otherwise Rock was not particularly well integrated into the night's proceedings.
With 20 cast members now on the show, plus the host and musical guest, the series is likely going to disappoint those who tune in mainly to see two or three of the standouts. McKinnon and Thompson were not in the opener enough for me. Cecily Strong has five seconds of brilliance as the woman who screamed from the podium during the Republican National Convention and then was hardly seen after that.
Meagan Thee Stallion? I am going to plead the Fifth. Ex-New York Times TV critic Bill Carter tweeted that he was no longer qualified to judge the music numbers on Saturday Night Live, that they have evolved into an area of Millennial performance art beyond his scope. Does that standard ever apply to me. Props to Stallion, however, for going all in on that "Bottom of Your Face" music video parody with Pete Davidson and Chris Redd. Again, outside my comedy zone but it did speak to the isolation young people (and young SNL performers) must face in this endless era of social distancing.
UPDATE: Ratings-wise, NBC reporters that this was the most-watched season premiere of Saturday night Live in four years with 7.76 million American viewers tuning in according to Nielsen's fast official live data. The broadcast was a big hit in Canada as well, with Global pulling 1,358,000 for the 11:30 pm Saturday start — a number that could put it in Numeris' English Canada Top 3 for the week.