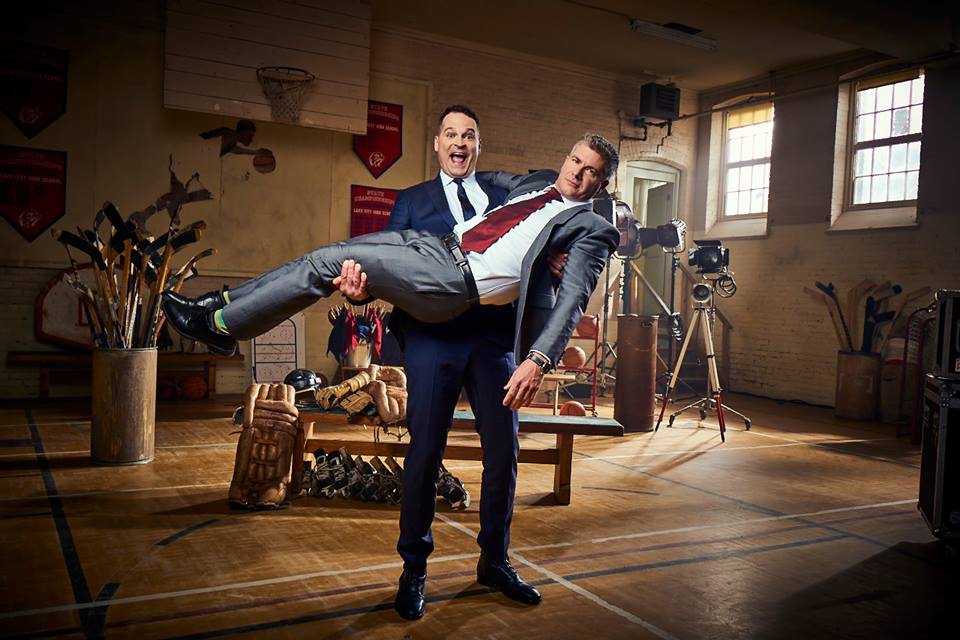 What if comedy teams were chosen by accountants? It might go something like this:
"Okay Laurel, you go with Costello. Rowan? Team up with Hardy. Lewis? Stand next to Shuster…"
News this week that Dan O'Toole was being axed at TSN caught many sports viewers and industry observers by surprise. If jettisoning one half of the nightly sports desk team of Jay & Dan was strictly a cost-cutting, streamlining measure, as Bell Media has insisted,why risk damaging one of your existing tentpole programs?
Viewers did not clamour to see a Tommy Smothers Show after he briefly split from the brother mom-always-liked-best, Dick. Go back and look up what happened to Sonny Bono and Cher's solo variety shows in the '70s after their marriage fell apart and they broke the act in two halfs. The two eventually reunited on a network hour, but the damage was done and the magic was lost.
The challenge for surviving host Jay Onrait now appears to be to carry on with his nightly sportsdesk show without O'Toole. (There was no Jay solo hour Thursday night, just more SportsCentre.) He's no doubt talented enough to find a way, but viewers who might have been thinking about migrating away from Rogers/Sportsnet's Tim & Sid now that Tim Micallef and Sid Seixeiro have also been split up might be lost to Netflix or Disney+ for keeps.
Viewers watch sports desk shows to see highlights and clips and get caught up on the day's action. Establishing and branding a team — something that generally takes years — adds chemistry and a little magic. You tune in for the clash of personalities, or in Jay and Dan's case most nights, the laughs. These two had their shtick down and even on nights when it seemed as if one of them was off, there was a playfulness that was different from the usual sports update approach.
Twenty-twenty was a brutal year for broadcasters and especially for sports networks. Canadian media companies that had paid big bucks for NHL, NBA, Major League baseball, golf, tennis and even CFL rights saw their marquee draws reduced, rescheduled or completely shut down. NHL ratings were cut in half or worse as games finally resumed in summer months when fans were at the cottage and just not into it.
Ratings fell through the cellar. The daily overnight charts looked like they simply hadn't been filled in yet — all blanks. Sports broadcasters saw ad revenues plummet.
Things, though, are ramping back up. CTV/TSN has the biggest draw in all television this Sunday, The Super Bowl. There is plenty of hockey, baseball, basketball and other sports action to report.
I have zero inside knowledge of the Jay & Dan decision. There could be much more to the story.
What I do know is that producer Hal Roach did not tell Oliver Hardy that his services were no longer required when the Great Depression hit. He helped the boys migrate from silent to sound pictures and created one of the great distractions of the 1930s. Roach knew that a crisis was a terrible time to split up a comedy team.
This is another fine mess TSN has gotten themselves into.