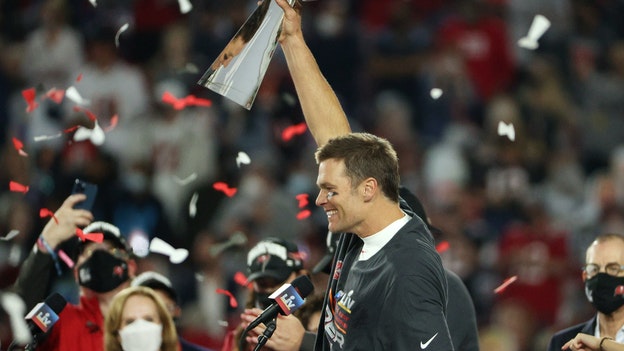 The first Super Bowl of the COVID era shows that the "Big Game" is still TV's top draw — even if audience levels slid slightly in both the U.S. and Canada.
Host broadcaster CBS claims Super Bowl LV had a Total Audience Delivery of 96.4 million viewers across all their platforms, including the main broadcast network, CBS Sports and NFL digital properties, Buccaneers and Chiefs mobile properties, Verizon Media mobile properties and ESPN Deportes TV and digital properties.
On CBS's main broadcast network alone, initial data show the number to be 91.63 million viewers. In a raw, network-to-network comparison, that's almost a 10 million viewers drop from what Fox enjoyed in 2020 with Super Bowl LIV. It would also be the lowest number since Super Bowl XL on ABC in 2006.
A 15 year comparison in television, however, is subject to so many variables. While the overall U.S. population has increased, there were no streaming services to siphon off viewers in 2006 and no cord cutting. Sticking with CBS's more inclusive of digital platform number of 96.4M, however, you'd still have to go back 14 years to CBS's Bowl coverage of 2007 (93.18 M) to find a lower audience level than last Sunday.
Measured in terms of a household rating, CBS scored a 38.2 with Super Bowl LV — the first below 40 mark since January of 1990.
Keep in mind that the game was a blow out; the halftime show, while The Weeknd (who put on a terrific show), wasn't Beyonce or even Drake and who knows how COVID factors in. Plus, Brady? Again??
CBS did have plenty of positives to point to. Sunday's event was the most live-streamed NFL game ever with an average minute audience of 5.7 million viewers (up 65 per cent from last year). The game also generated more than 127 billion potential impressions on social media. (Note to self: start offering "potential impressions" as a stat to pass along to podcast sponsors.)
Historically, the 1982 Super Bowl between San Franscisco and Cincinnatti remains the highest-rated ever with a 49.1 household rating. In terms of total viewership, Super Bowl XLIX peaked in 2015 with over 114.4 million people watching that game.
In Canada, Bell Media reports that the game attracted an average audience of 8.8 million viewers on CTV, TSN and, in Quebec, RDS, according to preliminary Numeris data. That would make it the third largest audience for a Super Bowl game ever in Canada. An estimated 9.5 million watched last year on CTV, TSN and RDS. For a few years before that, the numbers get fuzzy as millions watch the direct US feed due to a "hey let's see the commercials" CRTC intervention.
After the game, CBS reports 20.4 million US viewers stuck around for the reboot of The Equalizer starring Queen Latifah. The series premiere began at 10:39 p.m. ET. CBS says that is the best viewer and demo number for any entertainment program in the US since the Academy Awards in February of 2020.
CTV did not have the Canadian rights to The Equalizer and chose to premiere the uplifting new how-to fix-it series Holmes Family Effect. That Canadian made reality series drew 918,000 viewers.
UPDATE: Global, benefiting from all the Super Bowl promo hype, had The Equalizer premiere in Canada. They scored close to 1.1 million viewers simulcast with CBS. That number jumped to 1,230,000 in Live plus one day reports — boosted by PVR use– according to Numeris PPM data of all viewers ages 2+.
The Equalizer moves to its regular time slot Sundays at 8 p.m. ET on Global and CBS.