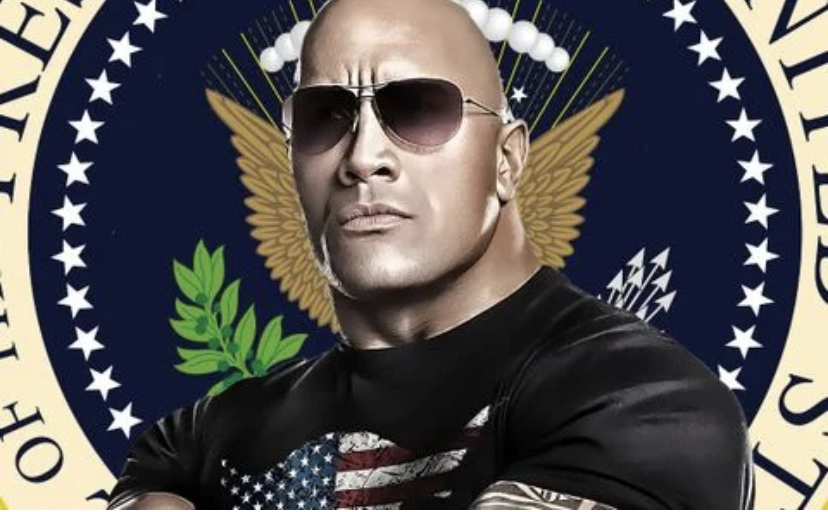 I was a little wary before screening the pilot episode of the new NBC sitcom Young Rock. I was expecting a chokehold, given that the title sounds too much like Young Sheldon; or an eye gouge, as I would want to gouge out my eyes after screening another unfunny network sitcom.
Happy to report, however, that while Young Rock is no GLOW (Netflix's Gorgeous Ladies of Wrestling series cut short after three seasons due to the COVID-19 pandemic), it is a hell of a lot better than Learning the Ropes [a best forgotten Canadian comedy from the '80s starring ex-NFL star Lyle Alzado as a wrestler].
The series features and is executive produced by Dwayne Johnson, the film action hero who was a WWE wrestling superstar as The Rock. In the pilot, set in the year 2032, Johnson is running for president of the United States. Hey, it could happen. He's being interviewed by a TV host played by Randall Park from Fresh off the Boat; others will play this role later as Johnson is followed through the primaries.
Johnson the candidate looks back at growing up in America, relating to these wrestlers he came to see as uncles and family members, trying to fit in at another new high school or college. The series is told in flashbacks to when Johnson was 10, 13 and 18, with three different actors playing him at these stages.
"From my perspective, it was truly a love letter to profesional wrestling," Johnson told TV critics on an NBC zoom call a month or so ago. Besides honouring his father, professional wrestler Rocky Johnson who passed away one year ago, Johnson was thrilled to pay homage to the likes of the Iron Sheik, the Wild Samoans, "Macho Man" Randy Savage and Andre the Giant, among others.
"These men were, in essence, my superheroes," said Johnson. "They didn't wear capes when I was a little boy. They were these men in the professional wrestling world."
They're also the fun part of this new series. The producers were able to find actors who fit the, in many instances, jumbo-sized bill. Ex-NFLer Matt Willig, who is 6-foot-7, plays André the Giant; Nate Jackson plays Junkyard Dog.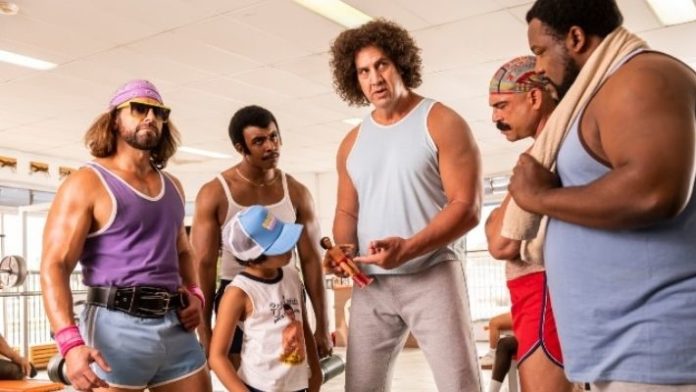 Among the best is Joseph Lee Anderson as Dwayne's dad Rocky Johnson. As Johnson junior points out, not only did the actors have to play these characters, they had to literally learn the ropes to look convincing in the ring scenes. Johnson praised Anderson for being convincing as "a bad dude in the game" with a lot of charisma as well as athletic ability.
Johnson acknowledges his own upbringing was challenging, telling critics his relationship with his father was "incredibly complicated" but "fueled by tough love." The film star says he lived in 13 different states by the time he was 13 years old; the family also lived for a while in New Zealand.
Young Rock has taken two-and-a-half years to incubate and Johnson says it was important to him that the family life depicted on the screen be realistic but also positive.
"Long story long, we didn't want to take the traditional route or the typical route of what you might think this could be." Instead, he told the other producers, "let's talk about the complications…" but also "let's talk about the good stuff, because there was so much good stuff now when I look back at it."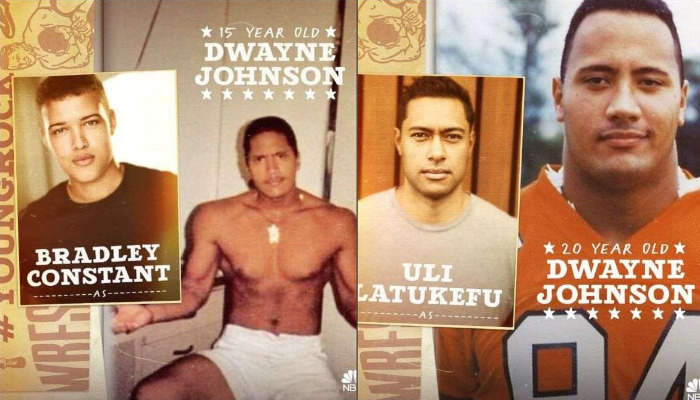 It wasn't all good stuff. Johnson says his early teens were especially rough. "Those were my years where I was the star of getting arrested all the time," he admits. Johnson rebelled at having to leave Hawaii when the family fortunes forced them to return to mainland America. Another hurtle was failing to make the NFL after his college football years.
"There was no NFL for me," says Johnson. "Instead, I went to the CFL, which we'll get into a little bit of that in this series. So that was a tough time too, because then I was cut from the CFL. And then that's when I had the infamous seven bucks in my pocket." Johnson was briefly on the Calgary Stampeders practice roster.
Johnson credits fellow executive producers Nahnatchka Kahn and Jeff Chiang for keeping the focus on family throughout the series. When you see Johnson's grandmother, played by Ana Tuisila, she's based on his real grandmother. The star also took a direct hand in reaching out to all the actors and providing back story to their characters. Show the tough times, he urged, but not in a sitcom-y way. "Because a lot of times the world of pro wrestling isn't always looked at through that lens in a positive way, and there's a lot of positive that we can take out of this."
Johnson and the producers also wanted the series to reflect the diversity within his own family and his extended, pro-wrestling family.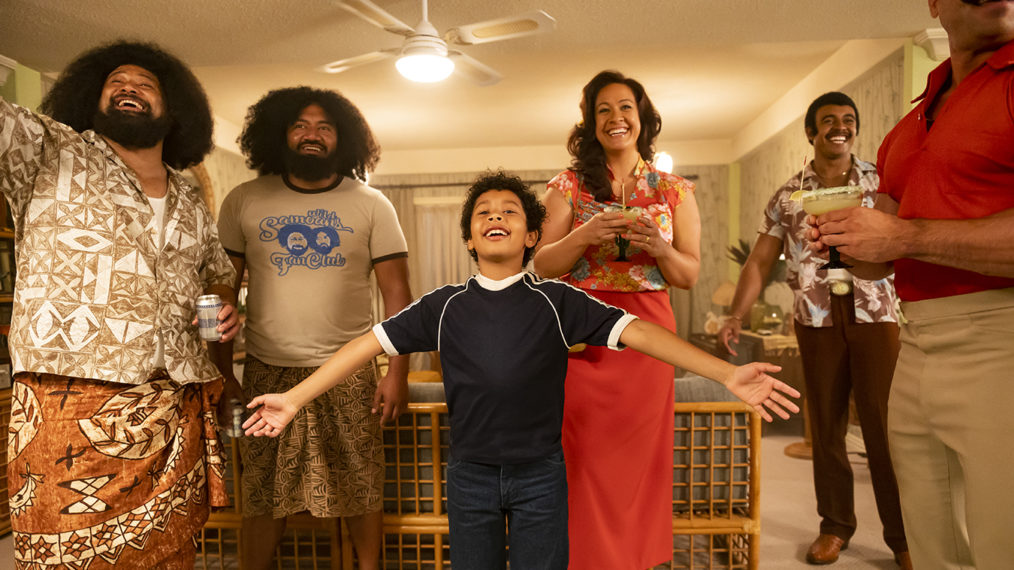 "I'm half Samoan and half Black," he explained. "We have the Iron Sheik from Iran. We have André the Giant from France…We have the Wild Samoans from Samoa. And these are the ones that we just showcase in the pilot, and there's more to come down the road."
On the series, Adrian Groulx plays Johnson at age 10. Bradley Constant plays Johnson at 15 and Uli Latukefu plays him at 18 to 20 years of age. The back-and-forth generally works in the pilot and will be expanded in future episodes. The constant will be Johnson getting interviewed as he runs for president.
That limiting framing device could get old fast, but, hey, another former WWE personality — Donald Trump — milked a four year run out of it.
Young Rock premieres Tuesday, February 16 at 8 p.m. on NBC and Citytv.
It's followed on both NBC and Citytv by the series premiere of Kenan, a long-perculating comedy showcasing one of Saturday Night Live's funniest and certainly its longest-serving cast members, Kenan Thompson. He plays a newly-widowed father determined to be a super dad. Don Johnson plays his father-in-law. SNL cast mate Chris Redd is also on the series, and Lorne Michaels is an executive producer.
Thompson plays the host of a Morning Show. The pilot was about as un-funny as this paint-by-numbers premise sounds. The comedian deserves so much better than this tired family sitcom formula. Maybe he could join Young Rock as a wrestling promoter or referee or ring announcer — anything to get him off of Kenan.