What's the funniest series shot in Canada right now? I'll nominate The Moodys, which premieres with back-to-back episodes tonight at 9 p.m. ET.
Actually, it officially began a year and a half ago, as a three-episode Christmas sorta series. Those episodes were based on an Australian comedy. Pandemic and other delays later, it starts again as if the other episodes never happened.
The series, which is set in Chicago but shot in Montreal, stars Denis Leary and Elizabeth Perkins as a cranky yet committed couple who find all three of their adult children have moved back home just as these empty nesters are set to retire.
Canadians Francois Arnaud (The Borgias) and Jay Baruchel ("Goon," Man Seeking Woman) play the battling-brother sons. Chelsea Frei plays the about-to-be-divorced daughter. Gerry Dee (Family Feud Canada) has some funny scenes as an overwhelmed single dad.
Fox hosted a Television Critics Association Zoom session last month with the main cast plus executive producers Rob Greenberg, Bob Fisher and Tad Quill. Leary is a TCA All-Star, setting records for F-bombs and laffs through memorable past sessions promoting Rescue Me and The Job. Reporters back then were in tears through hilariously profane sessions featuring Leary, Lenny Clark and Peter Tolan.
Leary never really changes and looks too young to be playing a retiree — although he was born in 1957 — the best year to be born in by the way.
When I interviewed Baruchel last week for my podcast (listen here), the devoted Habs fan told me finally found somebody who is even more of a hockey nut than he is — Denis Leary.
Leary joked last month in the Fox zoom call that he insists that at least two scenes a season of any series he acts in be shot in a hockey rink. The Worchester, Mass., native is a big Bruins fans and headlines a cancer charity fundraiser in Boston every year established by former Bruins' ace and NHL Hall of Famer Cam Neely.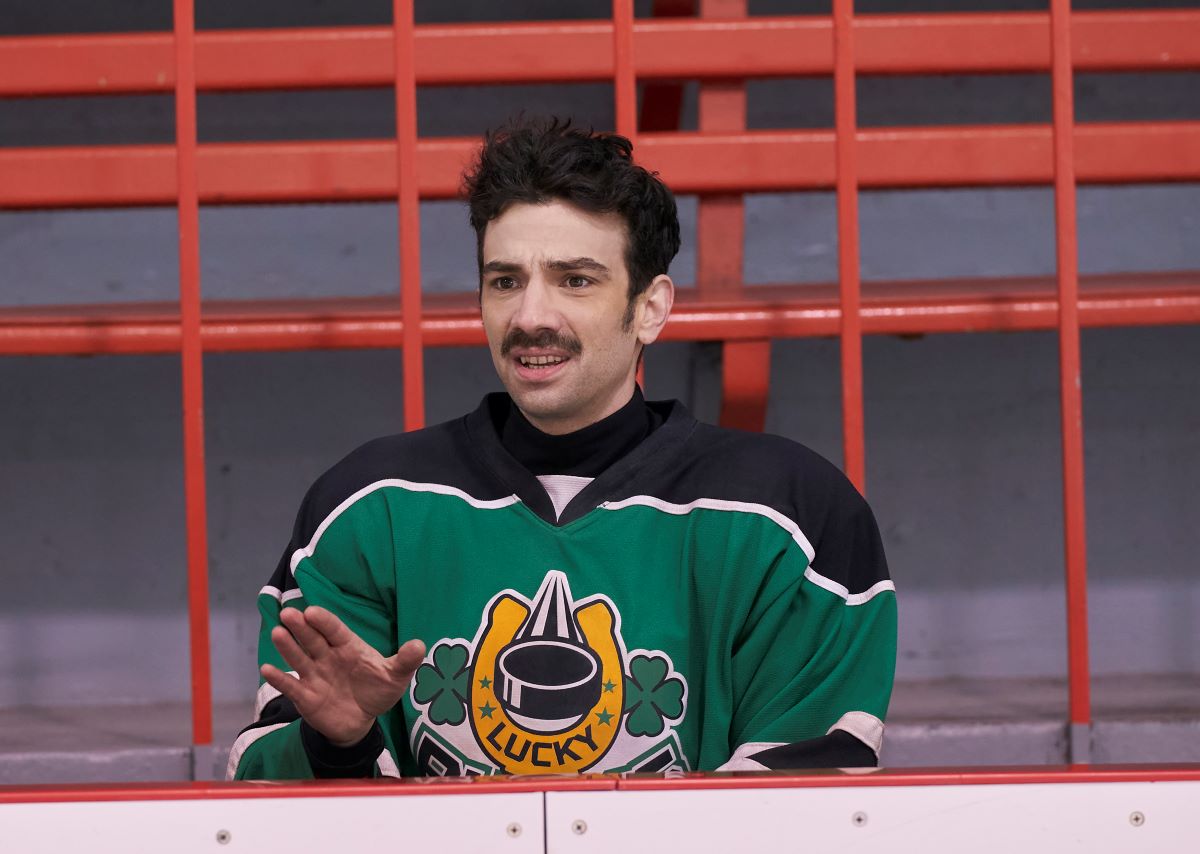 Back in the day, he really did write hockey scenes into his FX series Rescue Me and even found a small part in one episode for Phil Esposito. I was on the New York set of that series during the final season where Leary confessed he even made casting decisions depending on whether or not the actors could skate and thus take part in the weekly games of shinny.
There are hockey scenes on these new episodes of The Moodys. Leary's character Sean Sr., a HVAC businessman, plays on a rec league team the Lucky Pucks. The ice rink scenes were shot under strict COVID safety precautions, which limited the fun and cut out any after hours shinny.
Baruchel says he's more of a fan than a skater. Leary was impressed, however, with the hockey wheels on one other Canuck cast member: Gerry Dee.
The former Mr. d star played for Del la Salle in Toronto before skating for St. Francis Xavier University in Nova Scotia.
Baruchel also told me that, on the set of The Moodys, hockey is "all Denis really cares to talk about. He's by far the biggest hockey nerd I've ever met."
Leary saw my tweet quoting Baruchel and shot back with a tweet of his own:
This is true but @BaruchelNDG not only comes in a close second as a hockey fanatic – he's also fucking brilliant in @MoodysOnFOX which starts Thursday night at 9 https://t.co/D6WBWIzSer

— Denis Leary (@denisleary) March 29, 2021
Anyway, if I haven't already lost all the non-hockey fans, this Leary/Baruchel thing has all the makings of "Goon III."
Whether you're into hockey or not, the puck drops on the first two episodes of The Moodys tonight on Fox.