Johnny Crawford was a kid on a real cowboy set back when millions of other youngsters across North America were faking it at home. Difference was, Crawford was getting paid big bucks to live out his fantasy as a child star on the late '50s, early '60s TV western The Rifleman.
I met him in 1998 at the Hollywood Collector's Show, then held at the Beverly Garland Holiday Inn hotel in the San Fernando Valley. Crawford, who had been diagnosed with Alzheimer's in recent years, passed away April 29, age 75.
He was easy to spot at the show. Besides his white cowboy hat, he was holding a toy replica of the 1892 Winchester caliber .44-40 carbine rifle rapidly fired 13 times by Chuck Connors in the opening credits of the series. Connors and Crawford played father and son on the TV western, which ran five seasons from 1958 to 1963.
The relationship between the two was especially close, both on-screen and off-. When Connors succumbed to cancer in 1992 at 71, Crawford was among those who provided a eulogy at the actor's funeral.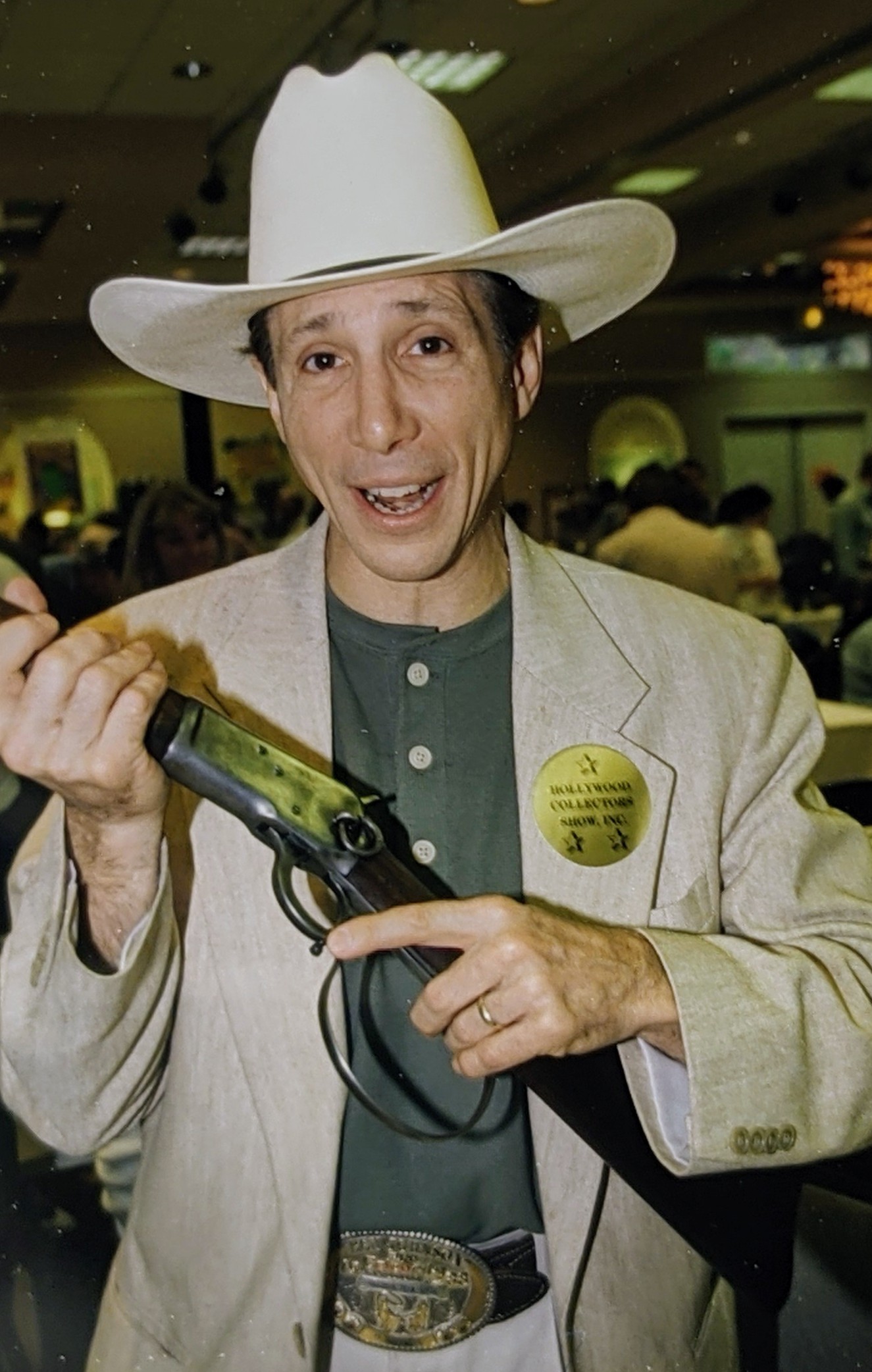 Crawford was at the Hollywood autograph show with dozens of other former TV stars, including Sheila MacRae, who played Alice in the colour Honeymooners sketches that were part of The Jackie Gleason Show, Larry Storch and Ken Berry, who starred in the wacky frontier comedy F-Troop in the '60s, Dawn Wells (Mary Ann) and Russell Johnson (The Professor) from Gilligan's Island, Bill Dana, aka Jose Jimenez from The Ed Sullivan Show and Frank Bank (Lumpy Rutherford) and Ken Osmond from Leave it to Beaver, among many others. All of the above, incidentally, has passed away except Storch, now 98.
Connors, as mentioned, had already passed away. The 6-foot-6 star had a brief playing career in both Major League Baseball (with the Brooklyn Dodgers and Chicago Cubs) and the National Basketball Association (with the Boston Celtics).
Crawford was already an acting veteran at age 11 or 12 when he was paired with Connors on The Rifleman. He played the frontier lawman's young son and thus was sort of a surrogate cowboy– emphasis on boy — for millions of kids who ran around playing with toy six-shooters and cheap leather holsters back when there were as many as 30 westerns on TV spread across three networks.
Crawford was a guest star on several, including The Loan Ranger, Tales of Wells Fargo and Wagon Train. At 13, he earned an Emmy nomination for The Rifleman.
He brought to the autograph show a replica of the sawed-off shotgun Connors sported during the opening credits of every episode of the series. He also had mouse ears to sign as one of the original Mouseketeers on The Mickey Mouse Club. Another Mouseketeer, Paul Petersen — the first one kicked out of the Mickey Mouse Club (he annoyed a director)– was also at the autograph show. Petersen went on to a more successful run on The Donna Reed Show.
Crawford was very friendly at the show and happy to show off his toy guns and other memorabilia. His memories of Connors were of the many practical jokes the man pulled on the set. Crawford also spoke of his big band career, a project that kept him busy in the '90s and beyond. He'd enjoyed a brief recording career back in his young cowboy prime.
Many of the former TV stars at these autograph shows seized these opportunities to grab a few thousand dollars in cash over a weekend. While Crawford, back in his Rifleman days, would have been rich compared to other 13-year-olds, salaries were nowhere near what they are today in television and residuals were pretty much zilch. Contracts generally paid only for the first few reruns after a series had left the air.
I have no idea what Crawford's situation was at the time, but he seemed genuinely happy to meet fans who rode along with him or through him back in the golden age of the TV western — and they all seemed very happy to meet him.