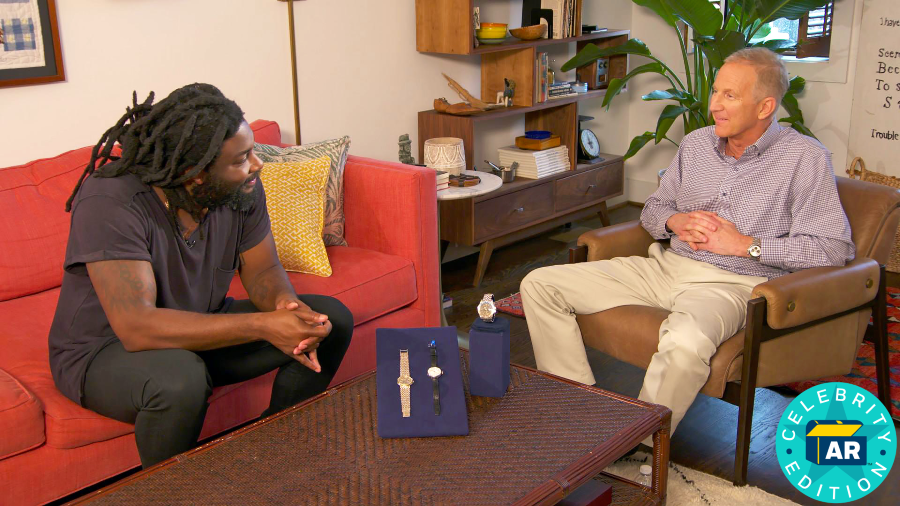 Starting Monday, May 3, PBS brings Antiques Roadshow back for a 25th season with a special celebrity edition. The four new episodes will run every Monday night through May. (Check local listings as PBS affiliates, such as Buffalo's WNET, like to go rogue.)
Now, because this is PBS, there are no Kardashians or New Jersey Housewives among these celebrities. In tonight's first episode, for instance, there is Jay Leno, S. Epatha Merkerson, author Jason Reynolds, former figure skating victim Nancy Kerrigan and pro golfer Dottie Pepper.
Why the switch-up to a celebrity format? Executive producer Marcha Bemko explained at a virtual press conference held back in February:
"With the pandemic, touring became impossible, so we created a new idea that could be satisfactorily accomplished, yet still meet our goal of teaching history with material culture as a vehicle and to have so much fun you don't notice how smart you're getting."
Not that every celebrity they approached were ready to throw their homes open to camera crews in COVID times. Some, however, had no problem as long as precautions were taken.
Leno, you'd expect, would be showing off his massive classic car and motorcycle collection. That's not the case however. The former late-night talk show host had recently bought a $13 million, seaside estate filled with antiques in Newport, Rhode Island — not far from the Boston production base of this PBS series. Since they were relatively close by, Leno invited the producers and appraisers to scope out the house, which Bemko says was filled with "furnishings, Asian artworks, paintings, you name it, and so we did a little, like "House Hunters" on his Newport house."
Reynolds, whose novels include "Ghost" and "Young American Boys," told reporters on the virtual press call that he was a fan of the series and was thrilled to be a part of it. "I grew up in a house with a mother who was into antiques," he said. "So, I was around hand butter‑churners, and, I mean, this is one of my mom's toys when she was a child."
Another celeb on an episode later this month is Carson Kressley, who came to fame with Queer Eye for the Straight Guy. He says he's been collecting antiques since he was a child.
"I was that weird kid who would get birthday money and be like, 'Can we please go to the antique mall,' not the movies or a baseball game. I was just that kid. So, I have a treasure trove of things I have been collecting since I was literally in my teens."
He was thrilled to have the Antique Roadshow appraisers come right to his house and tell him if all the goodies he'd been hoarding over the years were actually worth anything or not.
"And," as he says, "it was much easier than Dancing with the Stars."
The special celebrity edition of Antique Roadshow airs Mondays through May on most PBS affiliates.