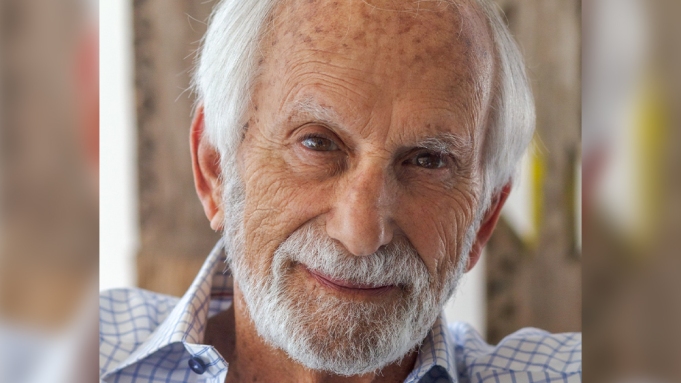 If you ever watched an episode of The Mary Tyler Moore Show, or The Cosby Show, or even I Love Lucy, you enjoyed the work of Jay Sandrich. The veteran TV director passed away Wednesday, Sept. 22, at 89.
Sandrich, who was inducted into the Television Hall of Fame in 2020, directed many TV all-time favourites.  He was the son of a famous film director, Mark Sandrich, who helmed five of the Fred Astaire-Ginger Rogers classics. Jay's own apprenticeship began as an assistant director on the final seasons of I Love Lucy. In short order, he next work as an assistant director on executive producer Sheldon Leonard shows headlined by Danny Thomas, Andy Griffith and Dick Van Dyke.  
Sandrich credited Leonard with helping him to understand that it was more important to move the camera than move the actor. He expressed that point in a quote attributed to him on IMDb: "I never believed that an audience watching a comedy show should ever say, 'What an interesting angle!' If they're starting to notice the camera work, then they're missing the writing and the performances."
By the mid-to-late '60s, he directed several gems from the era, be they three or four camera studio audience shows or one-camera sitcoms. His work including almost every episode of He & She (1967-68), and six episodes of Get Smart! He was as at home directing such shows as The Ghost and Mrs. Muir, The Governor and J.J. and Nanny and the Professor as he was on Bill Cosby's earliest sitcom effort, The Bill Cosby Show (1969-71).
Throughout the '70s, Sandrich's touch was felt on The New Dick Van Dyke Show and The Odd Couple. He became one of the guiding hands at MTM, where he went from soundstage to soundstage directing The Mary Tyler Moore Show, The Bob Newhart Show, Rhoda, Phyllis and Lou Grant.
Sandrich directed 119 episodes of The Mary Tyler Moore Show, including the first and the last. He credits Valerie Harper, who played Mary's upstairs neighbour Rhoda, with helping to push that series more towards being about working women than creators Allan Burns and James Brooks had originally envisioned.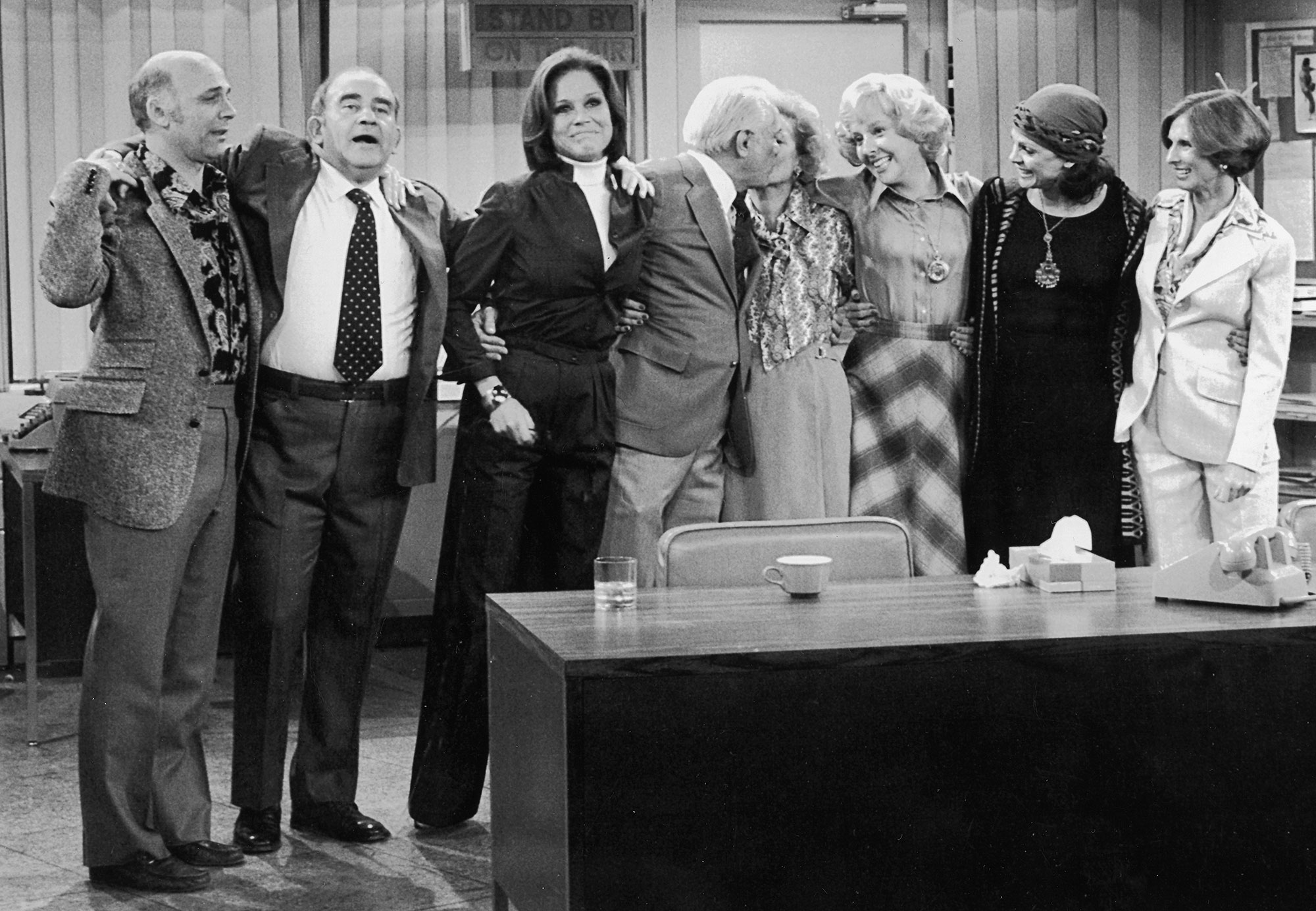 Directing the finale of The Mary Tyler Moore Show was very emotional, Sandrich relates on one of those "Archive of American Television" videos on YouTube. Hearing Asner utter the famous line, "I treasure you people" at the table read, Sandrich told him not to use it at the rehearsals ands to save it for the final camera take. Good advice, as that was when the cast, and much of the audience, lost it.
Later in that final scene, when Moore turned out the lights in the newsroom, the scene did not go dark, says Sandrich, the lighting technician in charge, with tears in his eyes, missed his cue. They had to shoot it twice.
By this point, Sandrich had earned a reputation as the go-to guy for directing pilots. One of them was for MTM's WKRP in Cincinnati. Sandrich also had a good eye for casting. He was the one who recommended Gordon Jump play indecisive radio station manager Arthur Carlson after having directed him on a previous episode of The Mary Tyler Moore Show.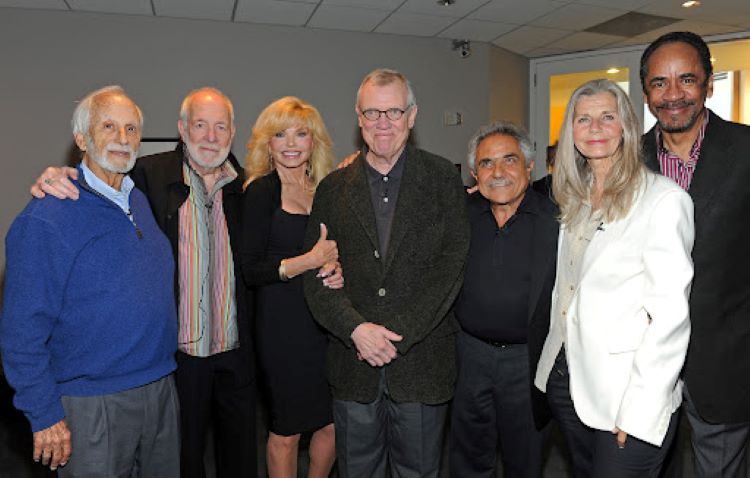 He made another smart casting call several years later when The Golden Girls were being developed. It was Sandrich who suggested Betty White and Rue McClanahan switch parts, feeling White had already done the man-hungry role to death on Mary Tyler Moore.
The hits kept coming for Sandrich. He did several episodes of Night Court, as well as 54 episodes of Soap (1977-1980).
He wound up shooting 100 episodes of The Cosby Show (1984-92) and was instrumental in putting the creators of that show together with a showrunner he'd worked with before, Ed Weinberger.
A native Californian, he almost didn't do Cosby at all when he learned it would be shot in New York. He agreed, however, to shoot the pilot, and says he fell in love with the kids in that cast.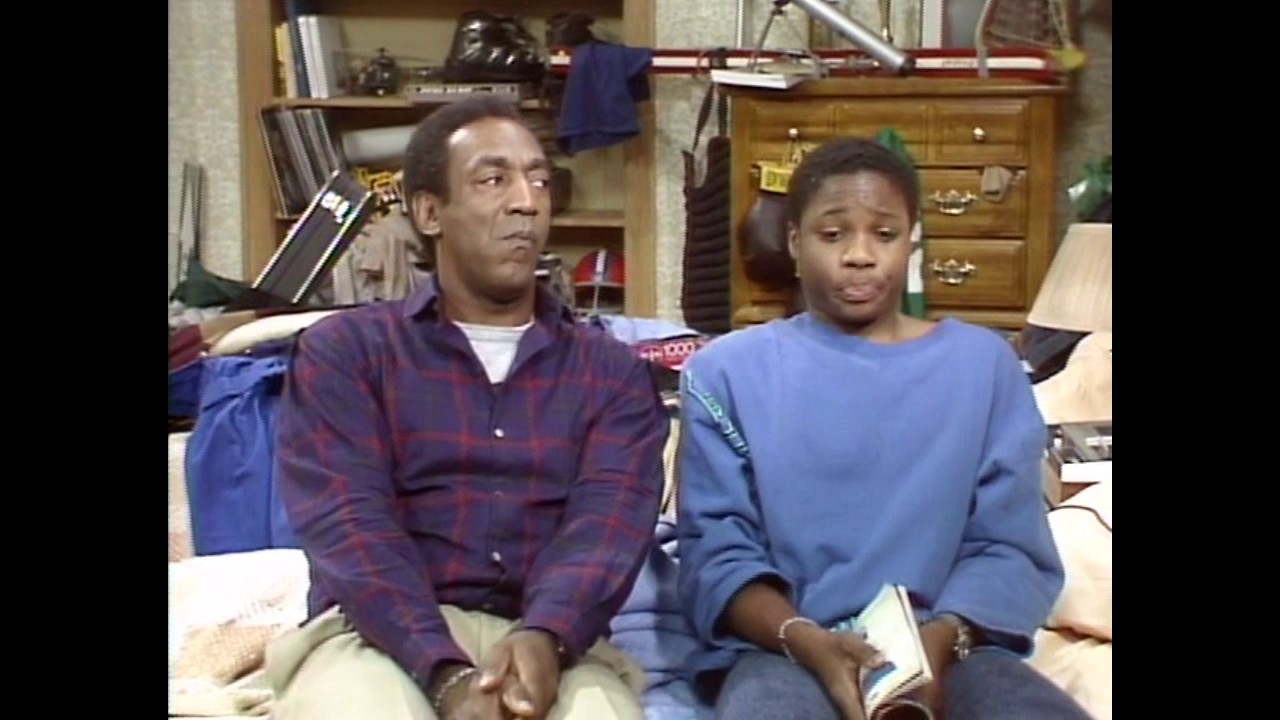 By the late '90s, he was directing second or third series pilots for Valerie Harper (1995's short-lived The Office), Ted Danson (Ink, 1996-97) and Tony Danza. He also tried again with Jean Smart on Style & Substance (1998) and Cloris Leachman on the best-forgotten historical spoof Thanks.
One of his last directing jobs was for Chuck Lorre on an early episode of Two and a Half Men (2003).
His passing comes in a one year span that has also seen the loss of Mary Tyler Moore alumni Ed Asner, Allan Burns, Gavin MacLeod, and Cloris Leachman. Once again; cue the lighting guy.