"Steven Spielberg's "West Side Story" finally arrives in theatres today, Friday, December 10 — one day before Rita Moreno's 90th birthday.
Over a year ago, when I interviewed the Oscar winner about two other projects (a documentary on her life I wrote about for Zoomer Everywhere and the final season of the revival series of One Day at as Time), she was already counting down the days till the "West Side" premiere.
"I have a very special role that was written for me by Tony Kushner, do you know who he is?" she asked? I did; the Tony Award winner wrote the screenplay for "Angels in America" and has penned several Spielberg's movie scripts.
"He made me the widow of Doc who ran the candy store where gangs hung out. And her name is Valentina. And its not a cameo, it's a real part."
Is it ever. Oscar buzz has been building for weeks that Moreno has a real shot at winning her second Best Supporting Actress Oscar — 60 years after she won her first for her role as Anita in the original "West Side Story" (1961).
Not quite 30 at the time of the first film's release, Moreno expected plenty of offers to come her way after winning the Academy Award. She was dismayed when she was shown the same old "spitfire" parts. Moreno rejected them all, and, as a consequence, did not make another film for seven years.
She did eventually find work. Many grew up watching her yell, "Hey guys" at the beginning of episodes of the PBS children's show The Electric Company opposite Morgan Freeman. Later she recurred on The Rockford Files, shot episodes of the prison drama OZ and racked up many guest-starring TV credits.
When I spoke with Moreno it was in October of 2020 and she was nervous about the pending US federal election and even more nervous about the COVID-19 pandemic. She was isolating in place in her California home. Production on "West Side Story" had taken place before the first wave of the pandemic shut everything down — as it did the original premiere date for the feature, December of 2020.
There was some talk of the film going straight to a streaming service but Spielberg, the great and powerful Oz of movie directors, would not have it.
"I talked to Steven recently and he said, 'I just wlll not stream this movie. You can't do that.' He's hopeful that by next December, I think he said Dec. 10th, we'll be able to see it in a theatre. That would be wonderful." The film is opening as planned and only in theatres.
Moreno and her daughter did get to see an advance cut of the movie earlier this year. Hey, when you're in your 90th year, you can't be expected to wait forever.
The Puerto Rico-born actress was genuinely thrilled to get this second opportunity to perform in such an iconic story.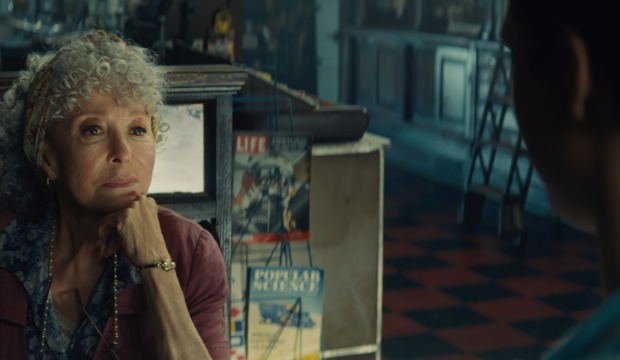 "To begin with, Steven is one of my favourite directors of all time. I still love 'ET.' All of his films are so different from each other. He can do anything! Lincoln!"
Moreno won't have to wait seven more years for her next gig. She's busy now shooting "The Prank," a high school comedy with Keith David and several younger actors — although, really, there aren't that many older actors!