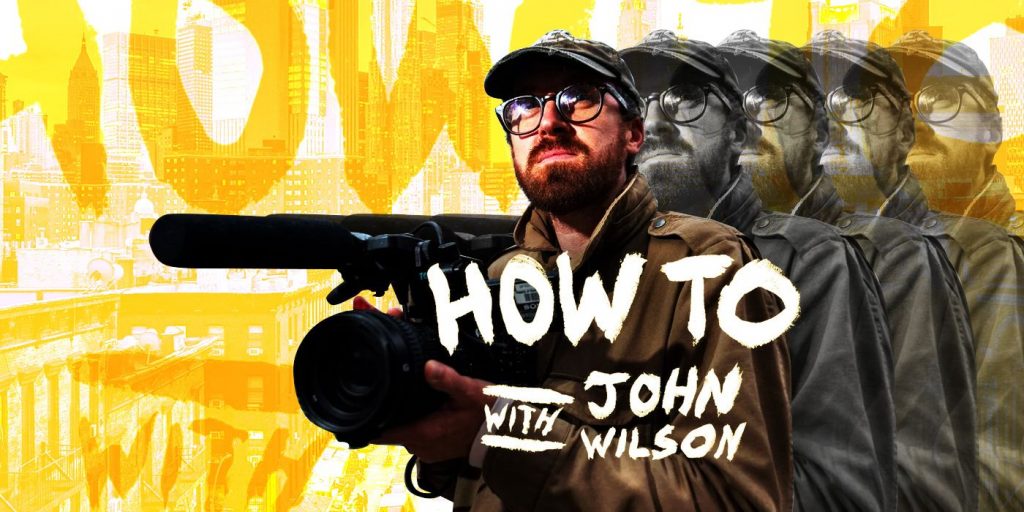 A few weeks ago my son Dan told me I should be watching How To with John Wilson. Man, was he right. It is currently my favourite TV show. It is so funny and thoughtful I don't binge it — I want to draw this process of absorbing each one of these exceptional episodes out for as long as I can.
This gem of a documentary series from HBO (and Crave in Canada) began in 2020 and somehow flew under my radar. Canadian comedian Nathan Fielder (Nathan for You) is among the executive producers, which makes perfect sense if you're familiar with his work. Two seasons are currently available for streaming on-demand anytime. A third season has just been ordered.
Wilson, a 35-year-old New York native, ventures out of the house he bought when his elderly landlady sold it (one of my favourite episodes) and records the world around him. He points his camera at random things and collects these images later like kindling he tosses onto a roaring fire of enlightening narration.
Each six-episode season begins with a topic: "How to put up scaffolding"; "How to split the check." Wilson answers those questions over the next 25 minutes, but he also produces parables on the human condition that go much, much deeper than the topic at hand.
I love the "How to" approach, because it reminds me of the Joe McDoakes series of comedy shorts that ran in cinemas in the '40s and '50s. That, by the way, is just the kind of obscure digression Wilson spins into gold. Wilson launches into something so obvious the rest of us never think twice about it, and then discovers, seemingly by accident, something very profound.
Armed with a camera and a small microphone, he is a street level sleuth when it comes to Manhattan and the boroughs. Every episode, at some point, he hands his mic off to people he has just met. At a time when talking to strangers seems like something your elders once did, Wilson somehow talks his way into people's lives in ways both frightening anf fascinating. He ventures into one guys house which is knee deep in puppets and you brace youself for "Chucky 5." He crashes a referee banquet and you wind up, for the first timne ever, feeling sympathy for referees.
In the Season Two episode "How to Appreciate Wine," he somehow gets waved into a gated community and drives up to a sprawling mansion owned by the maker of a power-aide beverage. At first it seems like he is crashing into a cult leaders' birthday party for kids. Then it seems like some millionaire is simply using Wilson to record a free HBO informercial.
Ultimately, however, you start to question your own prejudices and reservations. You wind up liking or at least admiring this guy. If Wilson can curb his own fears and anxieties and open up to humanity in all its random glory, maybe that's the approach right for today. Wilson's empathy disarms an astounding number of people in these divided times, both subjects and viewers. Like Ted Lasso, his message could make even a confirmed cynic "Believe."
That it isn't a naive approach is what sells it. Wilson is a born and raised New Yorker. His episodes almost always have a shocker of an ending you never saw coming. There is darkness and danger all around including some strange surprises from Wilson's own past. As we witness in one episode, whole buildings you visited just days before can come crashing down.
Risk life. Look closer. Don't be blind to the good and the bad. John Wilson shows you How To.