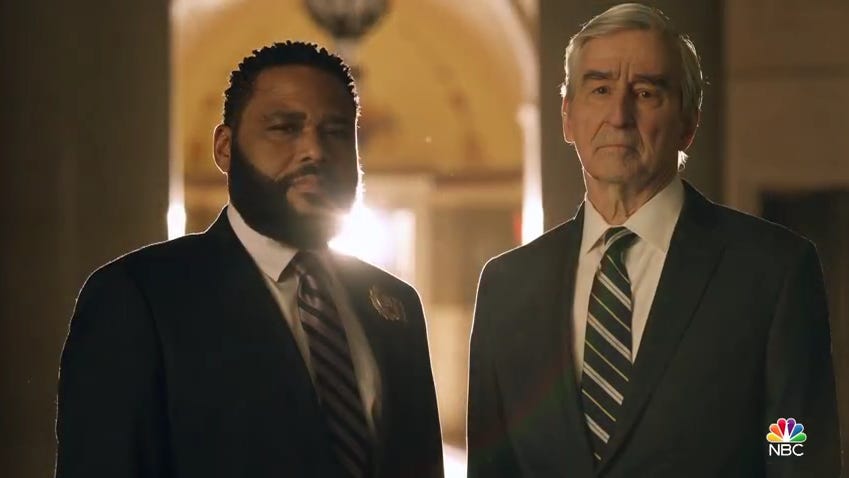 Court is be back in session with the return of the original Law & Order. The series upon which executive producer Dick Wolf built an empire is back after a 20 year run (1990-2010) and then being "paused" for over a decade.
In Canada, it joins the Citytv schedule on Thursday nights, throwing City to the Wolf's for six primetime hours. Thursdays brings Law & Order; Law & Order: Special Victims Unit; Law & Order: Organized Crime. Wednesday's City imports another NBC sweep with Chicago Fire, Chicago Med and Chicago PD.
Earlier this month, NBC ended their Television Critics Association virtual press session with a Law & Order panel. Always outspoken Wolf, a TCA favourite, was not on the call but did issue a statement later to reporters saying the it was his "dream that one day the show would return and break the 20-season tie with Gunsmoke." 
Two things: Gunsmoke still holds the TV drama record with 635 episodes. Shows had longer seasons back in the '50s and '60s, with Gunsmoke churning out 39 episodes a year its first five seasons. Law & Order made between 22 and 24 a year.
The other is that Wolf's spinoff Law & Order: Special Victims Unit has already cruised into a 23rd season.
A couple of familiar faces were featured on the zoom call panel, including Sam Waterston, who joined the series as District Attorney Jack McCoy way back in the 1994. Anthony Anderson, fresh off the end of production on Black-ish, is back as detective Kevin Bernard (Seasons 18-20). Camryn Manheim, who had made three guest appearancxes on the series back in the old days, plays a police lieutenant. Jeffrey Donovan, Hugh Dancy and Odelya Halevi join the series.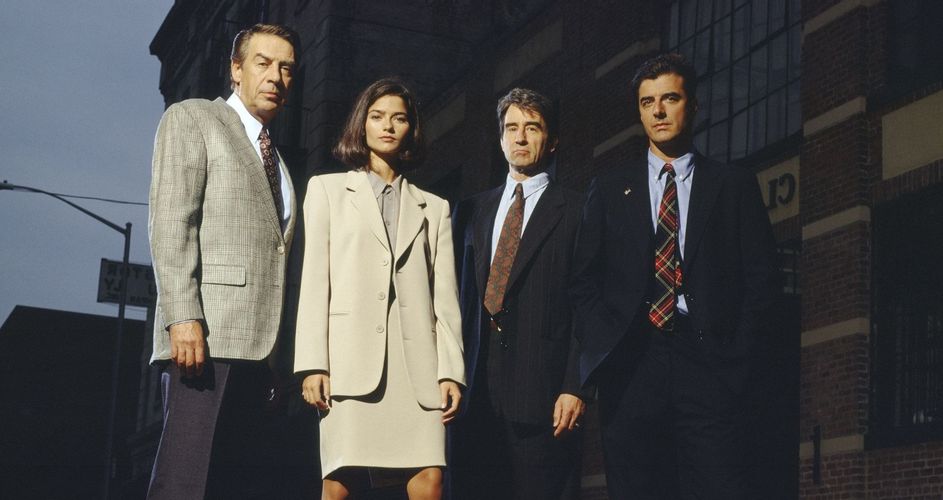 Anderson told reporters that if felt like no time had passed at all between his L&O appearances. "It was like sitting in a well-worn saddle," he said. He was happy to pick back up his old badge 1901.
Dancy joked that, for him, it was more like sitting in a brand new saddle. There was a fair amount of ball-busting going on between the men on this panel during the video call.
Waterston, who shot seven seasons of Grace and Frankie between his TV court duty, enjoys being back on the New York-based production. He said he's been working for years for the Tonys to give Wolf a special award for all the work Law & Order has provided Broadway actors over the decades.
"While you're at it, can you get the TV academy to give me an Emmy?" asked Anderson. I'm O for eleven!"
Executive producer/showrunner Rick Eid (CSI; Law & Order: Special Victims Unit) acknowledged that police work and how the district attorney's office operates now has changed dramatically since the show's original run and that's being reflected in the new storylines. He plans to stick with the "ripped from the headlines" approach.
The only thing that hasn't changed much is the set, said Manheim. Even the phones in the police station look like they were installed, she joked, by Edison.
Eid provided no details, but, yes, look for crossover episodes to come with cast members from Law & Order: Special Victims Unit and Law & Order: Organized Crime (launched in 2021).