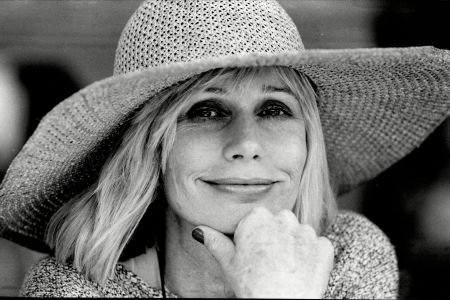 When film fans think of Sally Kellerman, the first image that comes to mind is generally of her screaming out of the shower in Robert Altman's movie version of "M*A*S*H" (1970). While that part earned her an Academy Award nomination, she stood out in many other roles, big and small, over a six decade career in film and TV.
The same year, she toyed with Bud Cort and Shelley Duvall in another Altman film, "Brewster McCloud." Nearly a decade later, she fearlessly played a very unsympathetic mom to a young Diane Lane in the 1979 feature, "A Little Romance." In the mid-'60s, she gets killed off in the second Star Trek pilot. She stood out opposite Rodney Dangerfield in 1986's "Back to School." In the '90s, she was hilarious opposite Dave Thomas in "Boris and Natasha." Her TV credits stretch all the way back to Playhouse 90, Bachelor Father, The Outer Limits and The Twilight Zone.
Kellerman died of heart failure Feb. 24 in Woodland Hills, California, at the age of 84.
Ten years ago, I spoke with her briefly after a FX session at the Television Critics Association's semi annual press tour. She was there as part of the ensemble voice cast of Unsupervised, an animated high school comedy about two footloose teens. It was from the creative team behind It's Always Sunny in Philadelphia.
Tall and instantly recognizable in her mid-seventies, Kellerman sat on stage at the Pasadena conference centre with a young, up-and-coming generation of comedy performers, including Justin Long and Kaitlin Olson. Also in the cast were Kristen Bell, Maria Bamford, Pamela Adlon and Fred Armisen. Despite all that talent, the series lasted just one season.
"This is my first animated series, and I had not a clue how to do it," Kellerman told reporters. Given her sultry voice, it was surprising to hear she hadn't done any voice acting before.
The Long Beach, California, native played the school's corrupt principal, Margaret Stark, who was nicknamed "The Skunk."
"I mean, if you've seen the drawing," she told reporters, "there I am, a beautiful white streak and that lovely black hair."
Kellerman loved that her character was so mean, "and then she's so sensitive… and then so tender and then so racist."
"Tender and racist," chimed in Long. "So far is the quote."
Finding quotes from a decade ago among so many audio files is the old needle in a haystack challenge. Suffice to say for now that Kellerman was charming and accessible after the session and I'll keep looking for that file.