A radio station I often get calls from to voice an opinion about television was in touch Friday to ask if I would weigh in on this year's Oscars. The topic: does anybody care anymore? Then they messaged back saying nevermind, something else had come up.
So they don't even care enough about the Oscars to ask if anybody still cares.
They are not alone. Bill Maher joked Friday night that the Oscars always remind him of his mortgage: "It seems to last 30 years and I have a very low interest rate."
The 94th Annual Academy Awards will be presented Sunday night, live from the Dolby theater in Hollywood, on ABC and CTV. Hosting will be Amy Schumer, Wanda Sykes and Regina Hall. They may benefit from low expectations, and Sykes alone always comes ready to wake up a room.
There hasn't been a host for a few years, and there wasn't even a Dolby Theater in 2021. A very paired down event took place in Los Angeles' Union Station, a well-preserved historic venue that was more memorable then the ceremony, or who won, or anything else.
This year, the academy decided to yank eight of the craft awards out of the live awards mix. Purists flipped out, which brought some publicity, but there are even more tragic things going on in the world.
Ratings really cratered last year, with around 10 million Americans watching a show that drew 23.6 million in 2019 and 41.62 million in 2010. To recap: three quarters of the audience vamoosed over ten years.
The problem: the pandemic shut down cinemas and postponed film premieres. James Bond took so long to get back he was dead, and not just at the box office.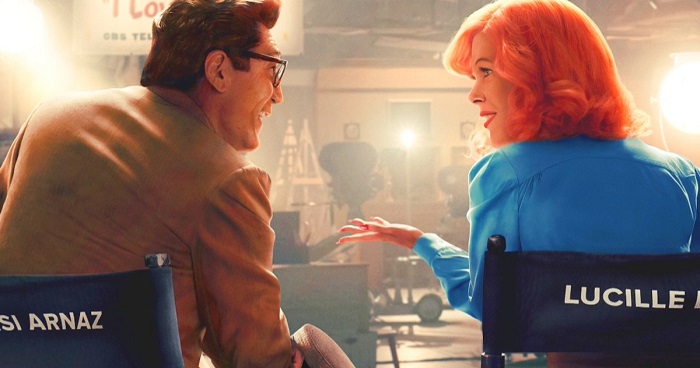 I've seen one of the ten Best Picture nominees because I had to to write about it for The Toronto Star: "Being the Ricardos." It was a pretty good TV-movie, I thought, and I give leads Nicole Kidman and Javier Bardem more props than most as Lucy and Desi. For me, Kidman managed to disappear and really submerse herself into the two characters in the movie, Lucille Ball and Lucy Ricardo. That she didn't shine as bright as the iconic TV character, well, nobody could. JK Simons and Nina Arianda were also very good in support as William Frawley and Vivian Vance (Ricardo neighbours Fred and Ethel Mertz).
Aaron Sorkin's screenplay was a little overheated, I thought, what with lumping three headlines from the '50s into one torrid week. I get that he wasn't making a documentary, but he wasn't making an episode of Frasier either. Everything doesn't always have to be happening all at once to be compelling.
I haven't seen "Dune," or "Power of the Dog," "King Richard," "West Side Story" or any of the other films nominated for Best Picture," even though they are all, I believe available to stream on TV now.
For me, as a TV critic, there's just too many great things to see that are not part of the traditional movie mix. These nominated titles just seem like homework now, something you have to see to be in the loop, for one night.
They are also less interesting options, for me than Somebody Somewhere, Winning Time, or the news that a second season of Only Murders in the Building will begin in June. Not only that, I'd rather watch reruns of Frasier, which we've been binge-ing of late.
Part of this, admittedly, is age. I stopped watching Marvel movies after the first "Iron Man," although that was a fun time at the movies. The 20 or 30 tights 'n' capes epics that have come after just aren't my jam. These days I'm more into true stories. We're in a golden age of documentaries and many are about people and things I grew up with: Lucy & Desi, The Beatles, Muhammad Ali and every single thing that happened in 1969.
Coming out of COVID, if that is what we're doing, I'm good with the old stuff, the comfort food. This too, I think, is working against The Oscars. A lot of us are simply not quite ready to go back into cinemas, and it isn't just because we don't want to risk the cooties.
We're in a sea change when it comes to entertainment and we have been for at least a decade and probably two. A lot of the best writers, directors, actors and other talent have shifted hard into home entertainment, especially if you're an adult. There a sharp generational divide, with movie studios servicing millennials and TV networks programming almost exclusively to boomers.
Numeris in Canada tells us that the Top-10 or 20- most-watched broadcast network shows any given week in Canada look like the same list you would see in 2008: Grey's Anatomy, NCIS, Survivor and the CTV Evening News. The No. 1 most-watched TV show in the United States last week began in 1968: 60 Minutes.
All the heat is over on the streaming side and it is relentless, a 52-week premiere schedule of 500-plus shows. It has stolen the audience for smart TV as well as for going out to the movies. Don't believe me? Even if the Oscars rebound above 15 million viewers, more people Sunday night will be streaming Disney+, Netflix, Amazon Prime Video, Paramount+, Crave, HBO Max, Discovery+ and Apple TV+ or watching the Leafs game. After the opening monologues, I will be one of them.