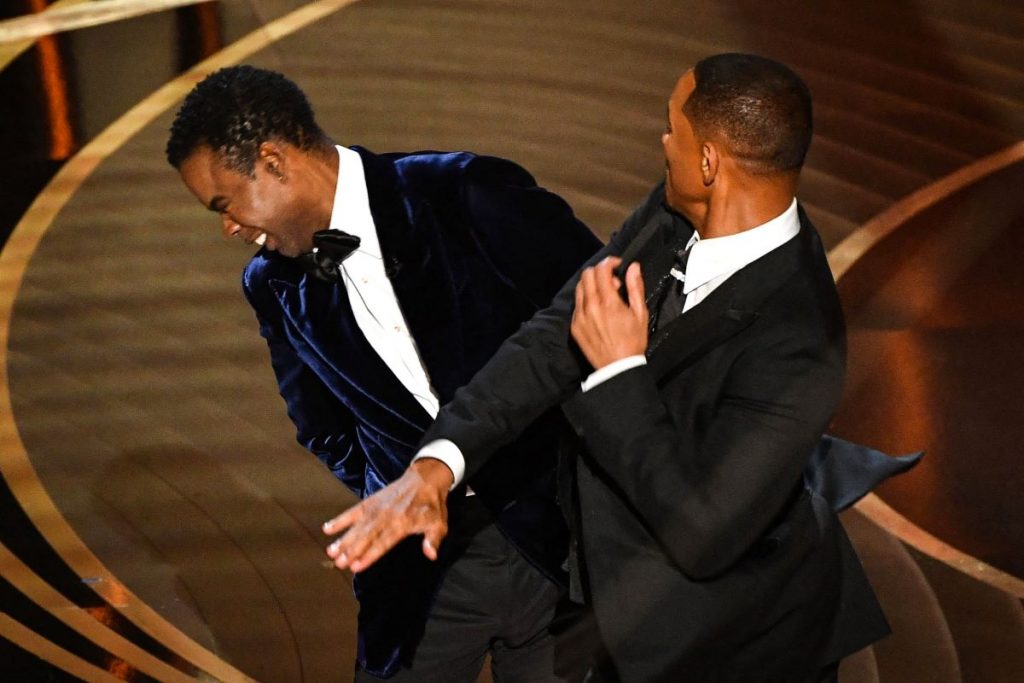 I had switched over to hockey when a friend messaged that there was more fighting going on at the Dolby centre.
Another pal cracked that it had turned into the Oscar De La Hoyas.
By the time I turned back, you had to go to YouTube to see Will Smith slap the hell out of Chris Rock, on stage at the Academy Awards. There were Smith's fresh prints, all over Rock's face. It was a shocking moment that a) was an assault, however provoked, that should have led to Smith being immediately escorted out of the venue; b) likely added 10 million viewers to an erratic awards show struggling to stay relevant and c) needlessly stole attention away from Simu Liu's red tux.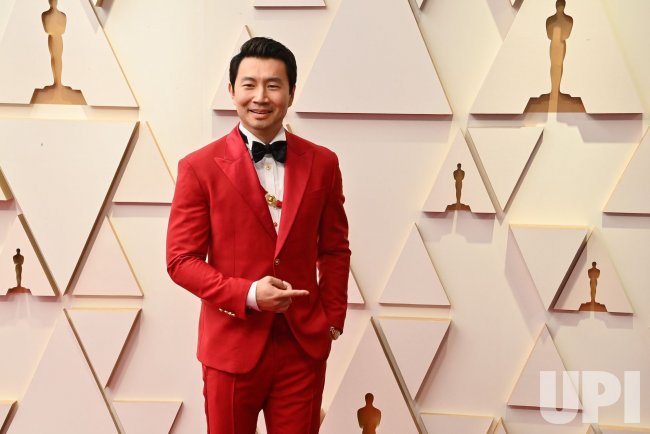 As one comedian suggested last night on Twitter, a moment was missed by not having Rock come out later in a neck brace and announced another winner.
I'm sure viewership doubled at least by the time Smith sobbed through his Best Actor acceptance speech that could be seen as a tribute to another Oscar winner: "Gaslight."
There were better speeches Sunday: Troy Kotsur's passionate acceptance for Best Supporting Actor (for "Coda") made everyone watching want to learn American Sign Language; Ariana DeBose accepting the Best Supporting Actress prize for her performance in "West Side Story"; Jessica Chastain for her Best Actress win for "The Eyes of Tammy Faye;" Questlove for winning best doc with that wonderful "Summer of Love" series.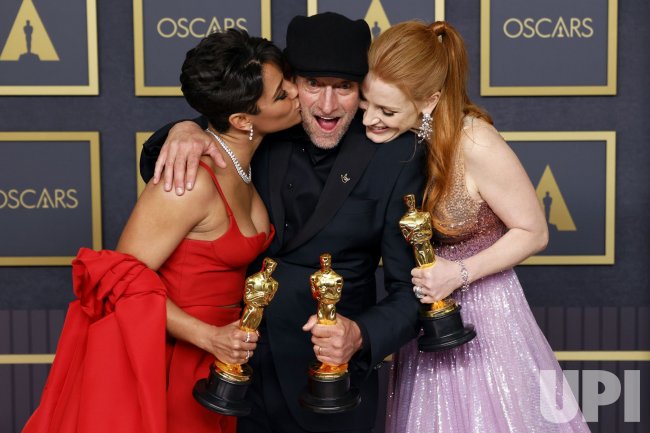 Best of all, perhaps, was Kevin Costner almost single-handedly restoring dignity to the occasion, post-slap, when he delivered a dramatic, measured and inspiring essay on the role of the director before announcing the winner in that category (Jane Campion for "The Power of the Dog").
There did seem to be a two-steps-forward, three-back energy to Sundays Oscars. The show just couldn't seem to save itself.
Smith tried to evoke his role as Richard Williams, father-coach of tennis champions Venus and Serena Williams, to justify leaving his chair, walking onto the Dolby stage and striking Rock in the face. "Richard Williams was a fierce defender of his family," he began, adding he was "overwhelmed by what God is calling on me to do…"
I didn't know God had such a hate on for Chris Rock. Imagine if, way back in the day, Anthony Hopkins had killed Rock, live on stage, then accepted for "Silence of the Lambs" by joking that the Chianti made me do it.
So, sure, yes, defend your lady, absolutely. Just do it later at the Variety party. Instead, the race is on for Kimmel and company to book Rock and/or Smith for a rematch.
By not tossing Smith, viewers were robbed of hearing Denzel Washington accepting for Smith and putting on a clinic in class and dignity.
The Fresh Prince bitch slap was but one of the offenses on a very uneven night. One of the three hosts, Amy Schumer, was funny with her "did I miss anything" comments after the incident, but then extended a night that went 40 minutes over with shtick about seat fillers. The moment called out for Tina Fey, Ricky Gervais or Billy Crystal.
Then, in a four-second aside, Schumer threw the Jean Hersholt award winner (Danny Glover) and several others honoured this year with special Oscars straight under the bus. These folks did not deserve such shoddy treatment.
Another WTF moment Sunday night was the must-have-seemed-like-a-good-idea-at-the-time song and dance version of the annual In Memoriam segment. A choir of Up With People players put on a Broadway rouser, belting out "Spirit in the Sky" while portraits of dead people flashed overhead. Jamie Lee Curtis cuddled with a pup and tried to intice adoptions in front of images of Betty White. All the overheated gyrations did not mask the fact that the segment left out many talented film people before flashing a link to where to find the less worthy.
There were salutes to "The Godfather," "White Men Can't Jump" and "Pulp Fiction" that just made older viewers wish they were watching the Oscars when those films were new.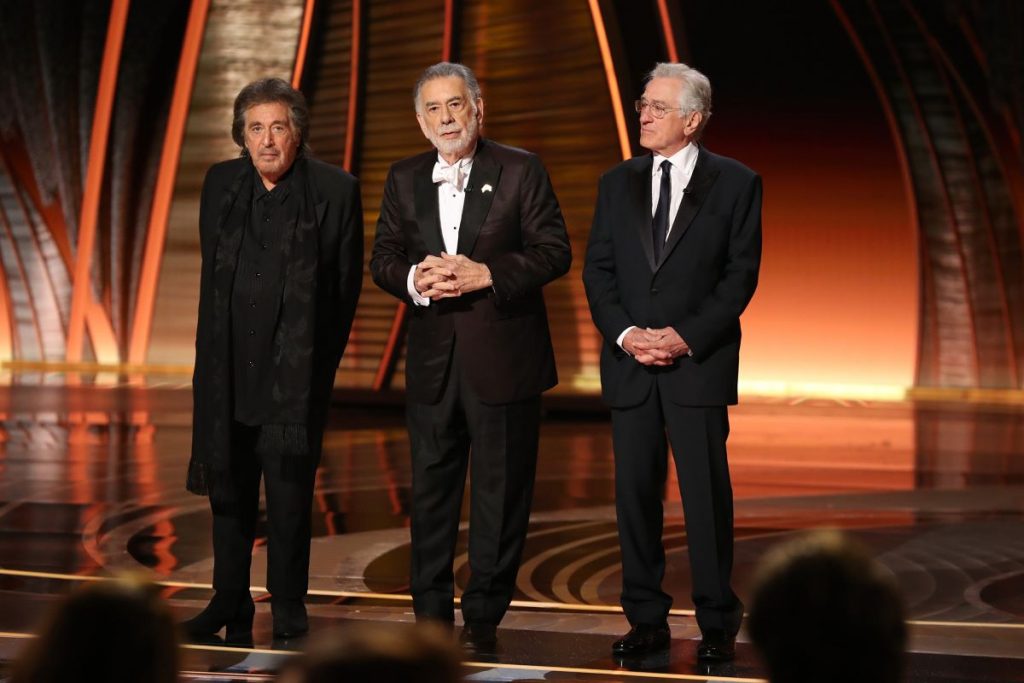 On the plus side, the eight categories that were re-packaged Sunday, presented in edited form, went very smoothly. I'll say that format was even an improvement. It did not interrupt the flow and cut to the chase.
The night began with a lime green wall of singers and dancer backing Beyonce but I'm not sure why. It seemed more Grammys than Oscars. Already viewers wondered: categories were crunched for this?
The three Emmy hosts, Schumer, Regina Hall and Wanda Sykes, were klunky. Nothing in the opening monologue was funny. Hall got talked into a brazenly sexist skit that would be all we are talking about today if it had been female stars called up on stage. Sykes best line was later in a taped promo spot for the new Hollywood Motion Picture Museum, where she passed a shrunked head in a display case and recognized Harvey Weinstein.
Schumer stuck around after the initial monologue and got in the best zingers, goofing hard on "Being the Ricardos" and other films, including "Don't Look Up."
"I guess the Academy members don't look up reviews," she said, as the camera panned over to the film's writer, Adam McKay.
Note to Chris Rock: pick on Adam McKay next time.