Reviews for the new Kids in the Hall series premiering Friday are embargoed until Wednesday, but I think I'm allowed to say that I laughed out loud a few times recently, and I may or may not have been watching screeners.
The eight episode series, shot last year in Scarborough, Ont., (in the same studio where Jason Priestley's Private Eyes was shot), will premiere worldwide May 13 on Amazon Prime Video. A two-part documentary, "The Kids in the Hall: Comedy Punks," follows one week later.
On this week's podcast, I speak with two members of the troupe, Dave Foley and Mark McKinney. Both are from the West; McKinney from Alberta and Foley from Etobicoke. Hey, west is west. Scott Thompson, Bruce McCullough and Kevin McDonald are all back for more head-crushing hilarity.
While live comedy is often thought of as a young person's game, McKinney says he was "fascinated by the idea that we were 60 and doing sketch." It is amazing for the same five-member troupe to be creating new episodes for a sketch series 27 years after the final seeason ended on the original, CBC and HBO version of Kids in the Hall (1989-1995).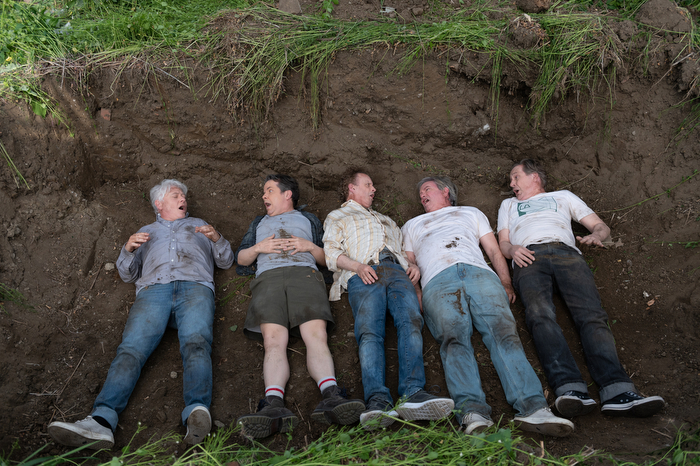 The new season features several famous, "friends of the Kids," including Paul Bellini, Pete Davidson, Catherine O'Hara, Kenan Thompson, Brandon Ash-Mohammed, Will Forte, Catherine Reitman, Samantha Bee, Fred Armisen, Paul Sun-Hyung Lee, Jay Baruchel, Eddie Izzard, Tracee Ellis Ross, Mark Hamill, and Colin Mochrie.
 The Kids in the Hall is produced by Lorne Michaels' Broadway Video and Canadian production company Project 10. The Kids in the Hall is created, written, and executive produced by Foley, McCulloch, McDonald, McKinney, and Thompson.
At just over a half-hour, this is another fairly brisk podcast, so plan your walk accordingly. Just click the big blue-and-white arrow above to listen.