[UPDATED June 21 after watching all eight episodes.]
The Lake is where many Canadians head each summer, desperate to find relief from the heat. This series, which starts streaming Friday, also offers comedy — even more of a relief these days.
Here's the biggest relief: if you're looking for something original, different yet familiar and often quite surprising — and funny — The Lake is for you. Having now seen every episode, I'm paddling back my original review and giving this four oars up.
The story finds Justin (Jordan Gavaris from Orphan Black) back from Australia after splitting with his long-term partner. We learn that this gay dad has a 16-year-old biological daughter named Billie (Madison Shamoun). That's what happens when you get your best friend pregnant at prom; the baby was given up for adoption.
Justin is presented with an opportunity to try to reconnect with this city girl and seizes it by bringing her to the cherished cabin where he spent his youth. She's not crazy about the idea, and feels like she's being sent "back to the factory for parts."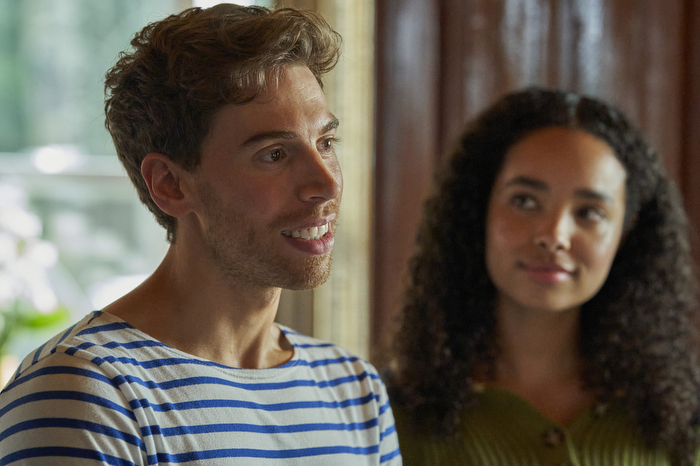 Justin soon discovers that things have changed up at the lake. A big secret is exposed: his father has left his "happy place" to his back-stabbing step-sister, Maisy-May (Julia Stiles). Justin feels his childhood has been stolen from him. He starts plotting how to win the place back, even if he has to canoe joust for it. Yes, that's right – joust for laughs.
If the premise sounds a little Disney, the dialogue certainly does not. Gavaris has a lot of funny lines and nails them; many of them a lot bitcher than anything Bill Murray got away with back in the day on the Canadian summer camp comedy "Meatballs."
Gavaris, in fact, shines in this series. His character gets more interesting every episode and so does that of his very winning co-star, Shamoun. There's a surprising tenderness to their unusual birth-daddy-daughter relationship. The two take turns playing the parent.
Both get a little boy crazy in cottage country, with Travis Nelson (Tucker and Dale vs Evil) as Riley capturing Justin's attention right from the first scene. Meanwhile, cottage jousting protégé Jared Scott (13 Reasons Why) can't take his eyes off Billie and vice-versa.
Jon Dore (Funny As Hell) is funny as hell as one of the obnoxious neighbour dudes still cracking beers up at the lake. Carolyn Scott (Pushing Tin) plays his long-suffering, put-upon wife. This series doesn't shy away from clichés; it turns them right up loud.
For example: there are the usual mean girls to contend with. Emily Roman, Natalie Lisinka, Julia Lalonde and Kaitlyn Bernard all add to the fun.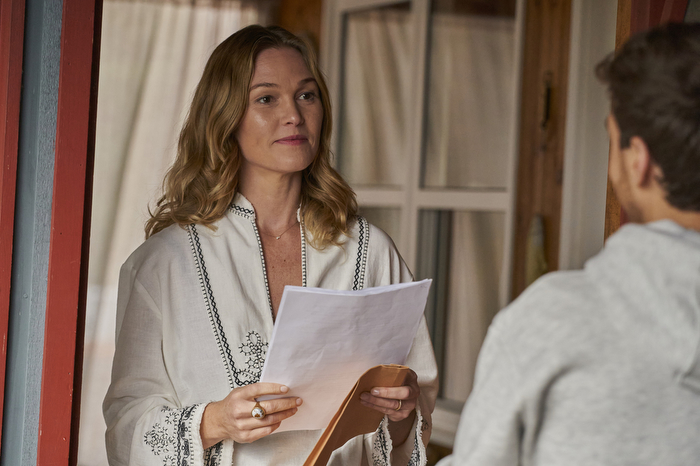 Stiles, several years removed from her "10 Things I Hate About You" success, hasn't lost her own bitchy comedy chops and gets more interesting each episode. Terry Chen (A Million Little Things) plays her warily devoted, ex-hockey player husband. Young Declan Whaley is off-the-charts original as their fashionably theatrical son "Opal," who is having his own private drag race in cottage country.
There are guest stars as well; look for Jerry O'Connell as "Gil the Thrill," who gets into a Justin and Travis sandwich. Another sharp surprise: one episode takes a dark turn as a sort of horror movie spoof when a summer scare game gets out of hand. Elastic little touches even in the title sequence help keep viewers keen.
One parental note. The series is wildly implicit in innuendos and wisecracks. Anything goes in the dialogue. You'll find yourself going, "Did they really say that?" several times. This adds to the fun, unless you were expecting a Camp Disney Jonas Brothers romp.
Series writer and executive producer Julian Doucet (Killjoys) based the series on his own life story. He too had a cottage, happy memories and a child before coming out. Hats off as well to Jordan Canning and Paul Fox for direction.
The eight-episode series was shot last summer in Ontario cottage country, and is one of ten Canadian originals Prime Video recently announced as they celebrate ten years in Canada.