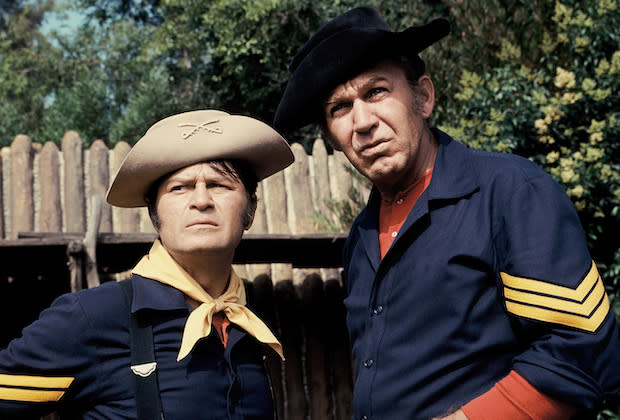 Larry Storch, who died July 8 just six months shy of 100, was everywhere on '60s television, one of the busiest second bananas on the screen.
The New York native seldom headlined and more often guest starred in dozens of sitcoms, variety shows and dramas. To many, however, he'll always be best known as Corporal Agarn in the post-Civil War sitcom F Troop (1965-67).
"The biggest memory I have is not falling off my horse," Storch told me in 1998 when I interviewed him in Burbank, Calif., at one of those Hollywood Shows where the stars from yesteryear sign autographs for fans. "How thankful I was that the horse took a shining to me."
Storch said he co-star, Forrest Tucker, who died in 1986, was partially responsible for getting him into F Troop.
"I was supposed to be Sergeant O'Rourke," said Storch, who was producer Bill Orr's original choice for the role. "Then they wanted a guy who looked like a polar bear and who could growl and Forrest Tucker was the one. Tucker said, just because I'm the sergeant, there's no reason why there can't be a corporal hanging around the fort too with me."
This wasn't the first time a friend stepped up for Storch. A couple of loyal pals from back in the day also called on him to bring a little extra to their projects.
Storch grew up in the same neighbourhood as Don Adams, who years later drew him into a Get Smart! episode or two, as well as on another Adams' venture, the animated Tennessee Tuxedo. Both Adams and Storch were nominated for an Emmy Award in 1967 for their lead comedy performances. When Adams won, Storch congratulated his childhood friend, telling him, "You kept it on the block."
During World War II, Storch served on a submarine in the US Navy. One of his shipmates was Tony Curtis. The two became lifelong friends, with Storch appearing in five of Curtis' feature films, including Norman Jewison's first directorial effort, "40 Pounds of Trouble."
Being a serviceman must have helped him land roles on several military-based sitcoms years after the war, including, Sergeant Bilko, Hennessey and Gomer Pyle, U.S.M.C. He also appeared in Car 54, Where Are You?, Get Smart, The Flying Nun, That Girl, I Dream of Jeannie, , Gilligan's Island, The Doris Day Show and All in the Family and, years later, Married…with Children.
Starting out as a comedian and impressionist, he could also be seen in variety shows; including everything from Sonny and Cher, Laugh-In and The Ed Sullivan Show.
Storch also worked on several TV dramas, including The Alfred Hitchcock Hour, Mannix, Columbo, CHiPs, McCloud, The Persuaders and Kolchak: The Night Stalker.
Then there was his voice-over work in dozens of cartoons, including The Pink Panther Show, Groovie Goolies and Tennessee Tuxedo.
On F Troop, he starred opposite Ken Berry (Capt. Parmenter), Forrest Tucker (Sgt. O'Rourke) and Wrangler Jane (Melody Patterson). The series would be seen as widely inappropriate today, with the troop always fighting cartoonish First Nations characters, all with less-than heroic names and none played by native Americans. Don Rickles, for example, guested as "Bald Eagle," with Edward Everett Horton as "Roaring Chicken." Paul Lynde played a singing Mountie; Henry Gibson of Laugh In fame guested as jinxed trouper Wrongo Starr.
Storch attended that 1998 Burbank autograph session along with fellow castmates Ken Berry and Joe Brooks (seen above in a photo taken by Gene Trindl).
"He was a great imitator," Brooks told me of castmate Storch. "He could probably imitate your voice after three or four minutes listening to you."
The series was shot across three sound stages as well as outdoors on the Warners backlot, says Brooks. "There were days I didn't work and I'd just come in to watch the fun on the set."
Brooks, who was also in the movie "Paint Your Wagon," believed F Troop could have lasted a third season. "It was a problem between the network and the studio [Warner Brothers]," he said. The studio wanted more money and the network said we have you under contract for X-amount of dollars." Warners had already lost two of their three shows they had launched in 1965 — Hank and Mister Roberts — and without another series to support a large production staff, didn't want to keep producing F Troop at the same network licensing fee.
Storch enjoyed a long and happy marriage to his wife, Norma Catherine Greve, until her death at 81 in 2003. He remained active, making personal appearances and being active on social media right up until the last year of his life.
As for that F Troop hat he wore at the autograph session, it was a replica. "The real one is back in my closet in New York," he told me. "I never want to lose that one!"