Netflix, Amazon Prime, Apple TV+, Paramount+ … so much streaming, so little money.
You can spend a tidy sum on streaming services, to be sure. But you can also subscribe to streaming services that won't cost you anything other than lots and lots of your time.
They are the free streaming services, and in terms of volume of content, they are at least on a par with Netflix and the big-dollar streamers. The difference is that the content is almost entirely non-original movies and TV shows. Some of it is ancient in TV terms, going back to the time of black-and-white, rooftop-aerials, and maybe three-channels. If you're looking for a rabbit hole to fall down, there's no better place to start than free streamers.
There are four major free streamers in Canada right now, PlutoTV, Tubi, Plex and CBC Gem. This week, let's dip a toe into the very deep pool of TV that is Tubi.
Tubi is owned by FOX Entertainment, and it claims to be home to 50,000 movies and TV shows, and a growing number of Tubi originals. The Tubi catalogue is so vast, so deep, that you could easily spend hours just looking for something to watch. When a service offers both Father Ted and Father Knows Best, you know the catalogue is deep.
Like all streaming services, there are hundreds of movies to sift through, including silent films from the likes of Laurel and Hardy, Charlie Chaplin and Buster Keaton, and classics like The Phantom of the Opera and Metropolis. (And I do mean silent; the Phantom and Metropolis are presented with no background music. Even folks in the silent movie era at least had somebody playing the piano.) Mixed in with the quality stuff are gems like Wrestling Women vs. the Aztec Mummy, which I swear is a real movie. I haven't seen it, but it can't be any worse than the multiple Steven Segal movies on Tubi.
But it's in the TV universe where Tubi really shines.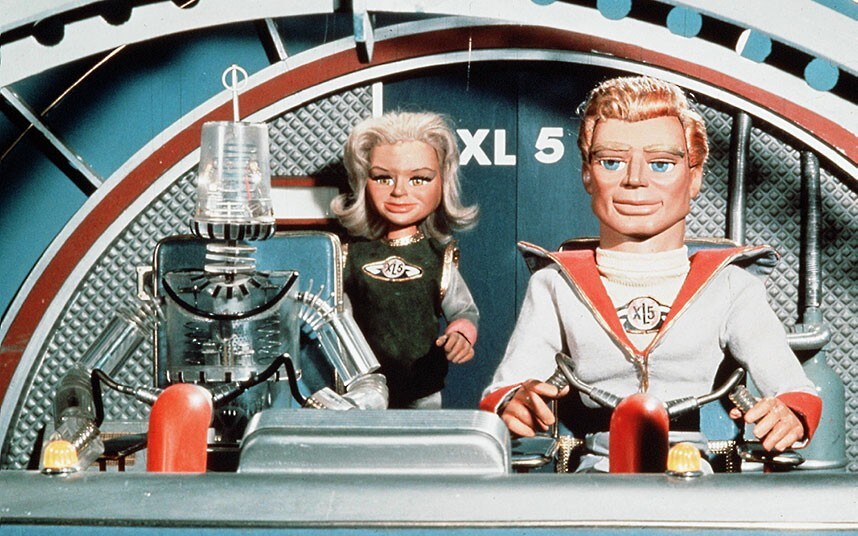 There is a solid selection of British TV, like Midsomer Murders and Doc Martin, and comedy gems like Father Ted, underrated Bridge and Eamon and the hilariously raunchy The Inbetweeners. There is a solid collection of documentaries, many of them about Hollywood, and an amazing number of Three Stooges and Little Rascals shorts. If you want to show your kids the kind of stuff you watched when you were a kid (if you're of a certain age, anyway), the entire Gerry and Sylvia Anderson 'Supermarionation' oeuvre is available, from Fireball XL5 to Stingray to Captain Scarlett.
There is a solid selection of old dramas, presented in their original (horrors!) black & white, including Dragnet, Alfred Hitchcock Presents, Route 66, The Saint and Peter Gunn. There are some shows that are so old, even a 'TV bug' (as my mom used to call me) is entirely unfamiliar with them. There's a show called Code 3 from 1957, and a detective series called Martin Kane from 1949! There was TV in 1949?
And of course, lots of comedy from The Golden Age of the Laugh Track. Car 54 Where Are You, Petticoat Junction, The Beverly Hillbillies, Burns and Allen, Leave it to Beaver (including a so-called "Lost Episode" made not for broadcast but for the US treasury department). There are also somewhat newer titles such as That Girl and Here's Lucy, and Rowan and Martin's Laugh-In. There's Jackie Gleason, Johnny Carson, Carol Burnett, You Bet Your Life with Groucho Marx, and the first TV superstar, Milton Berle, complete with singing Texaco service station attendants. (Why did anyone think Milton Berle was funny?)
Tubi's interface is user friendly, and although you can't fast forward past commercials, they are few and far between and not especially intrusive. A small price to pay to see Marineland Carnival featuring The Munsters.
Next time, a look at Pluto.
Edmonton-born and raised, Maurice Tougas claims he was his family's "walking TV listing back in the three-channel universe." He's also a retired, award-winning journalist. I first encountered Maurice when he was editor of Alberta Prime Times. He asked me to contribute a TV column there; happy to continue our association. Look for him to unearth many more "hidden TV gems" here at brioux.tv.